Don't be afraid to question potential contractors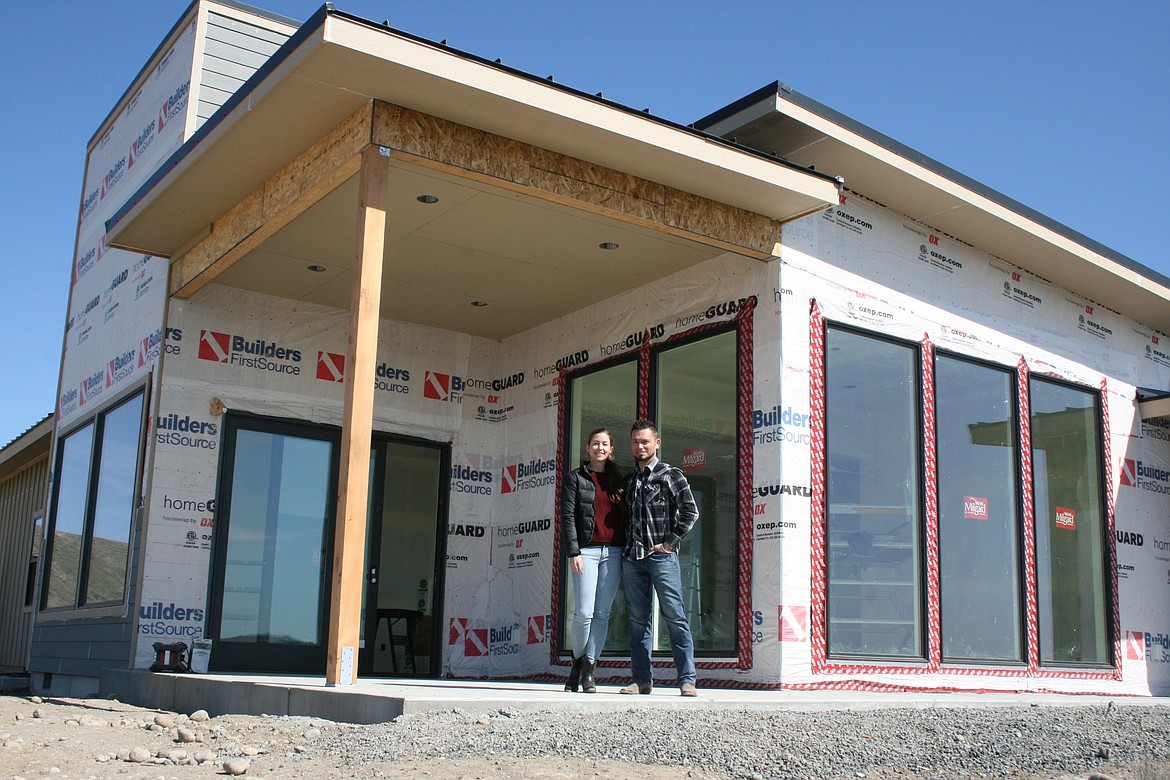 Kyrissa and Justin Morigeau on the deck of their new, almost finished house north of Moses Lake. Kyrissa Morigeau isan architect and designed the house.
Cheryl Schweizer/Columbia Basin Herald
by
CHERYL SCHWEIZER
Staff Writer
|
April 17, 2021 1:00 AM
MOSES LAKE — It pays to do research, and a lot of research, when looking for a contractor to build a home. And it pays to set clear expectations written into the contract.
Keith Lenssen, owner of Lenssen Inc. in Moses Lake, said a person looking to build a home shouldn't be afraid to ask questions, not just of the contractor, and the contractor shouldn't be afraid to answer questions.
Homeowners should know how long their contractor has been in business, Lenssen said. Todd Lengenfelder, owner of Lengco Construction in Moses Lake, agreed.
"They (a contractor) won't be around very long if they're not very good," Lengenfelder said.
Someone who's thinking of building a house should look for a homebuilder who's invested in the community, Lengenfelder said.
"Somebody local," he said.
Lenssen said he encourages potential customers to talk to previous clients.
"We wear that as a badge of honor. 'Please call our customers,'" he said.
He's confident of the reputation he's built, he said, and wants potential customers to know about it.
'I've earned those (references), right? Those come from years of good decisions. I want people to know that," he said.
Clients shouldn't be afraid to ask for details.
"Specifically ask for people you can call," Lenssen said.
The potential client should be looking at multiple projects, two to three, of a size and scope similar to the project they want, he said. They should ask for recent references, a project from the last two to three years. And the homebuilder should provide those references. Potential clients should ask previous customers what went well, what didn't go so well and what could've gone better, he said.
"Actually talk to a person. 'How did it (the construction) go for you?'" Lenssen said.
Nor should homeowners stop with former clients. A homebuilder should be able to provide a list of subcontractors and vendors they work with, and shouldn't have any problems with potential customers talking to those contacts, Lenssen said.
Once the client selects a homebuilder, the contract should clearly spell out expectations, both from the client and the contractor, Lengenfelder said. Both parties should know the scope of the project, and what it's going to take to bring it to completion. There's also an intangible element. The client should pick somebody they're comfortable working with, Langenfelder said.
Justin and Kyrissa Morigeau ultimately opted to hire a contractor to build their home north of Moses Lake. That wasn't the original plan, Justin said.
"We were going to build this ourselves, 100%," he said.
While he was confident his background gave him the skills to do the job, "the issue was time," he said. "Time management. The other part of this was relationships with key subcontractors," and not knowing the subcontractors the way a contractor would.
Financing was another concern.
"If you're an owner-builder, most lenders (banks) will make you carry a contingency fee," he said.
And a homeowner acting as his or her own contractor still will have to meet some of the financial requirements of a contractor, such as a bond.
"You basically turn yourself into a (general contractor) without having all the formal experience and background," he said.
They chose to oversee the project themselves for a while, putting in the well and getting electricity to the property.
"We handled all the permitting for the project," he said. "But then it got to the financing piece, and it was one of these trades. I'm going to have to carry a 10% contingency fee, or I can just get a general contractor."
But that was where the comfort factor came in. They looked around for a general contractor, but couldn't find one that was a good fit.
"We interviewed some, but there wasn't a comfort level, with either the experience or the type of build we were doing here," he said.
Then a neighbor suggested talking with Lenssen, and that, Justin Morigeau said, was the right match. But the project has presented its challenges. The COVID-19 outbreak delayed the start of construction, Justin said. The pandemic also delayed the manufacture of some of the elements, such as windows, and contributed to a substantial increase in the cost of lumber, Kyrissa said.
"It was kind of a give and take kind of deal to keep this project on track," Justin said. "They (the contractor) did an amazing job of honoring their commitment and we worked with them to make it work."
---