Weekend roundup: BBCC women nab win in final seconds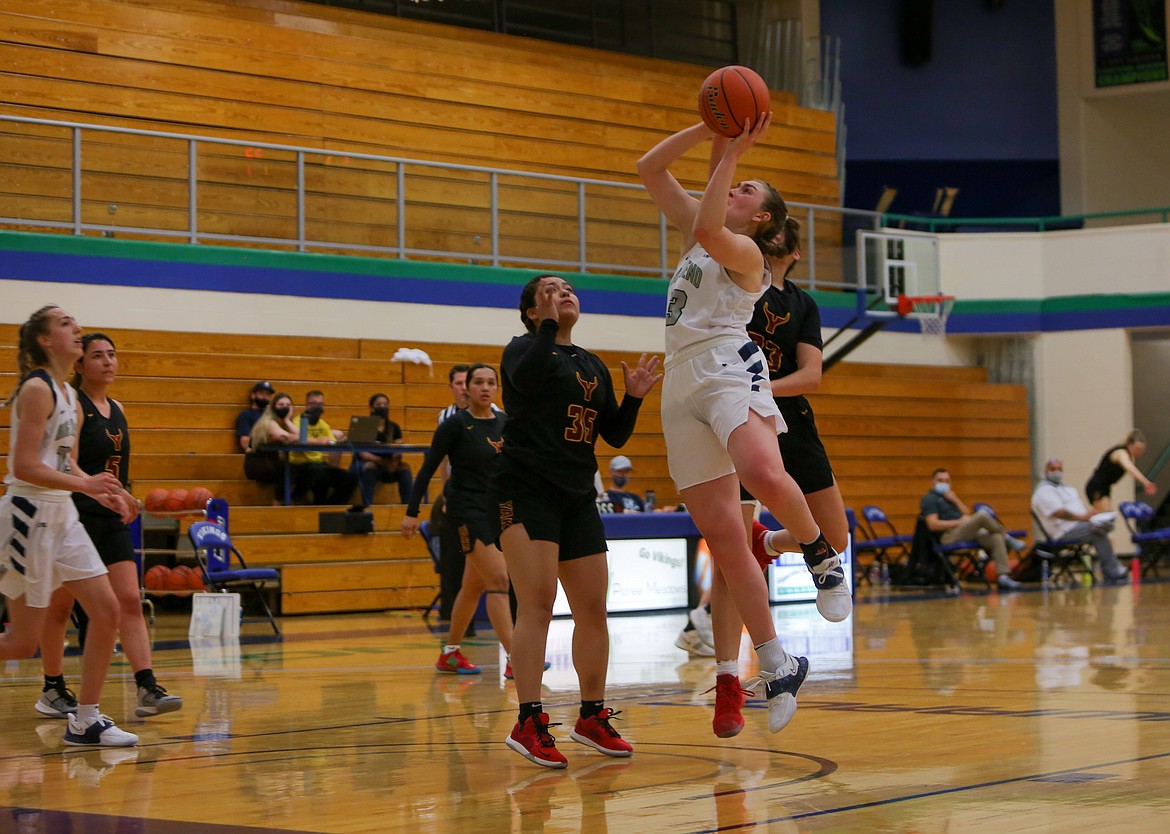 Big Bend Community College's Kelsey Sorenson goes up for a shot in the paint against Yakima Valley Community College on Wednesday, April 7.
Casey McCarthy/Columbia Basin Herald
by
CASEY MCCARTHY
Staff Writer
|
April 12, 2021 1:00 AM
Women's basketball
Big Bend 67, Walla Walla 66
In a back-and-forth battle on Friday night, Big Bend Community College came back to win at the last second against Walla Walla Community College on a Kelsey Sorenson layup to take the lead at 67-66 as time expired.
Sorenson finished with 32 points for Big Bend, adding 16 rebounds and a pair of blocks. Kaitlyn Callahan added 16 points for the Vikings.
Men's baseball
Big Bend 1, Yakima Valley 10
Eric Mast scored the lone run for the Vikes in the doubleheader Thursday against Yakima Valley Community College. Mast, Tristen Garland, Dominic Signorelli, Brandham Ponce and Kalia Agustin secured hits.
Evan McLean took the mound for Big Bend, surrendering four hits and one run in four innings. McLean finished with three strikeouts.
Big Bend 2, Yakima Valley 6
Four runs in the bottom of the eighth helped Yakima Valley CC break the 2-2 tie in the second game on Thursday in Yakima. Skyler Sadora picked up a pair of RBIs in the game, finishing 1-4 from the plate. Gabe Passey added a double for Big Bend from the plate.
Women's softball
Big Bend 8, Yakima Valley 0 Big Bend 18, Yakima Valley 7
Boys soccer
Quincy 5, Cascade 0
Juan Gutierrez scored two goals for Quincy in the home win over Cascade on Saturday. Jorge Nuñez, Jose Lopez and Rafael Perez added goals for the Jacks. Quincy will hit the road on Tuesday for its next match, against Cashmere, before returning home to face Wenatchee on Saturday.
Moses Lake 1, Wenatchee 2
Lalo "Jesus" Taboada scored the lone goal for the Chiefs in their season opener on the road against Wenatchee on Saturday afternoon. Moses Lake will travel to Royal on Tuesday night before hosting Eastmont Saturday.
Other scores:
Ephrata 2, Brewster 1
Wahluke 3, Cashmere 1
Warden 0, Tonasket 2
---