It takes only one: Potholes sees largest fishing tourney in state history, says director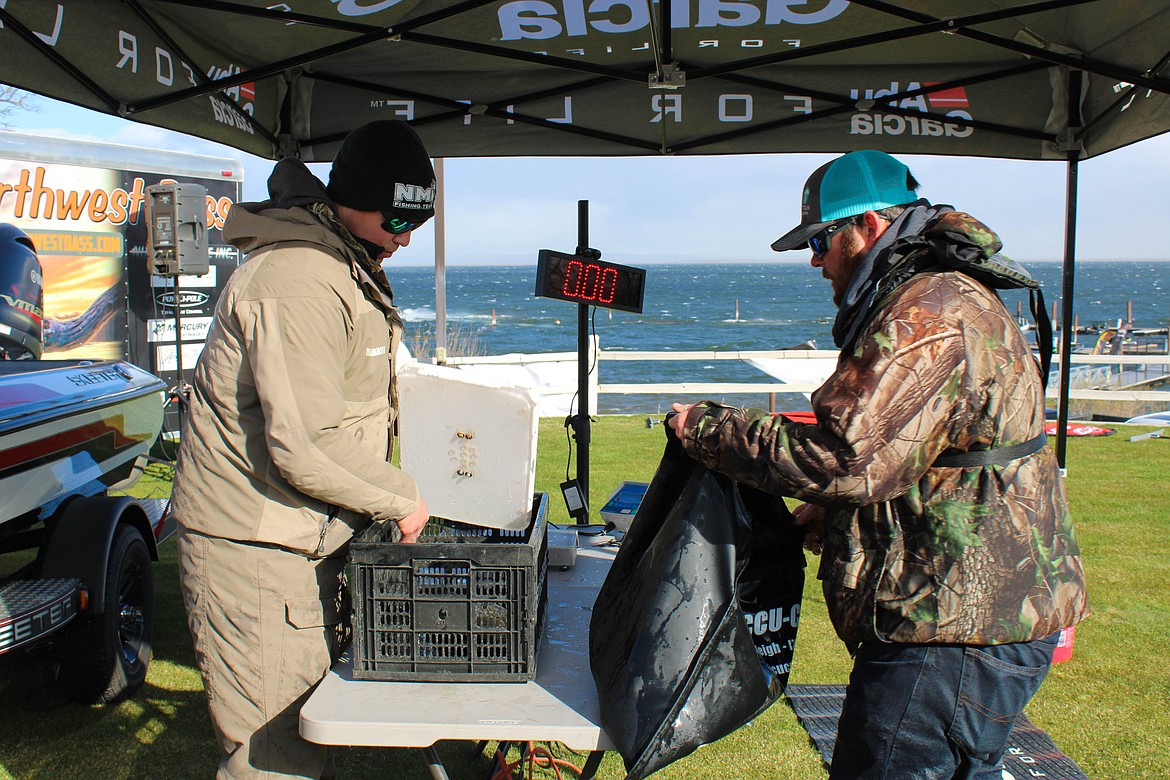 Randy Simmons drops his bass off at the last minute of the 9 o'clock hour and wins the first prize of the Northwest Bass Tournament on Saturday.
Sam Fletcher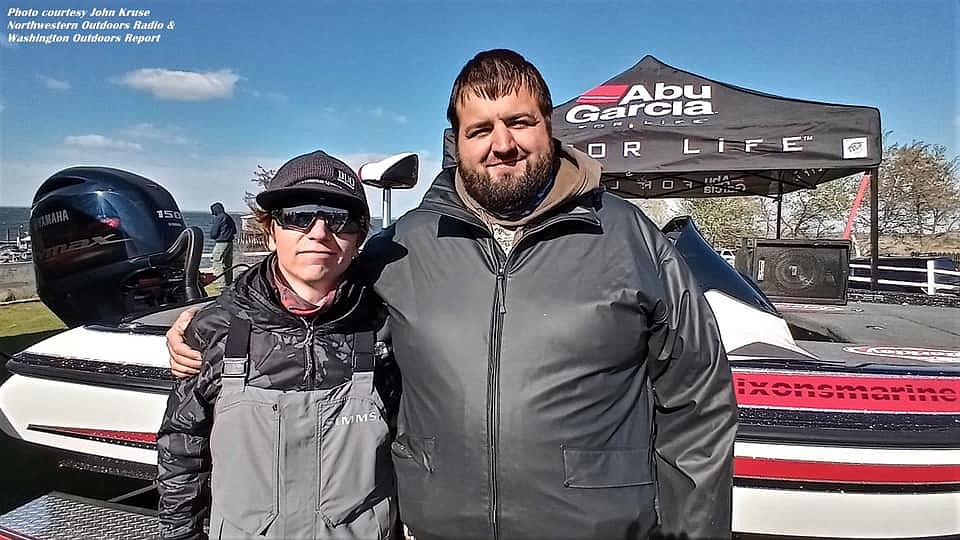 Tate Webb (left) and Micah Hart (right) of Richland won two of the seven hours' best fish and took home the grand prize, a Skeeter bass boat at the Northwest Bass Tournament on Potholes Reservoir on Saturday.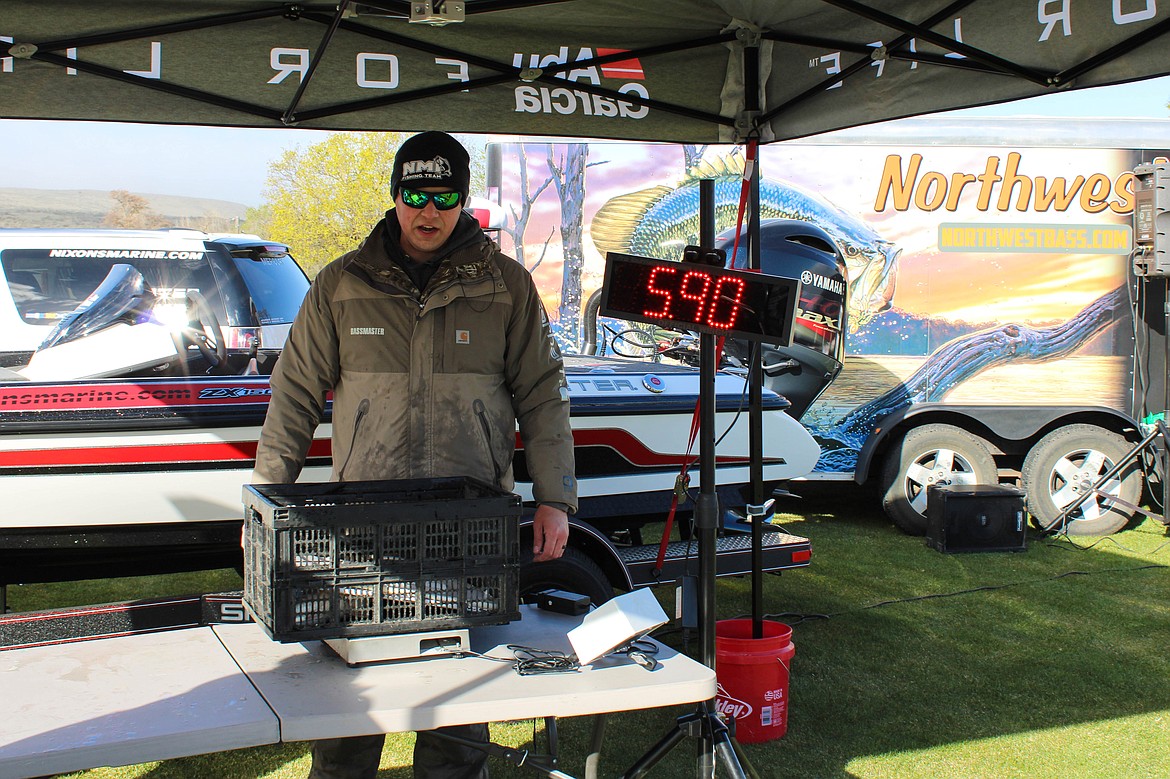 Chase Heaton weighs the 9 o'clock winner, a 5.9-pound largemouth bass at the bass tournament on Potholes Reservoir on Saturday.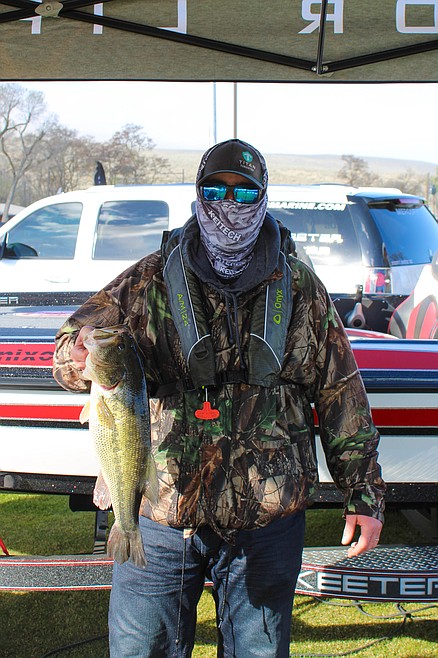 Randy Simmons holds his 5.9-pound largemouth bass, winner of the 9 o'clock hour and one of the day's biggest.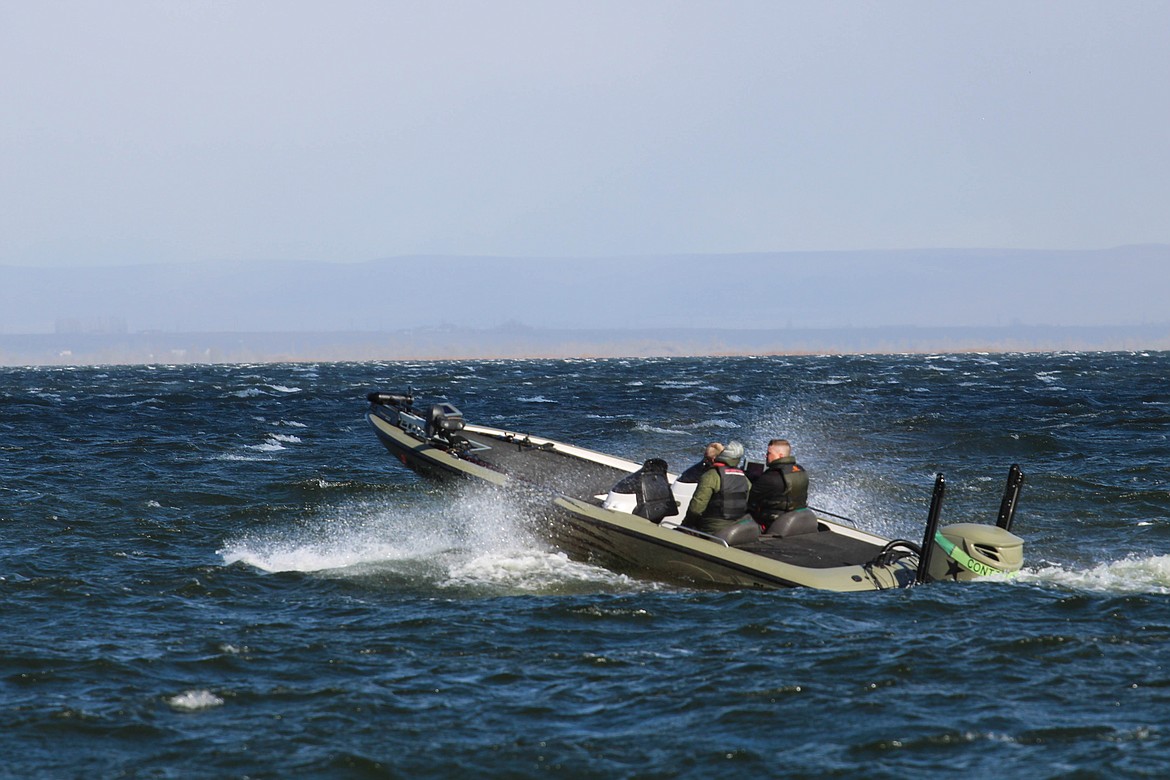 Anglers braved 40 mile per hour winds at the bass tournament on Potholes Reservoir Saturday.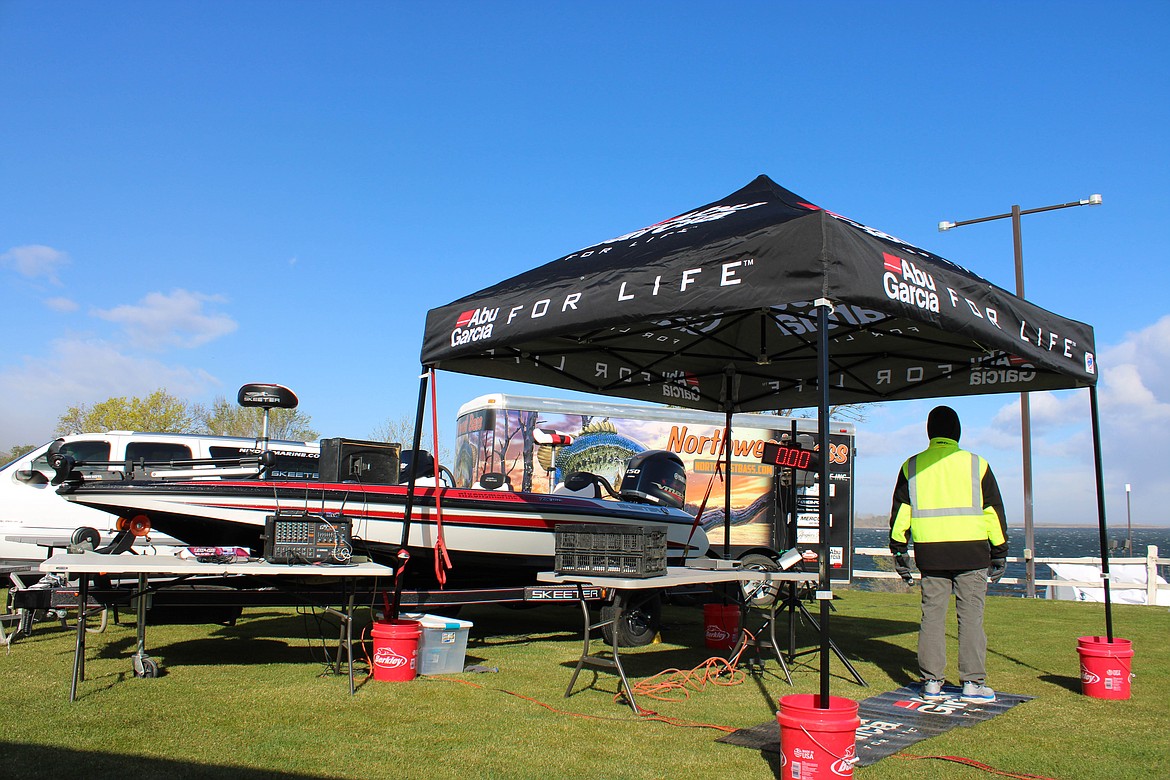 Northwest Bass announcer Willie Nelson takes to the microphone next to the grand prize, a Skeeter boat, for Saturday's bass tournament.
Previous
Next
by
SAM FLETCHER
Staff Writer
|
April 12, 2021 1:00 AM
When Northwest Bass, a competitive fishing organization, held its first tournament at Potholes Reservoir in 2019, organizers thought it was going to be an annual occurrence.
It didn't happen last year due to the coronavirus, but for the event's sophomore year, 2021, the goal was to have the tournament in May for optimal weather, said tournament director Ben Conley. Working with the state, achieving permits and blessings, however, resulted in a month-early event and less-than-optimal weather.
Up to 40 mph winds howled across the Basin Saturday, covering the roads in dust and coloring the whipping reservoir waves white. Visibility was low enough for many of the anglers already, driving in as early as 5 a.m.
But none were deterred, Conley said, even though the wind changes everything about fishing strategy: where to put the boat, where to cast, when to bring in the fish and weigh.
Unlike a normal tournament, where at day's end the competitors weigh their heaviest five fish, in this tournament, it only takes one.
"The intention is to make it a very easy tournament, in the sense that anybody can win it as opposed to having a pro or guys that are die-hard tournament fishermen, because basically the way that it works is only one fish is all it takes to win," he said.
At the end of each hour, whoever caught the heaviest fish won $2,000, period. If that fish was caught on an Abu Garcia rod or reel, Conley said, the prize was $3,000.
This steep prize was awarded seven times throughout the day, and it didn't end there.
Each of the seven first-place winners also received keys to a new Skeeter bass boat with a Yamaha motor. At the end of the day, they each tried to start it. Whoever turned over the engine kept it.
The day saw a good mix of competitors, Conley said, die-hards and first-timers, grandparents and parents taking kids out.
"It's an all-around friendly, good little tournament," he said.
It may have been friendly, but it wasn't little. One hundred and ninety-two teams signed up to compete, he said, making it the largest fishing tournament in Washington state history.
The largest bass was 5.98 pounds. The boat, however, went to Micah Hart and Tate Webb of Richland, who won two separate hours throughout the day.
More than the fish and the prizes, though, it's about fun, Conley said.
"We don't make anything by doing this, as a company. It's a significant expense for us to do it, but the intention is to share the experience with as many anglers as we can," he said. "We just want to get people out there having fun, a little bit of friendly competition is always a good thing."
---