Big Bend soars to big win over Yakima Valley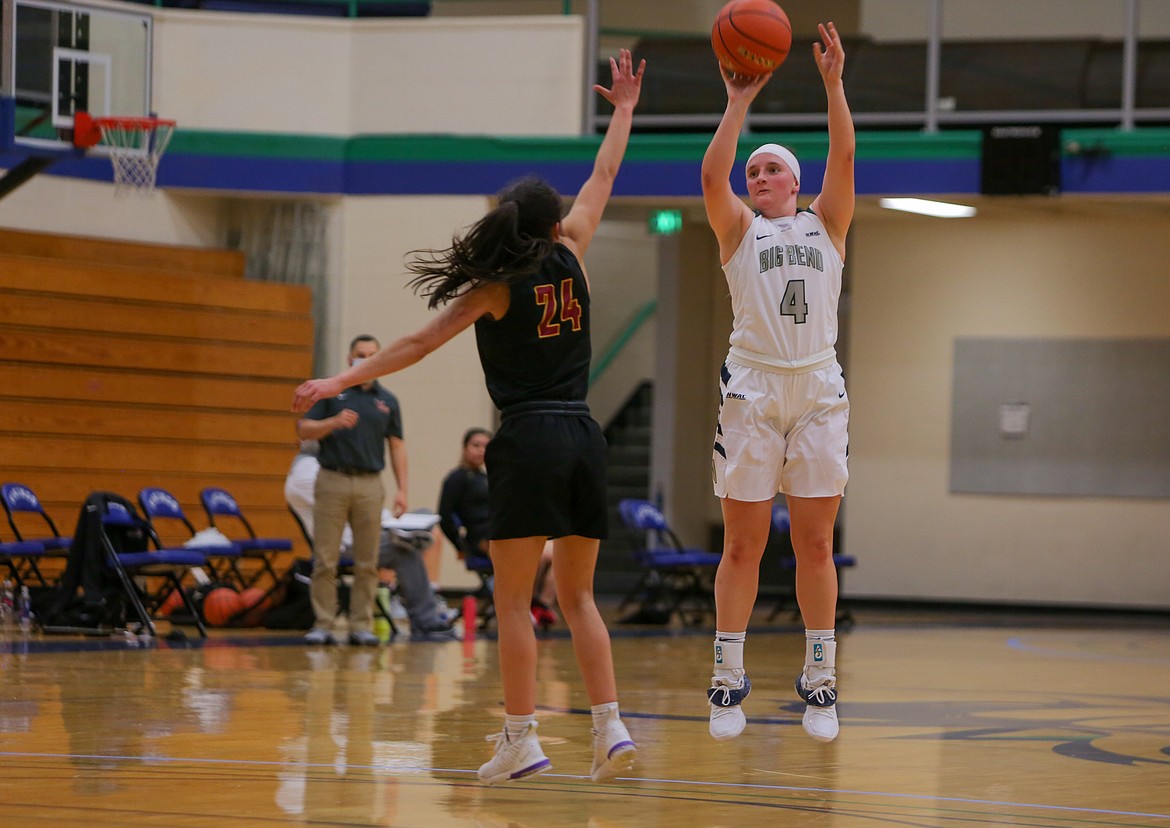 Big Bend's Kaitlyn Callahan fires a three from deep in the second half against Yakima Valley Community College on Tuesday evening at DeVries Activity Center on campus in Moses Lake.
Casey McCarthy/Columbia Basin Herald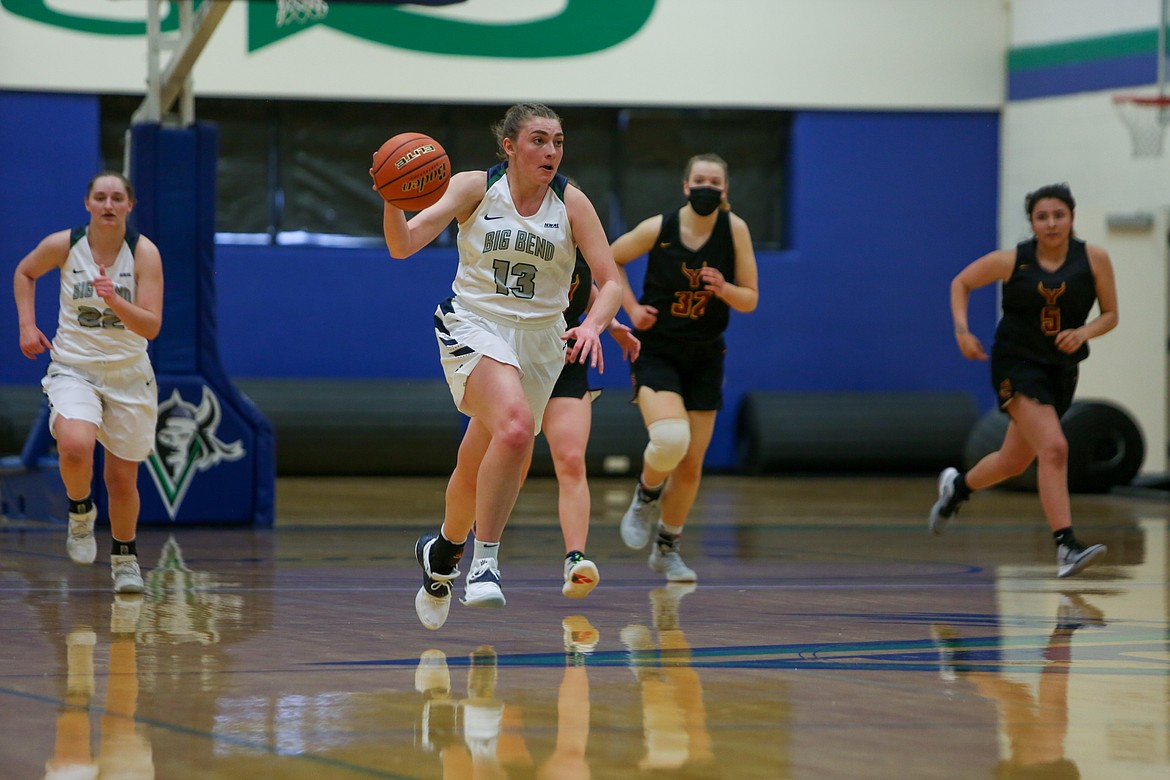 Kelsey Sorenson leads the break down the court after a Yakima Valley turnover in the first half on Tuesday night at Big Bend CC's DeVries Activity Center.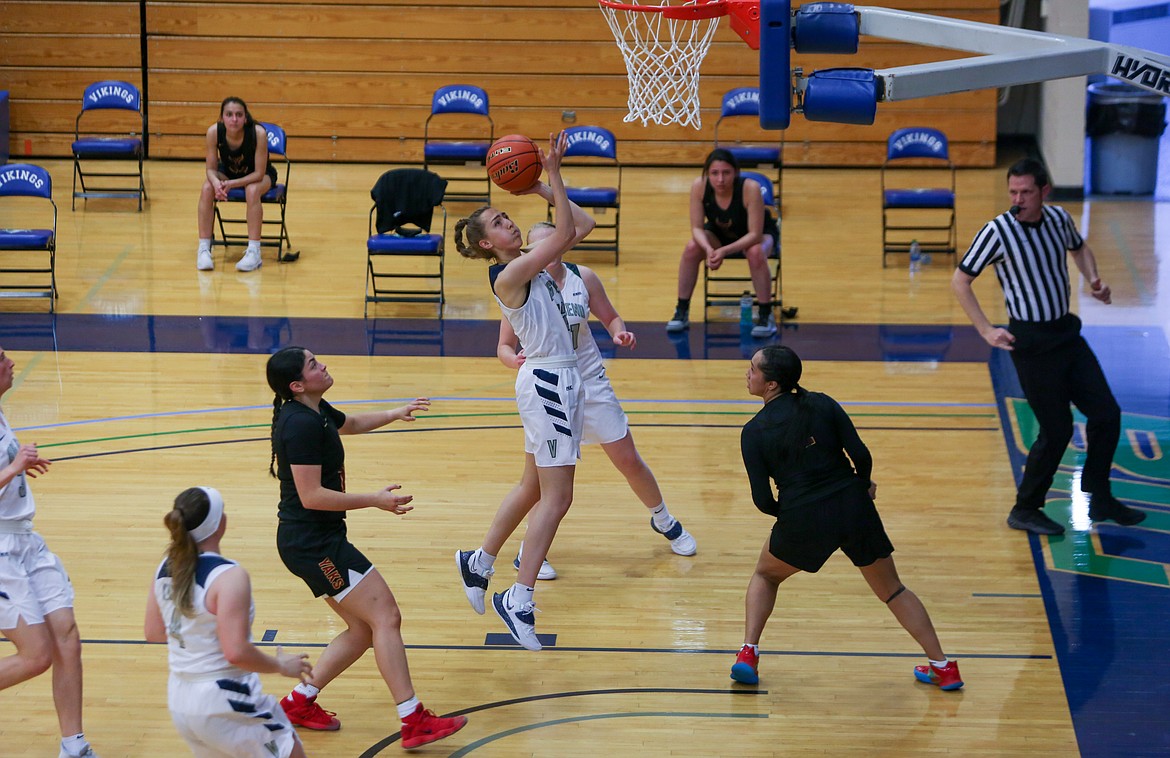 Savana Stephenson skies up for the shot in the paint to score in the first half against Yakima Valley CC on Tuesday night at Big Bend Community College in Moses Lake.
Previous
Next
by
CASEY MCCARTHY
Staff Writer
|
April 8, 2021 1:00 AM
MOSES LAKE — The Big Bend Community College women's basketball team moved to 2-0 on Tuesday night with a win over Yakima Valley Community College, 94-64.
The Vikings found themselves in a close battle early in the first quarter. Big Bend managed to make a little breathing room before the end of the quarter, taking a 30-23 lead.
That lead bubbled to double digits in the second quarter, and the half edded at 55-37. The Vikings built on their lead in the third quarter, taking a 76-51 advantage into the final 10 minutes.
Yakima Valley managed to slow down the Big Bend offense at times in the fourth quarter thanks to some pressure defense, but never managed to get within striking distance.
Big Bend shot 55% for the game, including 52% from three, while holding their opponents to just over 35% from the field for the game. The Vikings held a big advantage on the glass, out-rebounding Yakima 49-18.
Kaitlyn Callahan led Big Bend in scoring, finishing with 25 points on 8-13 from the field. Maelyn Mace added 22 points with 9 rebounds and 4 steals. Savana Stephenson and Kelsey Sorenson nabbed double-doubles for the Vikings, with Stephenson finishing with 18 points and 13 boards and Sorenson 15 and 10. Sorenson added a team-high 4 assists.
Vikings head coach Preston Wilks said after the game what he sees from his team is a lot of excitement and enthusiasm from his players.
"It seems like pent up energy and love for the game, and they're playing well," Wilks said. "That's nice to see."
The Vikings finished with 24 turnovers compared to 16 for the Yaks.
With the 2-0 start, Wilks said he talked to his players about expecting the ups and downs of the season and keeping their trajectory trending upward.
"2-0 is nice, yeah, but there's a lot of things we can continue to work on, and that's what we'll do when we hit practice tomorrow," Wilks said.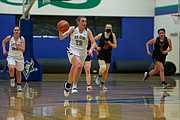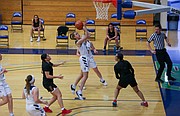 ---