Othello school librarian is April artist of the month
by
Rachal Pinkerton, For the Columbia Basin Herald
|
April 7, 2021 1:00 AM
OTHELLO – Tiffany Fultz is the April artist of the month at the Old Hotel Art Gallery in Othello. Items on display include mini albums, junk journals, cards and mixed media art displays.
Fultz started doing paper crafts around 22 years ago with scrapbooking and photo books to preserve her memories. As the years have gone by, Fultz has developed the types of paper crafts she does and has collected a large variety of tools.
"I have found two hobbies - doing crafts and collecting supplies," Fultz said. "Pinterest has helped a lot with that. I see something and I'm like, 'Oh, I need that.' I have slowly built my collection. My friends and family joke that we have a craft warehouse in the corner of my room."
And like other crafters, her craft interests aren't always limited to one specific type. Over the years, Fultz has made wreaths, knitted, painted and made bracelets with her daughters. But because of the tendency of craft supplies to take over, she made the decision to stick mainly to paper crafts. Those activities that could be incorporated into her paper creations, such as painting, were allowed to stay.
"It's my therapy," Fultz said. "I like sitting down and making something. It's all about the process for me. While I probably collect excessively, I use it."
Fultz said it is rare for her go for more than a couple of days without making something.
While Fultz has limited her home creations to paper, she has allowed herself to do one non-paper craft when she is camping.
"I do diamond art when I camp," Fultz said.
Diamond art consists of using small, colored gems to create patterns on canvas. Fultz likened it to painting by number, only with gems. She said these creations can be hung on the wall or given away as gifts.
Fultz has been able to incorporate her love of crafting into her job at Wahitis Elementary. As a librarian and media specialist, she has been able to give students supplies, such as paper and punches, to fuel their creativity. She has also been able to use it in the MakerSpace program at the school.
The COVID-19 pandemic has brought crafting in school to a halt. But Fultz hopes that once it is over, crafting will be able to return.
Fultz said scrapbooks and junk journals are very similar. The difference is that junk journals are created using old and vintage looking items and can contain thoughts and messages, as well as photos.
"It's kind of like a diary," she said.
In her mixed media, Fultz uses a wide variety of items, including stickers, stencils, chipboard lace and pigment powders, to create 3D pictures.
All of the items Fultz has on display at the Old Hotel Art Gallery are for sale.
"The process is fun for me," Fultz said. "They're not keepsakes or collectables. Everything is for sale."
Fultz paper art can be viewed during the month of April at the Old Hotel Art Gallery, located at 33 E. Larch St., Othello. The Old Hotel is open Tuesday through Saturday from 10 a.m. to 5 p.m.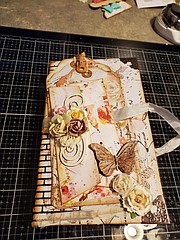 ---