Mental health facility moves closer to meeting license requirements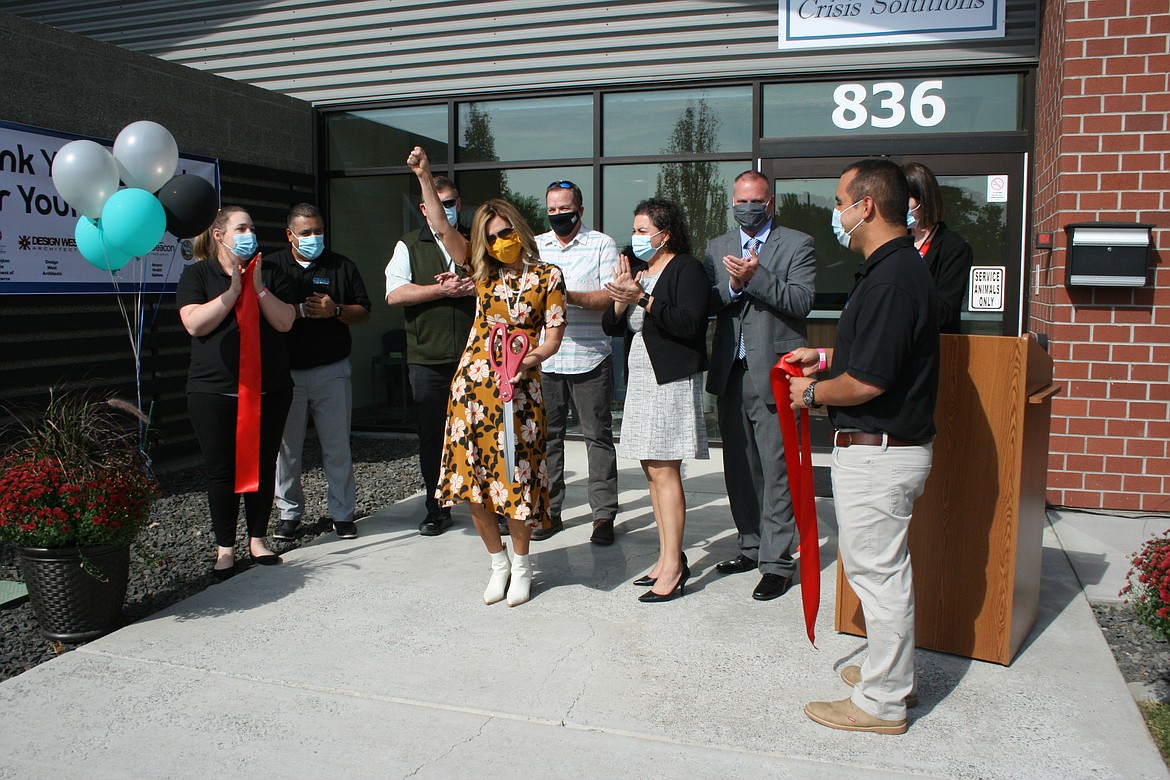 Grant County Commissioner Cindy Carter celebrates the opening of the new Crisis Solutions Center. Applauding with her are (from left) crisis center manager Traci Hunt, Grant Integrated Services quality manager Mike Lopez, Grant County Commissioners Richard Stevens and Tom Taylor, GIS chief financial officer Veronica Perez, GIS executive director Dell Anderson and crisis center supervisor Anselmo Quezada. The facility will provide short-term treatment for people facing a mental health crisis.
Cheryl Schweizer/Columbia Basin Herald
by
CHERYL SCHWEIZER
Staff Writer
|
April 7, 2021 1:00 AM
MOSES LAKE — The Crisis Solutions facility, designed for inpatient treatment for people in mental health crisis, will have to upgrade its heating-cooling system before it can be licensed to provide inpatient services.
Grant County commissioners gave Grant Integrated Services administrators permission to go ahead with the upgrades last week. The cost has not been determined, but it was estimated at less than $15,000.
"This is great news," GIS executive director Dell Anderson said.
Anderson said there is no start or completion date for the project yet.
"There were other updates needed. However, we took care of most of them through the original remodel, so this (the heating-cooling system) should be the last change needed," Anderson said.
The facility, at 836 E. Plum St., Moses Lake, will have room for 10 patients and will provide treatment for 14 days. Until it opens, patients having a mental health crisis have to seek short-term treatment outside the county.
"We are open to taking clients transferring from psychiatric hospitalizations back to the community," Anderson said. "We just haven't had anyone utilize a bed yet."
The facility can provide outpatient services to people who have been released from a hospital and still need care.
"Our staff is currently housed there (at Crisis Solutions)," Anderson said.
Crisis Solutions was supposed to open last fall, but Washington Department of Health officials declined to issue the necessary licenses. Department of Health inspectors said the building did not meet current requirements.
The building served as a mental health treatment center prior to its conversion to a crisis stabilization facility. The facility's license contained a waiver that apparently was canceled when the building's function was changed.
Both GIS officials and the contractor working on the project were unaware of the waiver, which was discovered in October on one of the final inspections. Grant Integrated Services officials had been waiting to find out what changes would be necessary to qualify for the license.
---