Harris Linn Brooks Jr.
December 28, 1936 – March 31, 2021
Born Dec. 28, 1936, in Ontario, Oregon, to Harris Brooks Sr. and Mabel (Taylor) Brooks, Harris grew up learning how to work hard, and did that for his entire life. Harris lived on a homestead with his parents in Oregon, then later in Seattle during World War II while his parents worked in the shipyards. After the war, the family moved many times including to Idaho, upstate New York and Arizona. He eventually moved to Moses Lake, then Ephrata, where he was involved in starting the FFA chapter and eventually graduated from Ephrata High School in 1955 where he got the nickname "Silvertooth." His classmates from high school were like a big extended family to him.
He worked for the telephone company in Moses Lake before serving in the Central States Mission for The Church of Jesus Christ of Latter-day Saints, where he started writing Janet Barney. After the successful completion of his church mission, he traveled to Tacoma, Washington, to finally meet his future wife, and they were married in the Salt Lake Temple on Sept. 1, 1959.
In May 1966, along with two small children, Sherrie and Brad, and 6,000 apple trees, they decided to move to Royal City, purchased their first piece of farm ground in 1967 and moved to that unit in 1968. He cleared the sagebrush, but unfortunately (and ironically), Royal Slope was not a proven orchard area and no financing could be secured for the orchard. We all know who was right on that point.
Their third child, Penny, was born in 1968 and their fourth child, Kim, was born in 1970. It was at times a hard life, but was worth it. Royal Slope has been our home for so many years and we could never leave because of all of the amazing people who live here.
His biggest loves were his wife, children, grandchildren and great-grandchildren, along with growing fruit and vegetables to give to anyone who wanted or needed them. Harris never retired because his retirement was his orchard and garden. Harris loved to sing and many people commented that they could hear him whistling from miles away while he was running equipment.
Harris passed on from this life on March 31, 2021, peacefully at home.
He is survived by his wife Janet (Barney) of 61.5 years; four children Sherrie Brooks of Fallon, Nevada, Brad (Amanda) of Riverton, Utah, Penny Quist, of Ephrata, Washington, and Kimberly (Cary) of Selah Washington; 15 grandchildren, 12 great-grandchildren and many nieces and nephews.
Preceding him in death were his parents Harris Sr. and Mabel Brooks and brothers and sisters George Turner, Violet Bybee, Nora Perkel, John Turner, Harold Turner, William Brooks, Alice Cedarburg and Howard Brooks.
Viewing will only be held at Kayser's Chapel of Memories in Moses Lake on Wednesday, April 7, between 1 and 8 p.m. Funeral Services will be held in Royal Camp at The Church of Jesus Christ of Latter-day Saints building on Thursday, April 8, at 1 p.m.
For those who wish to donate to a charity of their choice in lieu of flowers, please do so in the name of Harris L. Brooks Jr.
Please express your thoughts and memories at www.kayserschapel.com. Arrangements are under the care of Kayser's Chapel of Memories of Moses Lake, Washington.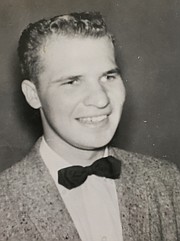 ---