Easterday allegedly defrauded Tyson out of $233 million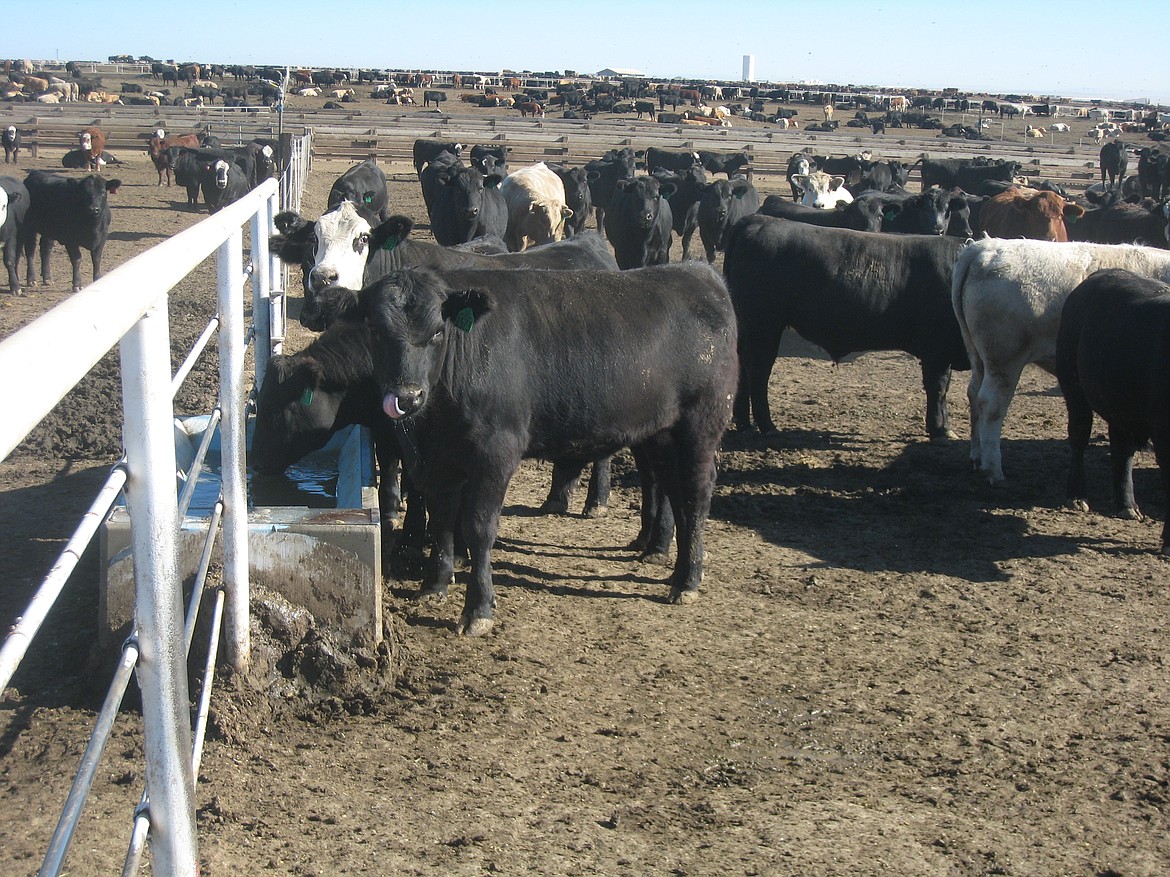 Cattle feed at a trough at an Easterday Ranches feedlot near Pasco.
AP file photo/Shannon Dininny
by
CHARLES H. FEATHERSTONE
Staff Writer
|
April 7, 2021 1:00 AM
SPOKANE — Tri-Cities-area farmer and businessman Cody Easterday defrauded a Tyson Foods subsidiary of more than $233 million in a four-year scheme to bill the company for nearly 266,000 head of non-existent cattle, according to federal court documents.
According to both the federal indictment and Easterday's guilty plea, Easterday caused an unnamed employee of Easterday Ranches to send an email to South Dakota-based Tyson Fresh Meats on May 7, 2020, billing the company $5.3 million for care and feeding of eight lots of cattle — 6,312 head — Easterday Ranches never purchased and "did not actually exist," according to the plea arrangement March 31.
In other instances, Easterday Ranches sent email invoices to Tyson that were a mix of real and non-existent cattle.
In 2016, Easterday Ranches signed a long-term deal to supply Tyson's slaughterhouse in Pasco with cattle. According to the U.S. attorney overseeing the case, Easterday Ranches head Cody Easterday concocted the scheme to defraud Tyson and cover what was then five years worth of losses trading in cattle and corn futures.
Between 2011 and 2020, Easterday reported losing $202 million in futures trades — including more than $50 million in 2018 alone. Easterday also pleaded guilty to reporting fake cattle inventory figures in 2018 and 2019 to the Chicago Mercantile Exchange to get his company's trading limit raised, violating exchange rules and federal law.
Because of the losses, both Easterday Ranches and Easterday Farms are in federal bankruptcy court. As large, family-owned agribusinesses, the two companies share directors, operations and properties, with Easterday Ranches facing likely liquidation, perhaps after the last bovine the company is feeding for Tyson Fresh Meats is delivered in June.
In addition to defrauding Tyson Foods, Easterday also billed a small, unnamed company in Tukwila $11 million from March to September 2020, for cattle that did not exist. The court documents do not explain why the company, referred to as "Company 1," is not named.
As part of his plea, Easterday, 49, agreed to pay restitution totaling $244 million to both Tyson and "Company 1," and faces a possible 20 year prison term, according to a press release from the U.S. Department of Justice.
Charles H. Featherstone can be reached at cfeatherstone@columbiabasinherald.com.
---