Committee revamps bill on youth safety tip line
by
Angelica Relente, Herald Legislative Writer
|
April 6, 2021 1:00 AM
In a 7-6 vote, the Children, Youth and Families Committee of the Washington House of Representatives on March 24 modified a bill, co-sponsored by a local senator, that would create a youth safety tip line.
The original intent of Senate Bill 5327 was to require the state attorney general to establish a tip line program for the safety or well-being of individuals less than 25 years old.
Rep. Lisa Callan, D-Issaquah, had an amendment that was adopted into the bill. Callan's amendment replaces creation of a tip line program with a youth safety and well-being statewide reporting tool advisory group. The group would be established to deliberate on the effectiveness of a youth tip line.
"This amendment ... moves towards the next step in the development of what this tip line would look like and do," Callan said.
Sen. Sharon Brown, R-Kennewick, is SB 5327's primary sponsor. Sen. Judy Warnick, R-Moses Lake, is a co-sponsor on the bill.
Rep. Tom Dent, R-Moses Lake, said during a virtual executive session March 24 many adults and children are suffering. Existing resources that are available to youth may not be accessible to youth in different parts of the state.
"We need (this tip line)," Dent said. "We need it now."
Callan said as much as she would want to establish the tip line program now, it is important to make sure the program has a "backbone." Her amendment would ensure all youth get the right services they need, she said.
Many suicides have occurred in Dent's district since the COVID-19 pandemic shutdown, he said. He witnessed "a tsunami of suicides" come not only from youth, but individuals working in the agriculture sector as well, he said.
"The depression is real," Dent said. "People are struggling, and we all know it."
Rep. Tana Senn, D-Mercer Island, said during the executive session her daughter's school card has a list of resources students can reach out to for help. Having a group study the effectiveness of a tip line can help develop "a more streamlined way" to do the tip line program.
Rep. Brad Klippert, R-Kennewick, said school shootings have happened before — establishing a tip line now could help youth have a resource to call when needed.
"We do not want to make this into a study bill," Klippert said. "This is a great bill that needs to be moved forward now."
The Senate passed SB 5327 on Feb. 25 in a 48-0 vote. The House has yet to vote on the bill's final passage.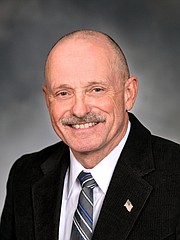 ---