Royal defeats Chiefs to end season unbeaten
Royal's Cooper Christensen pulls in a touchdown catch with Moses Lake's Lerenz Thomas defending in the first quarter on Friday night in Royal City.
Casey McCarthy/Columbia Basin Herald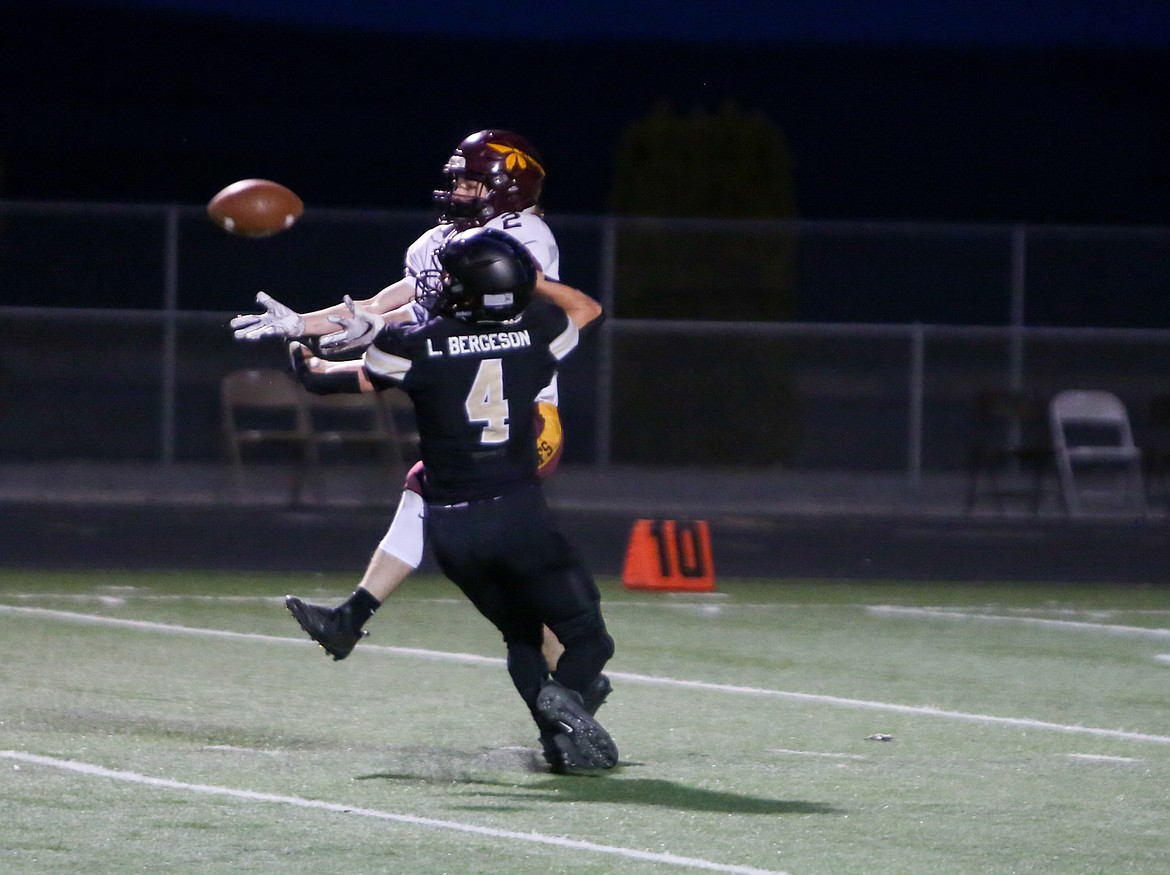 Moses Lake's Asher Lindgren pulls in a catch over Royal's Luke Bergeson in the first half on Friday night at Royal High School.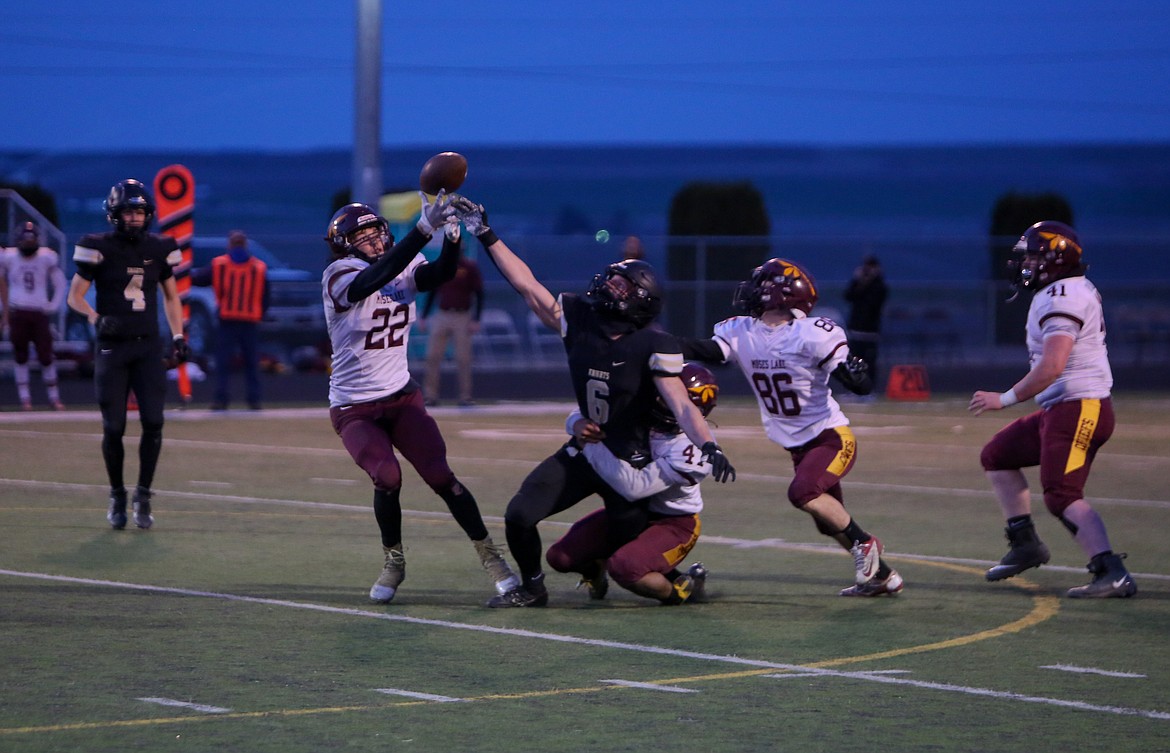 Moses Lake's Jackson Purcell takes advantage of a bobbled catch to pull in the first of two interceptions in the second quarter against Royal on Friday night.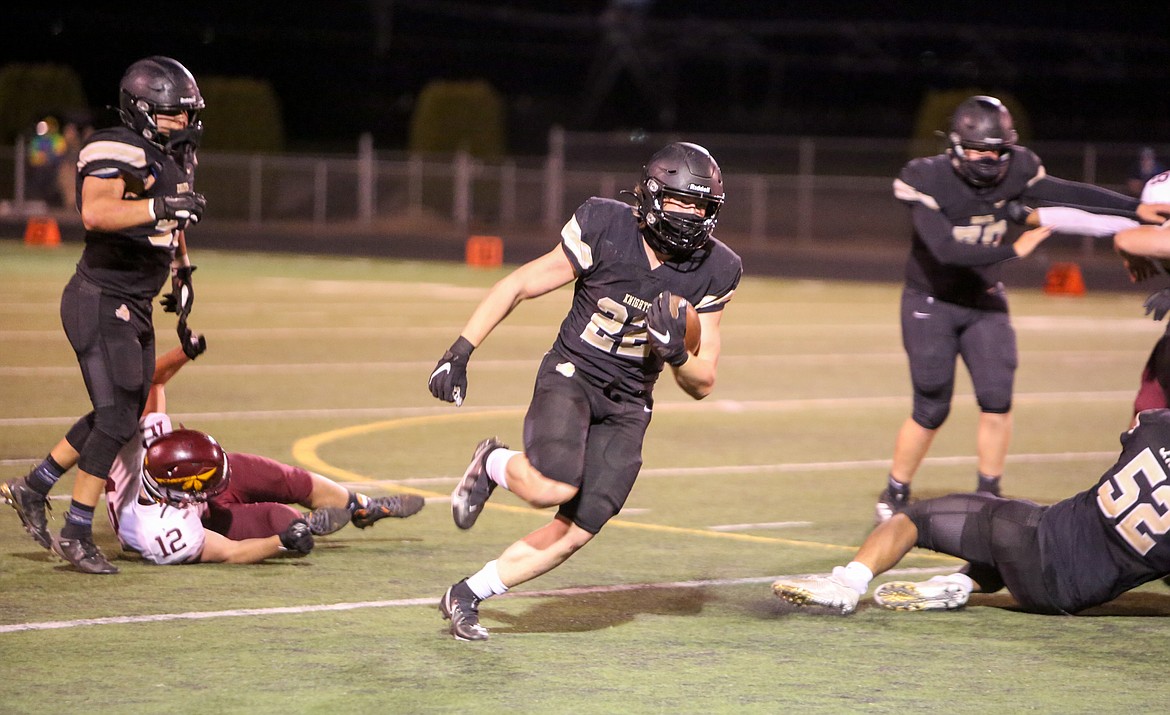 Royal's Avery Ellis powers upfield for the Knights as they capped off the undefeated season on Friday night against Moses Lake.
Moses Lake's Gerardo Nova powers his way in for a rushing touchdown late in the first half against Royal on Friday night in Royal City.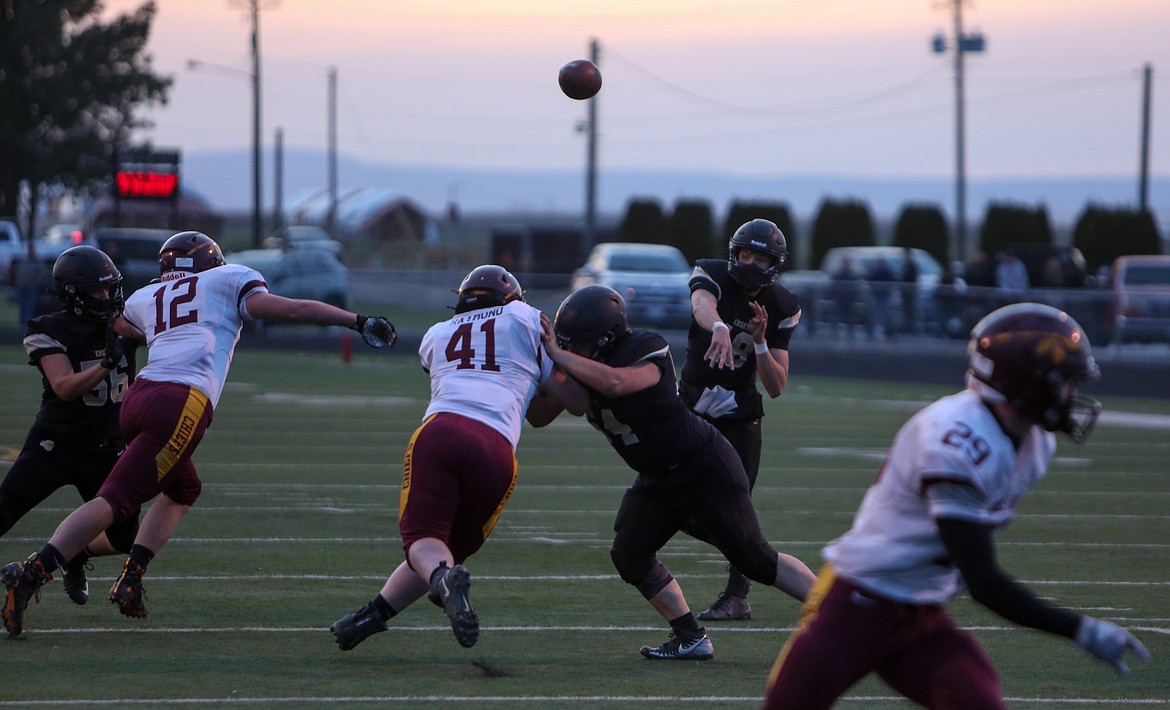 Royal's Caleb Christensen makes a pass downfield in the first half against Moses Lake on Friday night at RHS.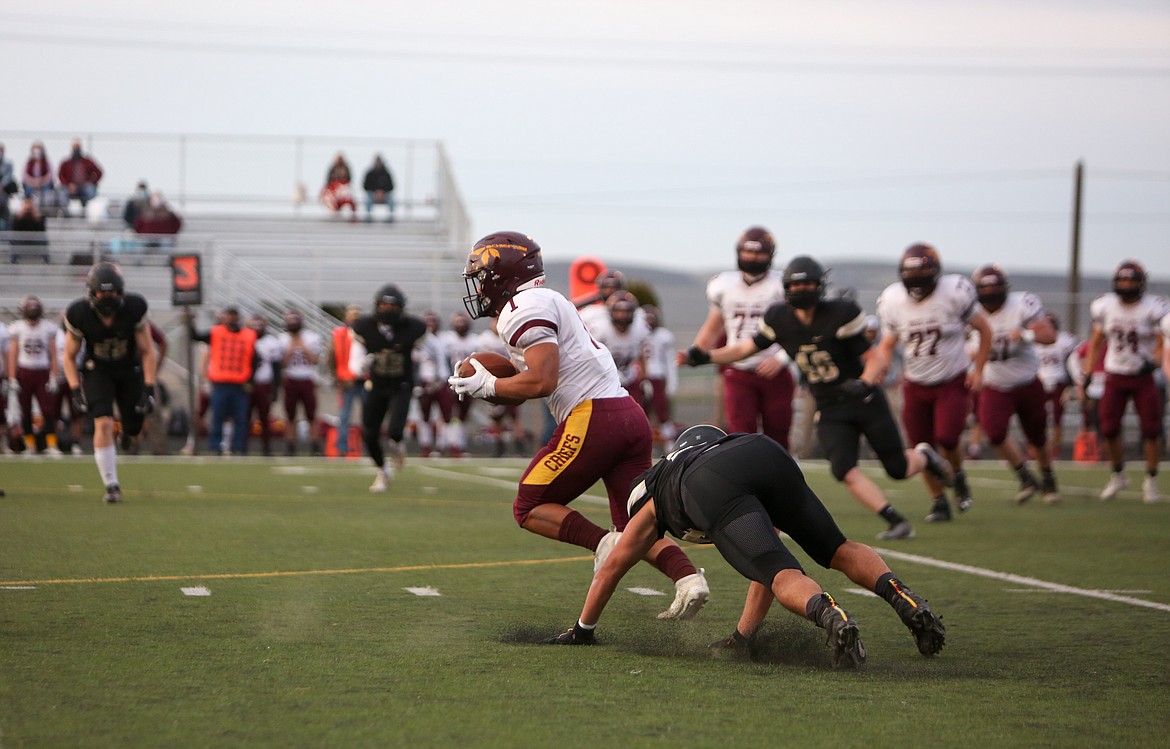 Moses Lake's Lerenz Thomas shakes off a defender as he makes a cut downfield against Royal in the first half on Friday night.
Previous
Next
by
CASEY MCCARTHY
Staff Writer
|
April 5, 2021 1:00 AM
ROYAL CITY — Royal City High School capped off yet another perfect season Friday night, taking down Moses Lake High School, 41-16. The Knights haven't lost since 2018 and in five games this spring outscored opponents 271-32.
Royal's Caleb Christensen threw a pair of passing touchdowns to Cooper Christensen and Derek Bergeson in the first quarter to take a 14-0 lead. A Luke Bergeson touchdown catch early in the second brought the score to 21-0.
From there, the Chiefs resurged for the rest of the half. Lerenz Thomas broke free for the 77-yard touchdown catch to put the Chiefs on the board in the second quarter, 21-7. Jackson Purcell picked off Christensen twice in the second quarter, while the Chiefs added a field goal and rushing touchdown from Gerardo Nova to trim the deficit to 21-16. The Chiefs ended up scoring more points off the Royal defense in the first half of Friday's game than the Knights gave up the rest of the season combined.
Avery Ellis rushed in from five yards out late in the third quarter to give the Knights a little more breathing room. Cooper Christensen caught his second receiving touchdown of the game with seconds left in the quarter to push Royal ahead 34-16.
Caleb and Cooper connected one last time for in the fourth with a 44-yard reception for the final score.
Caleb Christensen finished with 398 yards passing, five touchdowns and two interceptions. Everett Ashley finished with 279 yards through the air for Moses Lake with one touchdown and one interception.
Cooper Christenen finished with 200 yards receiving on 10 catches, three touchdowns and one interception on the defensive side. Luke Bergeson and Derek Bergeson combined for 171 yards and two touchdowns on 12 catches.
Lerenz Thomas finished with 146 yards receiving on eight catches, with one score. Asher Lindgren added 98 yards on five catches. Gerardo Nova rushed for 53 yards with one rushing touchdown.
Moses Lake senior Everett Ashley said it's crazy seeing the season come to an end so soon. Ashley said he wouldn't trade his time with his teammates and coaches the last four years for anything.
"I loved every opportunity I was given, every snap I was given with these guys," Ashley said. "It was all great."
While they may not have gotten the victory, Ashley said he felt like the Chiefs left everything they had out on the field. He said everyone on the field gave it their all through the final whistle.
Chiefs head coach Todd Griffith said, like everyone, the Chiefs were way behind coming into the season. Typically, he said, they'd practice hard two days a week, but this year they've had to go full throttle every day.
"We just got better and better; the last two days of practice were our best," Griffith said.
He said it's kind of tough seeing the season come to a close just as they're starting to roll. For a long time, he said, this season didn't really feel like football.
Griffith credited his seniors for keeping up with drills and working together while the season was hanging in the balance. Without that off-field work, he said, the Chiefs might have been even further behind than they already were.
Casey McCarthy can be reached at cmccarthy@columbiabasinherald.com.
---