Learning, sharing: New Grant County Health District spokesperson keeps public informed
by
CHERYL SCHWEIZER
Staff Writer
|
April 5, 2021 1:10 AM
MOSES LAKE — Misty Aguilar said her career in communication started with her desire to learn.
"I really like to learn a little bit of everything, and, I guess, share. I like to share the information. And deep down I really like to help people," she said. "I like reading through research and data and finding pieces that are relevant to share, so that people can understand a situation or the message. And I like to have fun with it, too."
Aguilar is the new public information officer for the Grant County Health District. She has been on the job about six weeks, following about two years with Samaritan Healthcare as a marketing coordinator, and about 10 years in the communications department at REC Silicon prior to that.
"Right now, I'm trying to soak up as much information as I can about what everyone here in this office does," she said.
The breadth of tasks GCHD is responsible for surprised her, Aguilar said, even with her experience in the health care communications field. The GCHD tests soil at construction sites, as well as water testing, inspecting restaurants, investigating complaints about possible pollution, and inspecting septic systems, among many other tasks.
"We handle everything from rabies to TB (tuberculosis) to syringe programs, COVID response," she said. "I feel like every day, I turn around and there's something new that I learn. It's really amazing."
While all that work continues, the COVID-19 outbreak is getting most of the attention.
"A year ago, everyone's life changed overnight," Aguilar said. "I think everyone, not just the health district but everybody, is learning to adapt."
In the initial stages of the pandemic last spring, the GCHD was focused on testing, she said. Now there's a vaccine, so much of Aguilar's time is spent on the vaccine rollout, helping set up and publicize vaccine clinics, she said.
"I think the most important thing that I do is try to get the information out for people to read and understand … I think now more than ever there is a lot of information out there, and not necessarily accurate information," she said. "So trying to get accurate information out."
Doing that means finding as many different ways to reach people as possible, whether it's newspapers and radio, social media, even in-person visits.
Effective communication involves finding the right tools to get the audience's attention, and that will be different for different people, she said.
"Meeting people where they're at," Aguilar said. "And creating content that they can understand, and can use to make informed decisions."
That's especially critical in a pandemic, she said, where part of the job is helping people understand the risks posed by the virus.
"It doesn't necessarily mean they're going to like the message that we have, but it's my duty to inform them of the message, the risks, the health advisories," she said.
Aguilar worked at Samaritan Healthcare when the pandemic broke out, and between Samaritan and GCHD, it's been quite a ride.
"Surreal," she said. "It still doesn't feel real, I think. We're all still adjusting. And I think we just have to continue to pivot."
The GCHD has been a good place to work. She's been impressed by her coworkers and the amount of time they've put in since the pandemic began.
"I love it. I feel it's a privilege to help this team and help the community get past this pandemic," she said.
Aguilar grew up in Alaska, and her husband Mark is originally from Othello.
"I kind of just came here, and I thought, 'Oh, this will be a great place to stop for a short time.' And then it kind of grew on me and became my home. I like it here. I like the weather. I like the seasons, I like the area," she said.
Cheryl Schweizer can be reached via email at cschweizer@columbiabasinherald.com.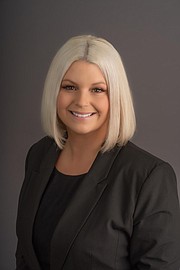 ---