Chiefs swimmers set records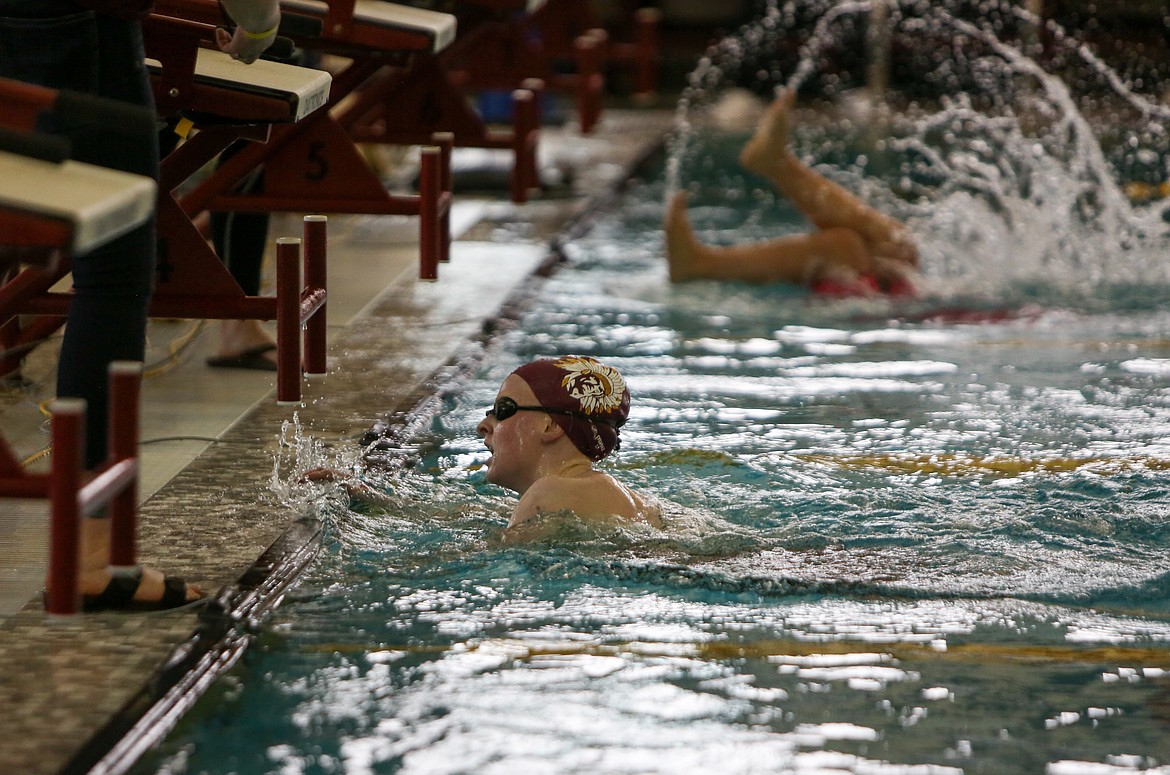 Moses Lake's Laurel Knox comes in to the finish in first place during the 500-yard freestyle event at Moses Lake High School on Thursday afternoon.
Casey McCarthy/Columbia Basin Herald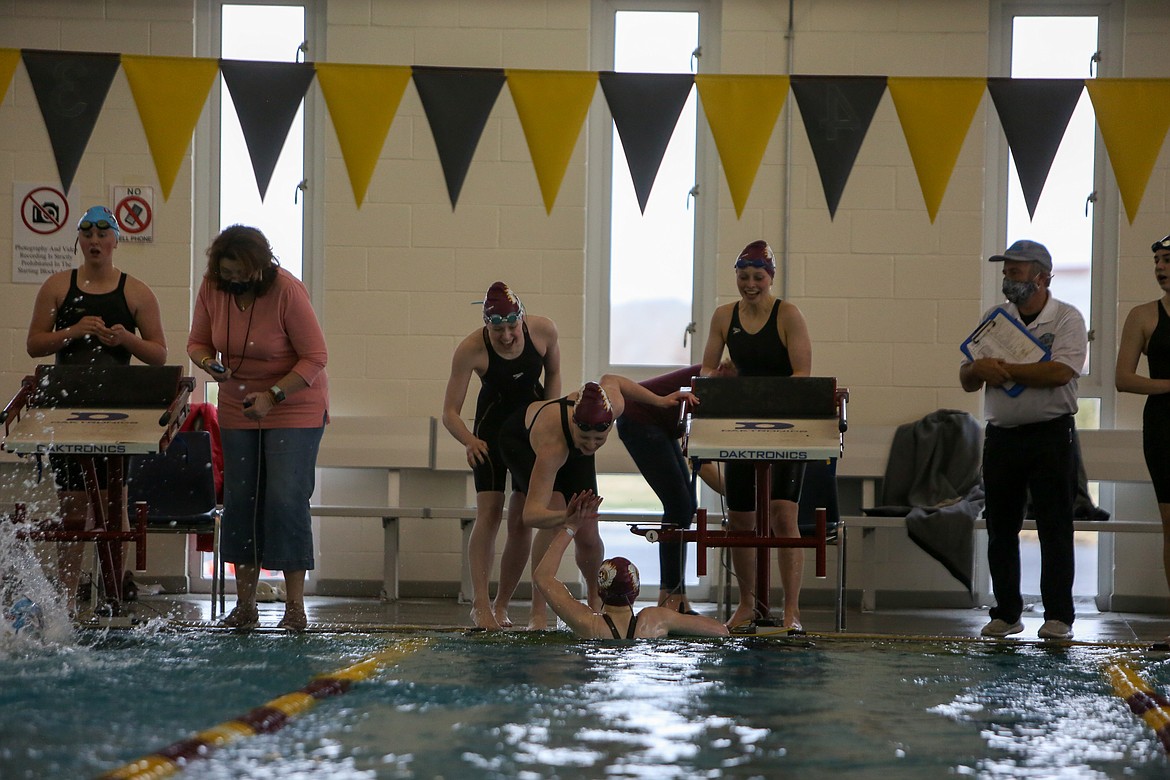 Moses Lake 200 Freestyle Relay team members celebrate together after setting a new school record by just tenths of a second on Thursday afternoon at MLHS.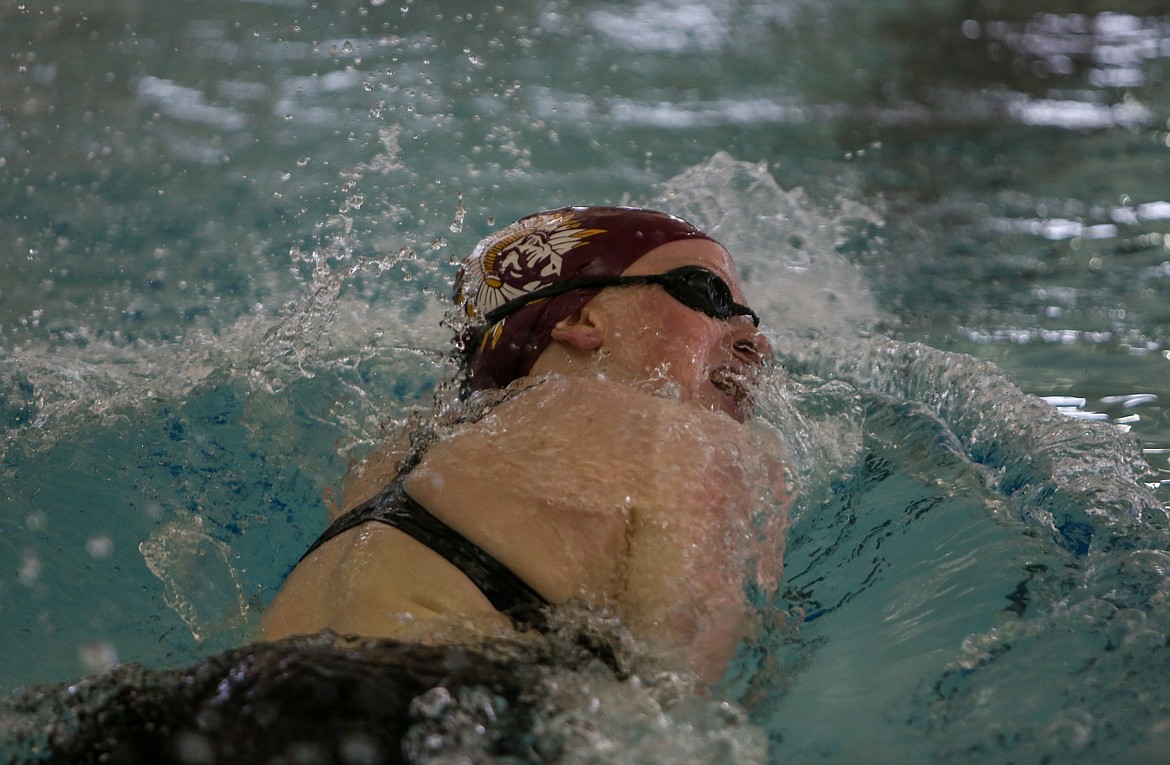 Moses Lake's Laurel Knox makes her way back down the pool at Moses Lake High School during the 500-yard freestyle event on Thursday afternoon.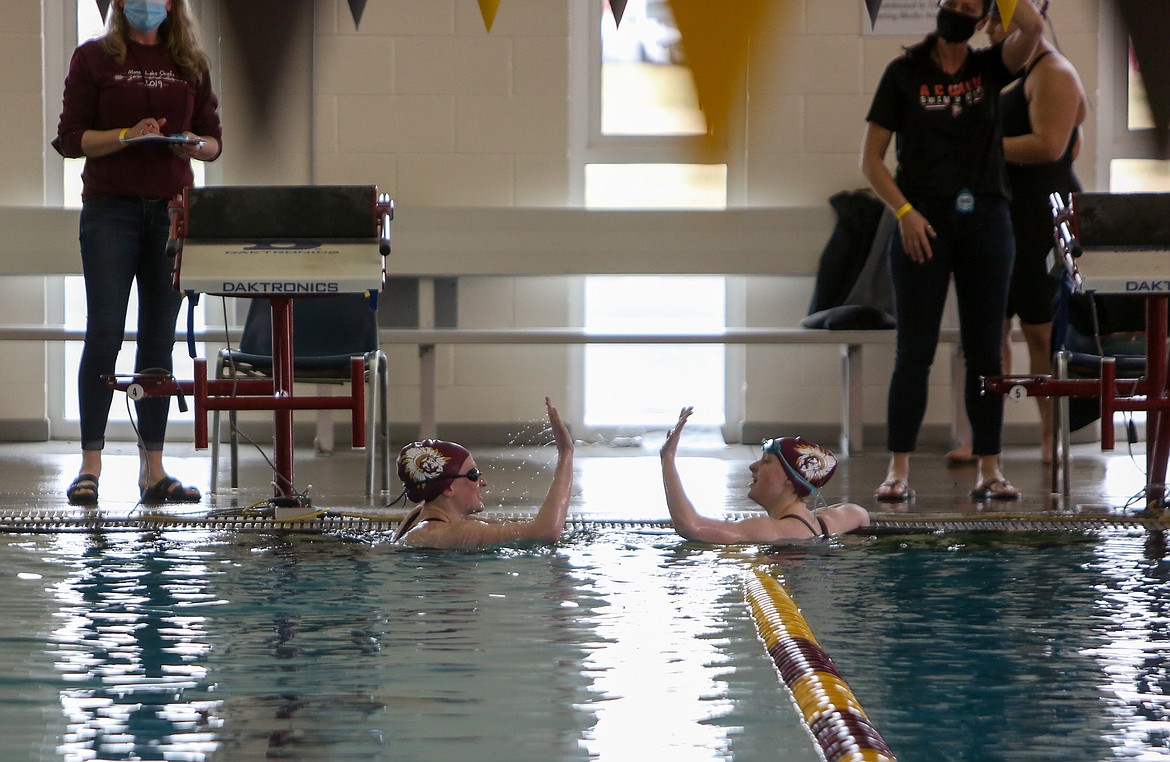 Left to right, teammates Laurel Knox and Makhaela Parrish celebrate after finishing first and second in the final heat of the 200 freestyle event at Moses Lake High School last Thursday.
Moses Lake's Aniston Dana backstrokes across Tony St. Onge Pool of Dreams last Thursday during the 200-yard individual medley event.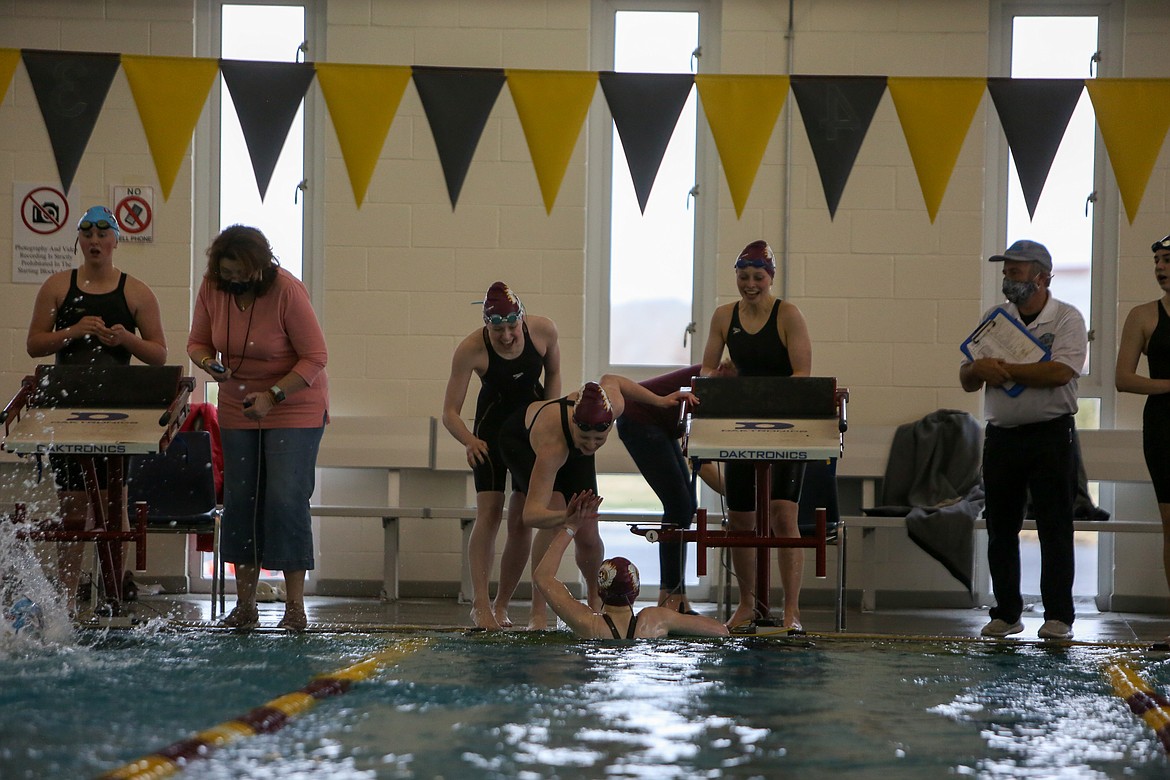 Moses Lake 200 Freestyle Relay team members celebrate together after setting a new school record by just tenths of a second on Thursday afternoon at MLHS.
Previous
Next
by
CASEY MCCARTHY
Staff Writer
|
April 5, 2021 1:00 AM
The Moses Lake High School girls swim and dive team took third place at the 2021 Champs Meet at Tony St. Onge Pool of Dreams at MLHS on Thursday.
Junior Laurel Knox was part of two new school records on Thursday, setting a new Chiefs' best in the 200 freestyle and 200 freestyle relay. Teammates Issabelle Parrish, Makhaela Parrish and Lydia Jensen joined Knox's relay team.
Knox took first place in the 500 freestyle and joined the same relay team to take fourth in the 400 freestyle relay. Issabelle Parrish finished second in the 50-yard freestyle and 100 freestyle event.
Makhaela Parrish finished second in both the 200- and 500-yard freestyle events. Aniston Dana placed third in the 100-yard butterfly and took fifth in the 200 individual medley. Lydia Jensen took fourth in the 100 freestyle.
Knox said she thought she had a chance at the 200 freestyle school record, but never expected to beat the previous record by so much.
"I just looked at my parents and knew all the hard work was worth it, I was just really happy," she said.
Having a chance to get the moment she dreamt of as a swimmer was both relieving and exciting, she added.
With her senior season less than six months away, Knox said she's focused on breaking those records in the fall and hopefully standing on the podium at the state meet.
Moses Lake honored 11 seniors, celebrating Senior Night in between heats. Senior diver Lauren Tolley wrapped up what she and her coaches agreed has been the best season of her life, including the best meet of her career earlier this spring.
With interim head coach Lindy Williams taking on the head role while Tony St. Onge took some time away, Tolley had to step up as a "coach" herself with the younger divers. She said she loved that role, and credited the upperclassmen she followed as a freshman with where she is today.
"The junior, senior girls were such a help to my diving skill and such a help to my confidence and making it a great experience," Tolley said. "I'm really grateful that I could be that leader, friend and mentor to the younger divers on my team."
Thursday was pretty emotional, she said. In the fall, she said she had kind of accepted not getting one last season to dive. Even when the revised schedule was announced, she said she wasn't sure she wanted to deal with a "strange year."
"I'm so grateful the way it all turned out, and I wouldn't trade this six-week COVID season for anything," Tolley said.
Williams said the circumstances actually might have helped push some of her swimmers to their best times.
"Having this strange season actually helped some of them train better because there was intensity from day one," Williams said. "We didn't have eight to 10 weeks, we had five to six, so when I said we're sprinting from the beginning and we're sprinting all the way through, they knew I meant it."
Casey McCarthy can be reached at cmccarthy@columbiabasinherald.com.
---