Moses Lake soccer falls to Eastmont, 3-2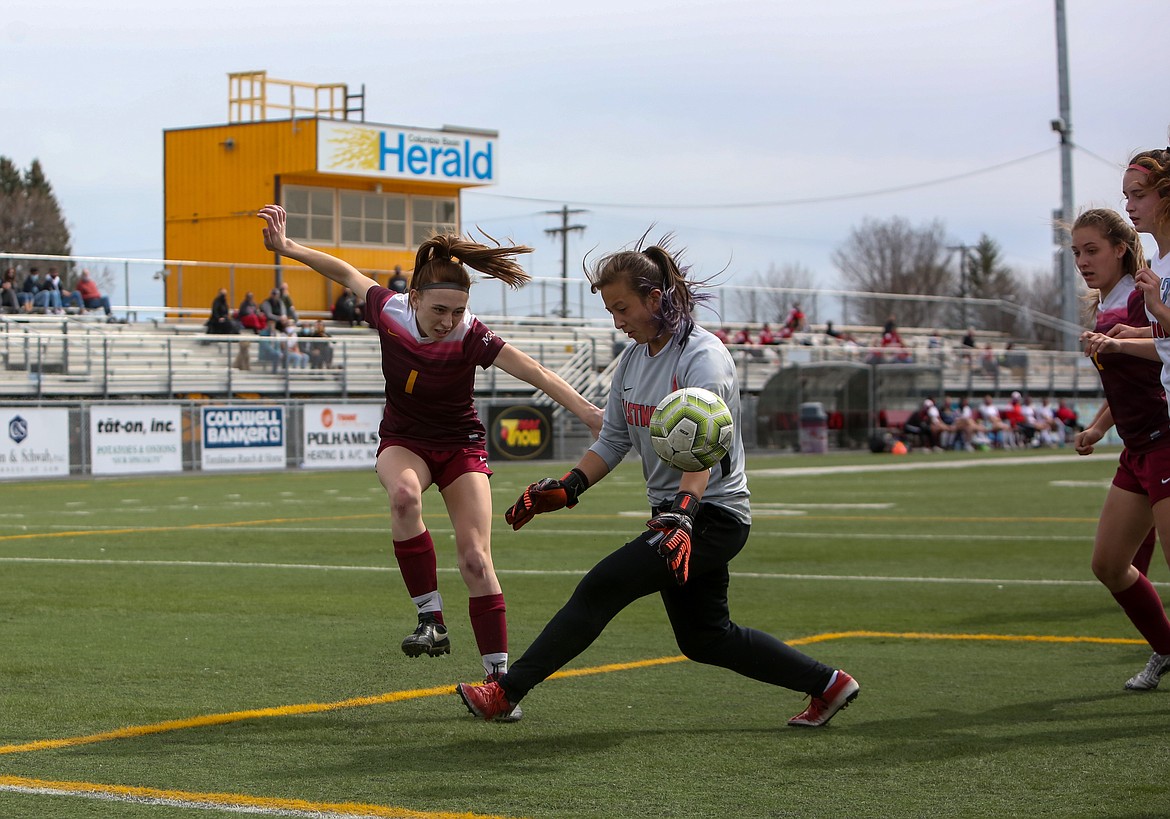 Moses Lake's Kaydence Martinez fires a shot that goes just wide late in the first half against Eastmont on Saturday afternoon.
Casey McCarthy/Columbia Basin Herald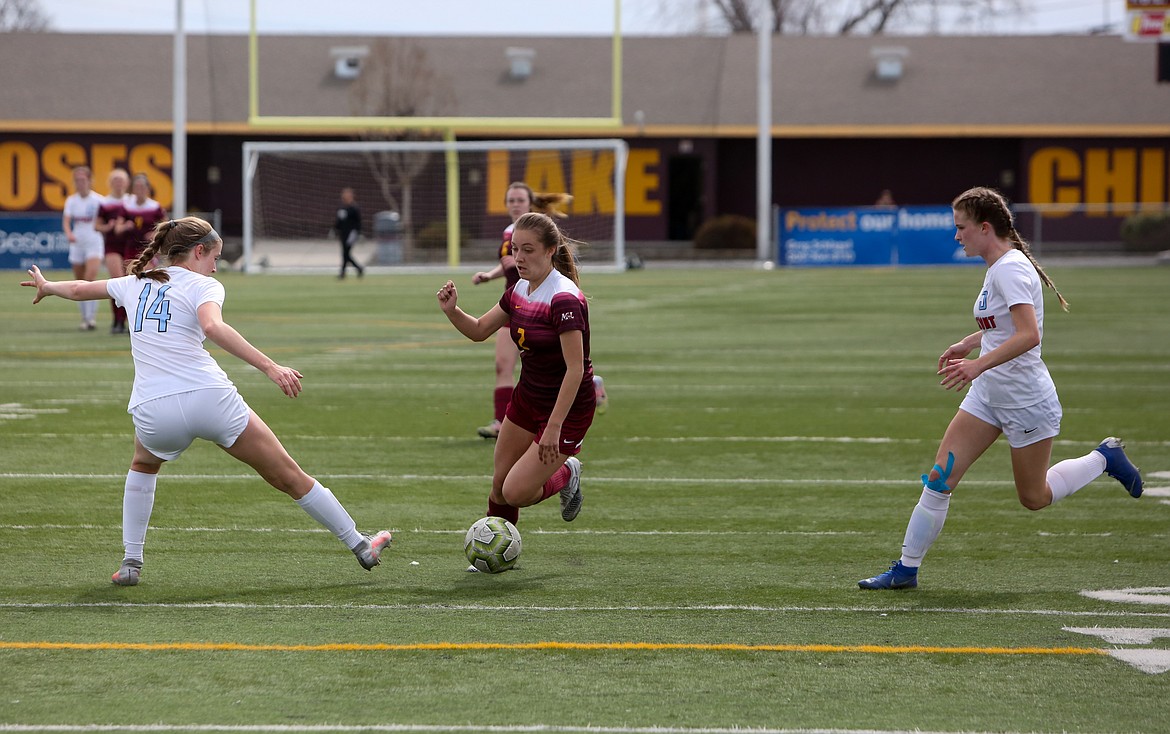 Natalie Bunch splits a pair of Eastmont defenders as she cuts up the field on Saturday afternoon in Moses Lake.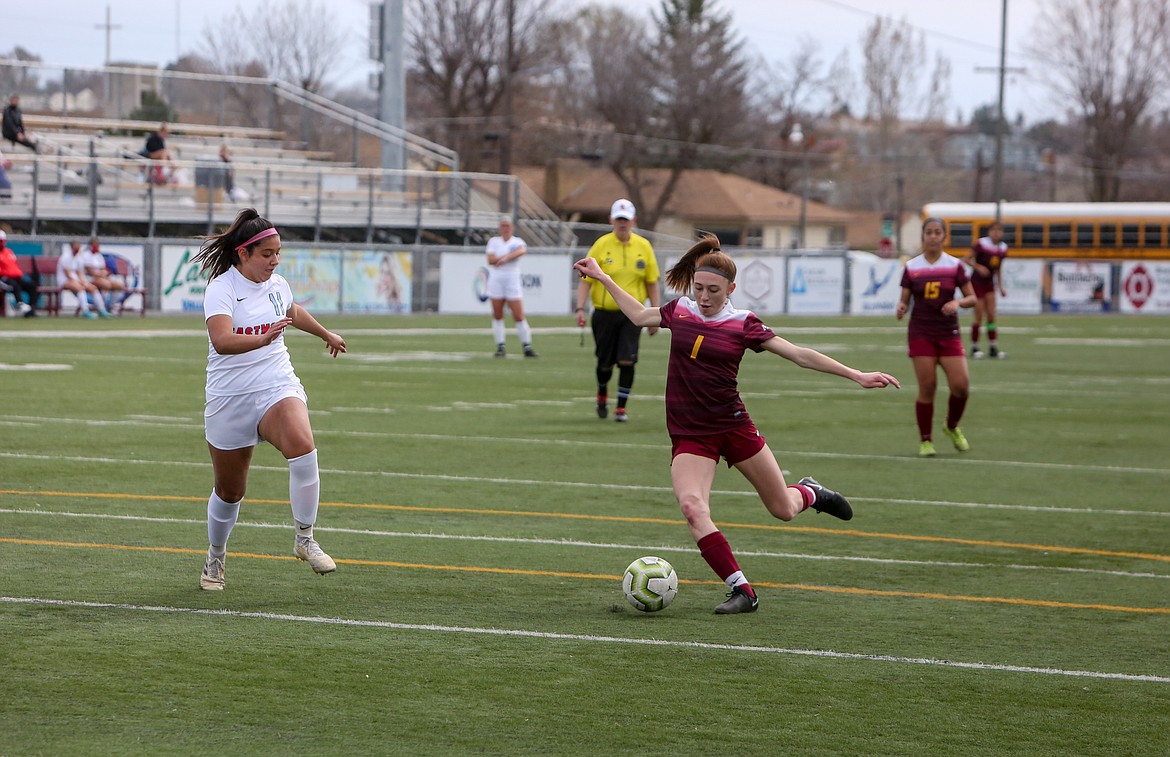 Kaydence Martinez fires in a goal in the first half to give Moses Lake an early lead against Eastmont in the season finale on Saturday at Lions Field.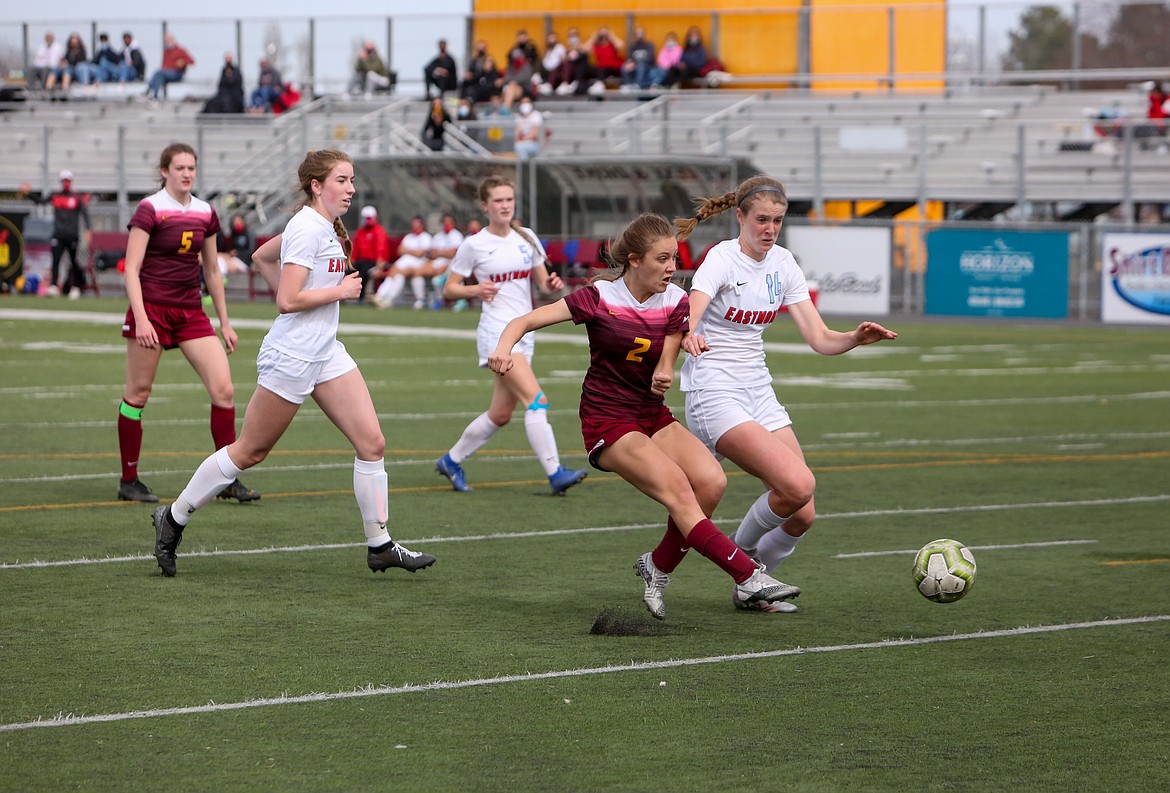 Moses Lake's Natalie Bunch fires in a goal to even the game at 2-2 versus Eastmont on Saturday afternoon at Lions Field.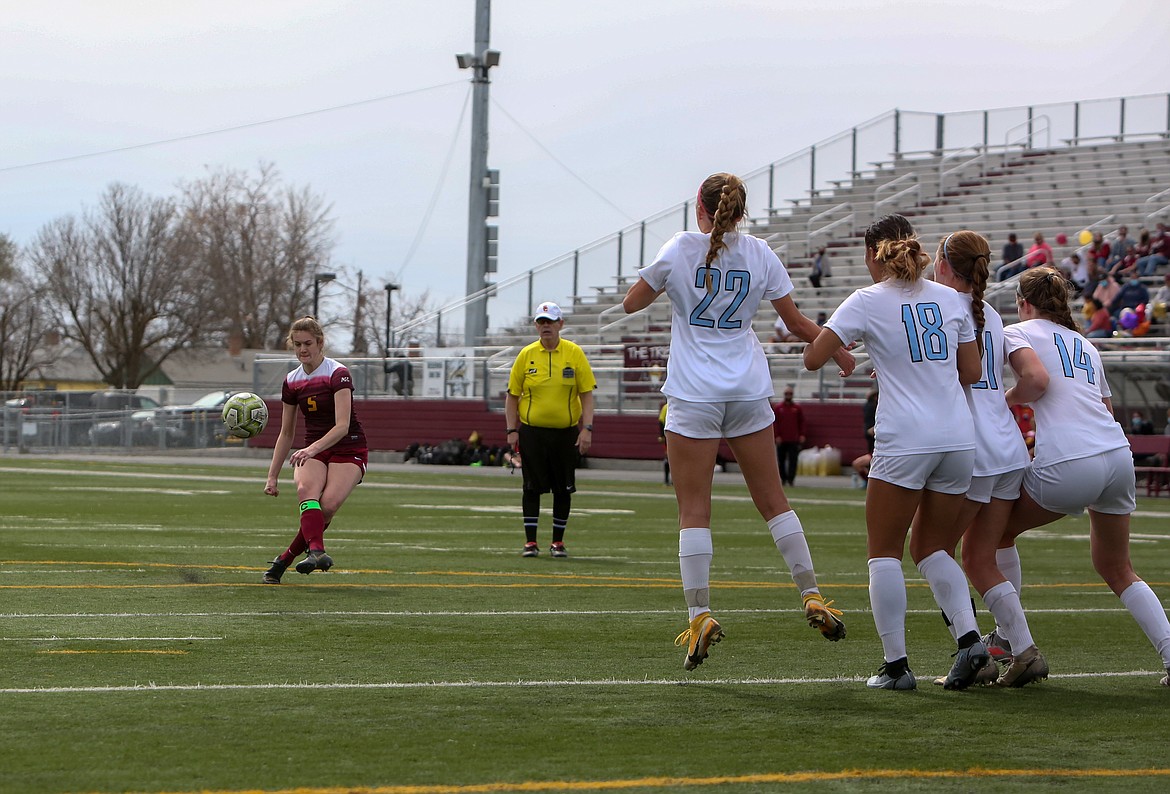 Senior Olivia Waites takes a free kick for Moses Lake on Saturday afternoon against Eastmont at Lions Field.
Previous
Next
by
CASEY MCCARTHY
Staff Writer
|
April 5, 2021 1:00 AM
MOSES LAKE — On Senior Day Saturday at Lions Field, Moses Lake High School girls soccer fell to Eastmont High School 3-2 in a tightly contested game.
The Chiefs defense held off a few dangerous Eastmont attacks early in the first half, before counterattacking to take an early lead. Natalie Bunch connected with Kaydence Martinez with a cross to put Moses Lake in front 1-0 less than 10 minutes into the match.
An Eastmont cross from the corner set up the tying goal minutes later. Eastmont then scored again with about 16 minutes left in the half. The Chiefs had multiple scoring opportunities late in the first half. A barrage of shots bounced just in front of the goal line late in the half, but couldn't find the back of the net.
Both sides traded shots for the opening minutes of the second half. Olivia Waites managed to knock the ball toward Natalie Bunch from the ground to set up the Moses Lake goal with 24 minutes to play.
Bunch and Martinez picked up yellow cards in quick succession before Eastmont put in the go-ahead goal minutes later. The Chiefs had a few looks at a tying goal late, but finished a player down after Martinez picked up her second yellow card.
Seniors Olivia Waites and Kate Mount talked about their time with the Chiefs program after playing their final game on Saturday. Mount said these four years the team has focused on coming together on and off the field.
Having a chance to play with her teammates one last time was great, she said.
"None of us thought we were gonna have this season, so it was great to be able to get back together with them and fight with them, even if it wasn't a full season," Mount said.
Olivia Waites said the friendships she's made will last well beyond the end of this season. She said it took some time to build up the chemistry and rhythm on the field with so little time to get ready.
"Normally, we have our whole summer of practices to build that together and this year it was just so all of the sudden," Waites said. "It was hard to get that, but we finally did about halfway through. It took a lot of time and effort to put that together, but we came together as a team and got it done."
While it seemed like the Chiefs were starting to build momentum just as the season came to a close, head coach Liz Bigger said it's kind of nice going out on a high note with the fall season not too far away.
"Every game was so much better than the last game," Bigger said. "I'm so proud of how far we came from five weeks ago."
---