MLSD grade-schoolers to go back full time April 19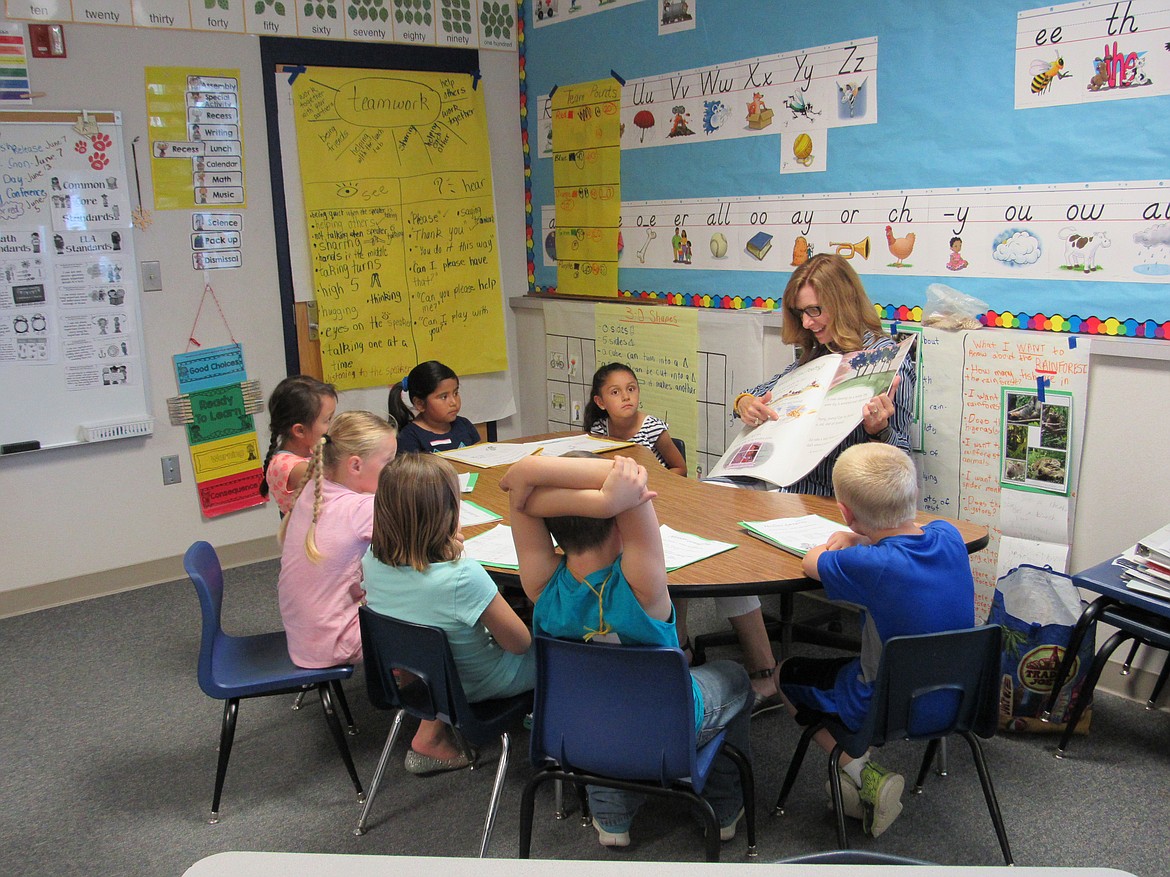 District literacy coach Lynn Frey reads to students at Midway Elementary All-School in Moses Lake in 2017.
File photo
by
CHARLES H. FEATHERSTONE
Staff Writer
|
April 2, 2021 1:00 AM
MOSES LAKE — Most students in the Moses Lake School District are going back to school full-time beginning April 19.
According to an MLSD statement issued Thursday, all elementary school students — kindergarten through fifth grade — and Endeavor Middle School will resume full time, in-person instruction that day.
The change means 78% of the MLSD's K-5 students will now learn in person, full time, the district said.
Students at both Frontier and Chief Moses middle schools will be added to the schools' blended learning — two days on campus and then two days of at-home learning — or full-time on campus "depending on space availability," the MLSD said.
Blended instruction will continue at Moses Lake High School, however, with students coming to campus for two full days of instruction rather than two half days. They will be expected to engage and continue working remotely for the remaining days of the week, the MLSD said.
Grade school, middle school and high school students who do the district's full-time remote curriculum "will continue in the full-remote learning environment for the remainder of this school year," the district added.
MLSD Superintendent Josh Meek said he does not anticipate bringing high school students back to campus full-time this school year, since new health guidelines from the Centers for Disease Control and Prevention, which have reduced social distancing for students in class wearing masks to three feet, have a lot fewer restrictions for younger kids and still require six feet of distance for older students, as well as younger kids doing P.E. and eating lunch.
"The way we're able to bring kids back is by cohorting," he said. "We're still a community with high transmission rate, and we're not able to cohort at the high school."
Meek also said the district is planning on bringing all students back to school full-time this fall, and the progress of the pandemic and the state's mass vaccination program should make that possible.
"All of our planning efforts are for a full-time return for all students," he said. "We are definitely preparing for that."
Charles H. Featherstone can be reached at cfeatherstone@columbiabasinherald.com.
---