Backyard zoo: Basin families have a passion for raising all kinds of critters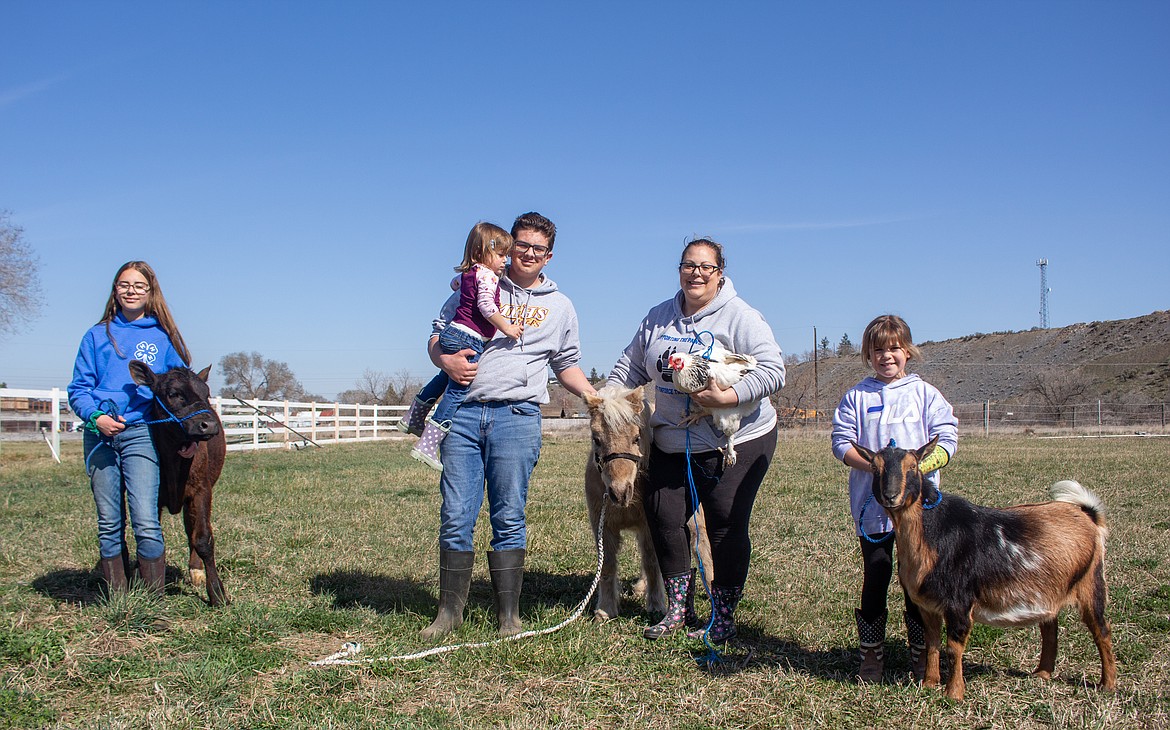 Left to right, Kenna Morrison, Kellan Morrison, Keslynn Morrison, Jesyka Morrison and Kenzlee Morrison stand with a few of their family animals outside Moses Lake on Wednesday morning.
Casey McCarthy/Columbia Basin Herald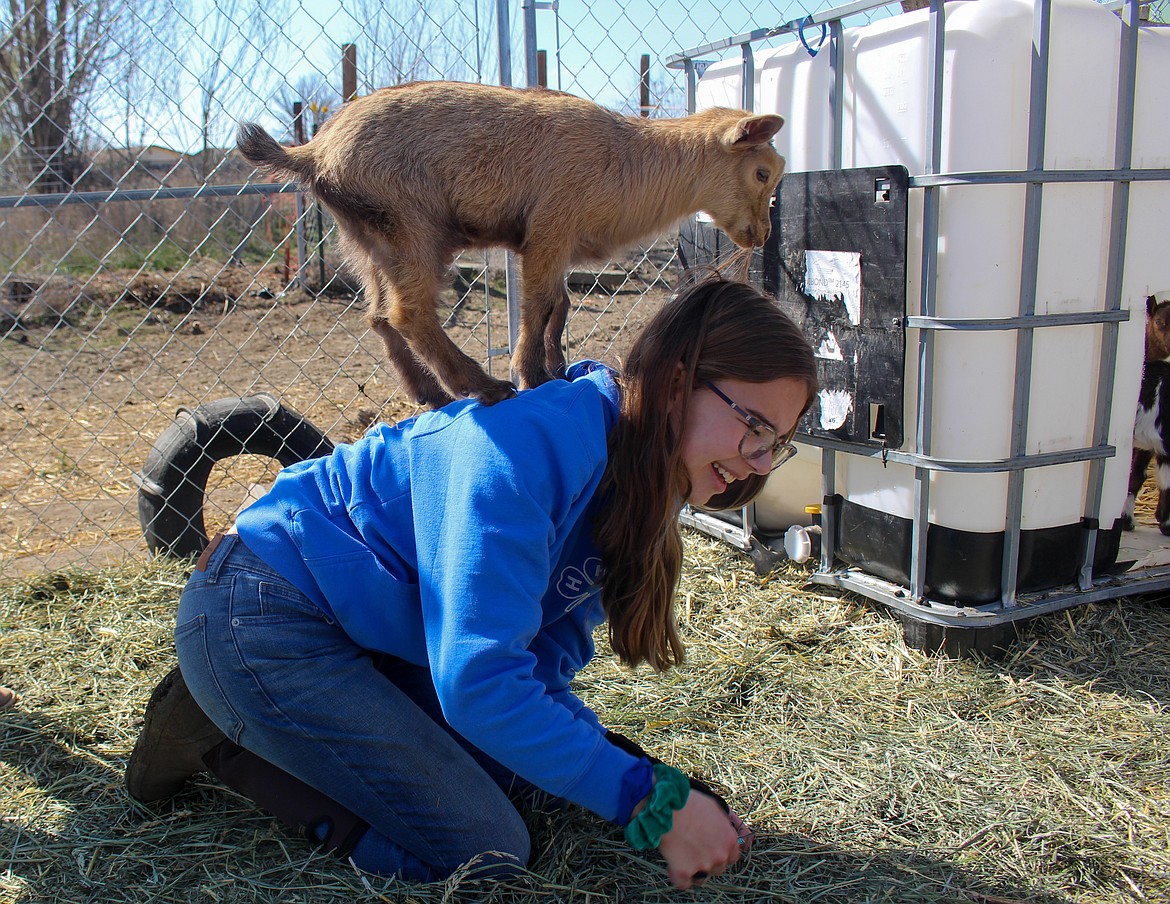 One of the Morrison family's baby goats nibbles on Kenna Morrison's hair while standing on her back on Wednesday morning outside Moses Lake.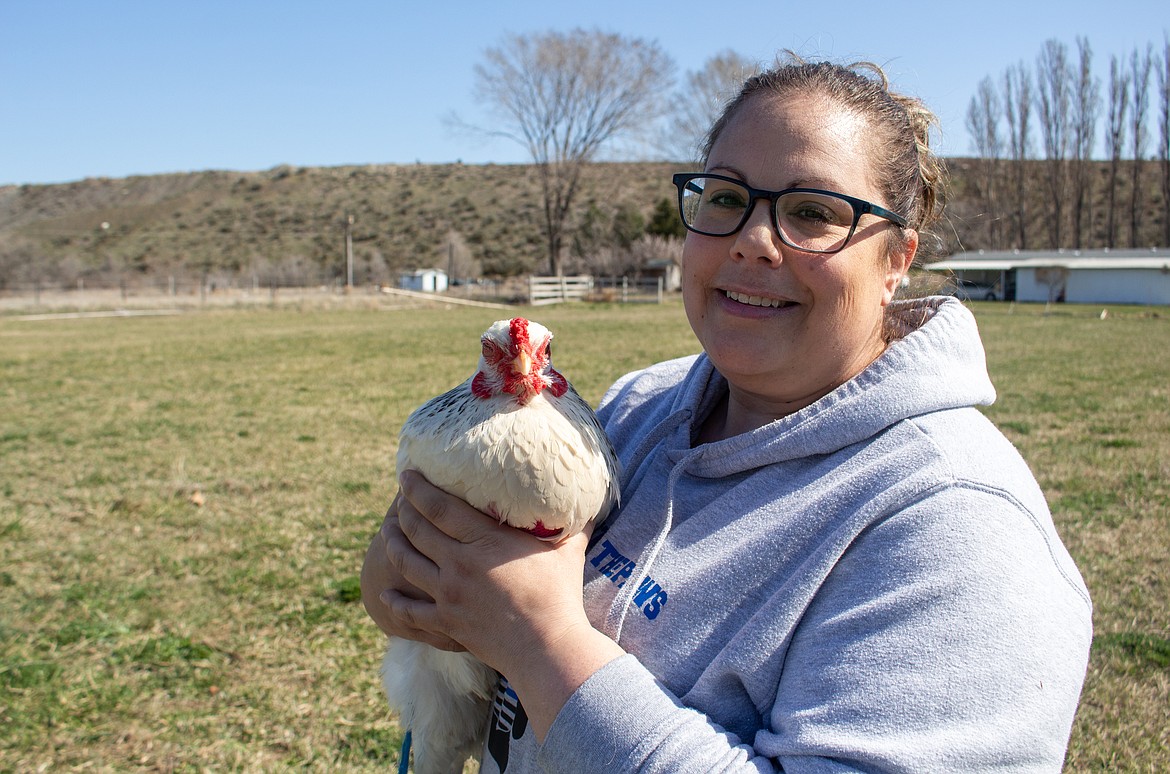 Jesyka Morrison holds up one of her chickens outside an in-law's home where the animals are staying while the family's new home is being built.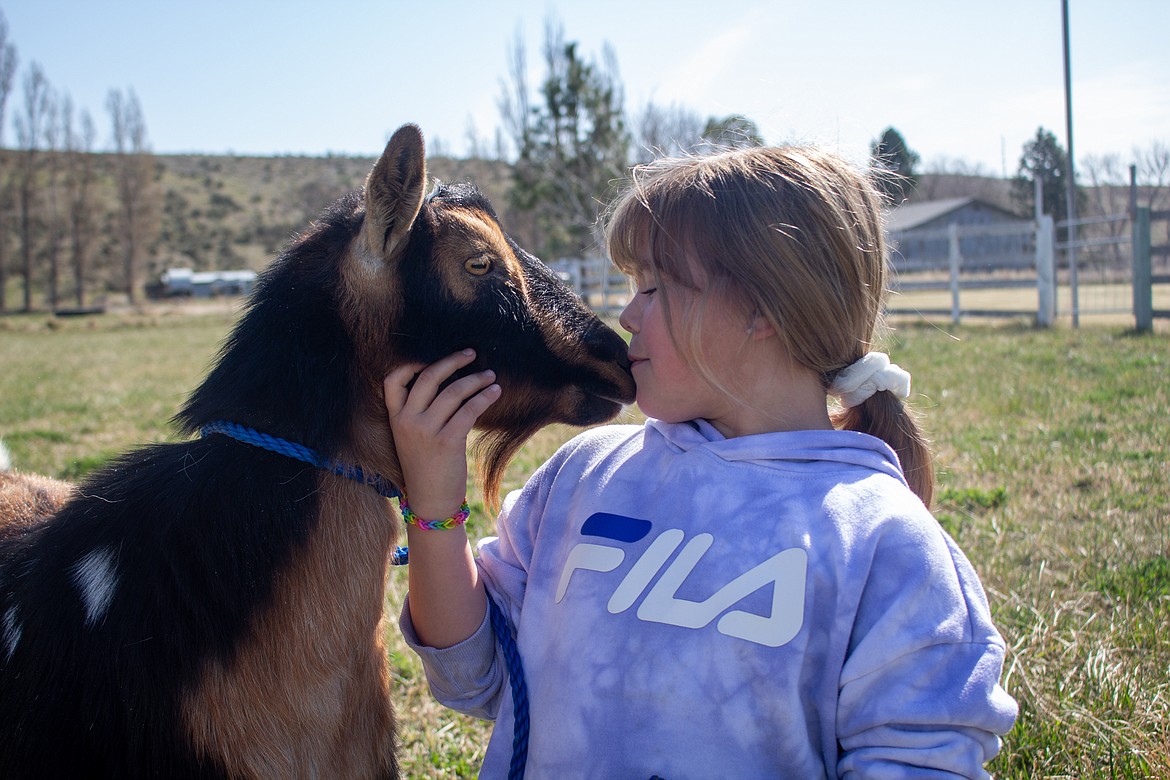 Kenzlee Morrison, 7, gives her pet goat at a family member's pasture outside Moses Lake on Wednesday morning.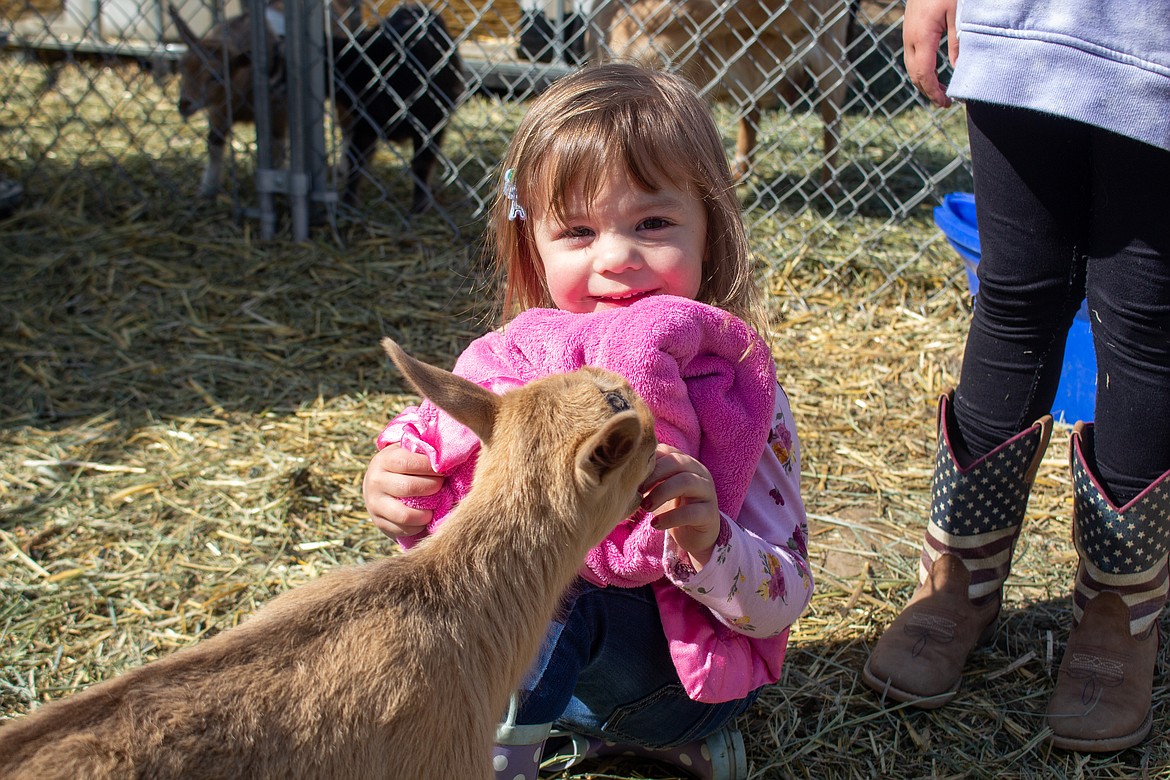 Keslynn Morrison, 2, has her finger nibbled on by one of the family's baby goats inside their pen outside Moses Lake on Wednesday morning.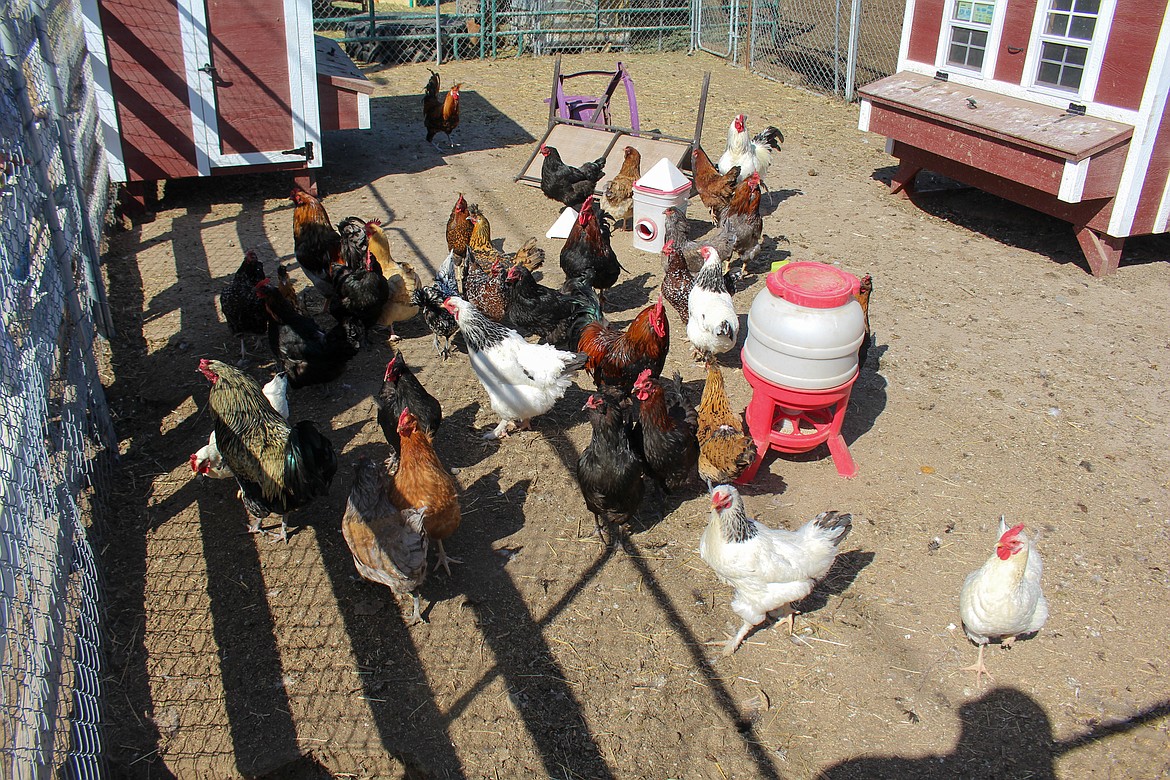 Jesyka Morrison's chickens run around inside an in-law's coop outside Moses Lake on Wednesday morning.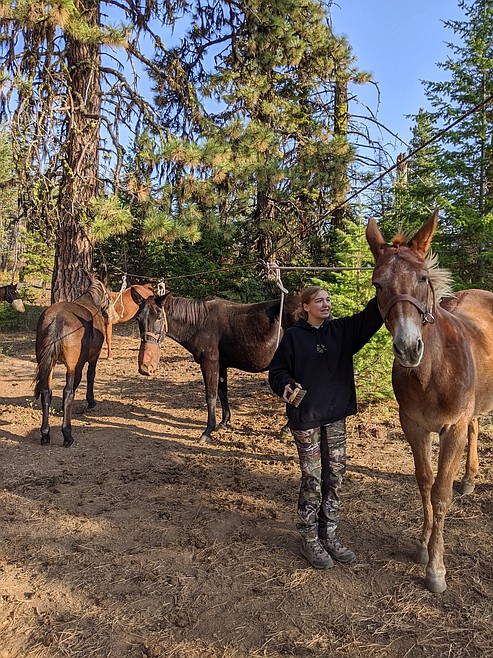 Heather Fitzhugh's daughter, Samantha Fitzhugh, tends to the family mules near their home in Royal City.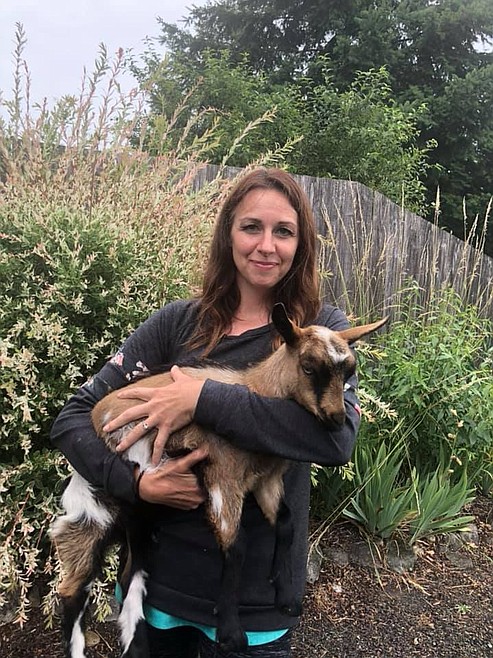 Heather Fitzhugh holds up one of her baby myotonic goats near her home in Royal City.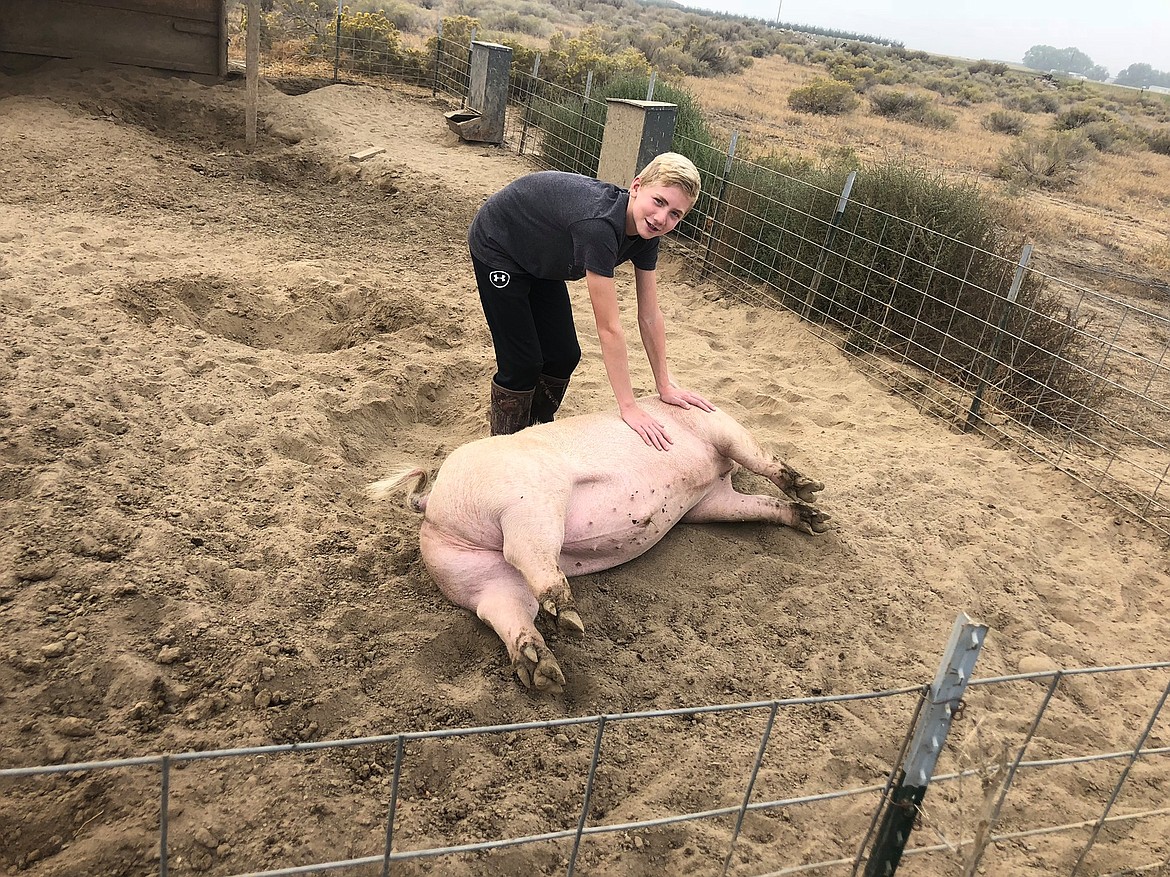 Heather Fitzhugh's son, Caden Fitzhugh, handles one of his pigs in his pen near their family home in Royal City.
Previous
Next
by
CASEY MCCARTHY
Staff Writer
|
April 2, 2021 1:00 AM
Raising any animal takes a great deal of love, care and attention, not to mention hard work, but many people are doing just that and using the Columbia Basin's open areas.
A couple of these folks discussed how their collections of animals around the house came together and what it takes to keep that going.
Jesyka Morrison is a veterinarian with Pioneer Veterinary Clinic in Moses Lake and said her love for animals makes it hard to say no when the opportunity to bring a new animal home comes up.
"My husband's learned to just live with it," Morrison said.
Morrison, her husband and four children have an assortment of animals, including about 35 chickens, 13 goats, a few steers and even a miniature horse. She said it all started when they picked up their first two, Nigerian dwarf goats, about five years ago. Morrison said the animals are small and playful, and they will breed them, but they're mostly just kept as pets.
The chickens came next.
"We got the chickens, and then we got more chickens," Morrison said. "We have an incubator, so we'll hatch some of the eggs that the chickens will lay, and it's just cool for the kids to see the whole process."
With steers and goats, Morrison said it's by no means inexpensive to have the animals, given the amount of hay they go through. On top of that, there is maintaining the animals and their pens.
Morrison said her kids have absolutely loved having animals.
"It got them started with 4-H once we got the chickens," Morrison said. "One of the daughters started showing the chickens, and two of my daughters started showing the goats, and one of my daughters started showing the steer as well."
She said having the animals and the chores that come with them have taught the kids some responsibility. She said collecting eggs, cleaning out the coops or making sure the animals have their vaccines has really helped teach her kids the value of some of that hard work.
Morrison said they give a lot of eggs away, especially in the peak-laying time, where they will produce anywhere from 20 to 30 eggs a day. She said she believes her family is probably close to their "max" for how many animals they want to have.
But she said she would consider a full-sized horse for her daughter to ride or maybe a miniature cow. Three of the steers were bottle-fed from a young age by her and her children and are extremely affectionate.
Morrison said her family is building a new home with about five acres for the animals to run around, which was one of the reasons for relocating. She and her husband are also building a 12-by-16-foot shed for the animals, an upgrade from the 4-by-8-foot hut.
"The kids have helped with that as well," Morrison said. "It's just nice to see, getting it ready with that pasture out there. It's nice to see how much room they'll have to run around."
Morrison said their animals are staying with some in-laws while the new home is being built and it's tough for the whole family not seeing them as often as they normally would, particularly the baby goats.
Heather Fitzhugh, of Royal City, has chickens, myotonic goats, or "Tennessee fainting goats," some horses, mules and even some pigs when her kids are raising them for 4-H. She said her goats came about after finding a hard-to-resist picture of some "stinking cute" baby goats on Facebook.
"I brought them home and had no idea what I was doing with them and we've kind of learned as we've gone on," Fitzhugh said. "I think we've had them for five years and just started with two girls originally."
Growing up on a farm, Fitzhugh said her family would ride horses often. She said her dad and brothers, and now her husband, have always been avid hunters, using the horses to ride out for camp, packing out equipment on the mules.
"We did have some cows growing up," Fitzhugh said. "I grew up on fresh cow's milk. As I got a little bit older, we got rid of all the family cows."
Fitzhugh said getting dirty doesn't bother her, after growing up on a farm, and said the hard work that comes with raising animals is just part of the value. She said it's stinky, it's smelly, but it's kind of become the norm.
She said the hard work is worth raising animals for herself, but her kids might not always agree. She laughed as she said her kids will quickly remind her who got the goats in the first place.
She said maintaining the animals is sometimes used as a punishment.
"Just teaching my kids the value of the fact that they get out and do it and learn the value of work, I know they don't enjoy it, but I think it teaches a valuable lesson growing up," Fitzhugh said.
She added she believes her kids really enjoy having the animals around and petting them when they want, especially when the new babies arrive.
"When the kids see them for the first time, it's screaming, yelling, excitement," Fitzhugh said.
While most of the eggs from the chicken will be given away, Fitzhugh said the goats are sold and registered with the Myotonic Goat Registry for Fitzhugh Family Farm. She said about 12 goats have been sold, including one of the original females.
"Now that people have them, we keep in touch and they send us pictures when our babies have had babies," Fitzhugh said. "I feel like a weird grandma."
Casey McCarthy can be reached via email at cmccarthy@columbiabasinherald.com.
---