Ready, set, grow: Moses Lake creates new comprehensive plan timeline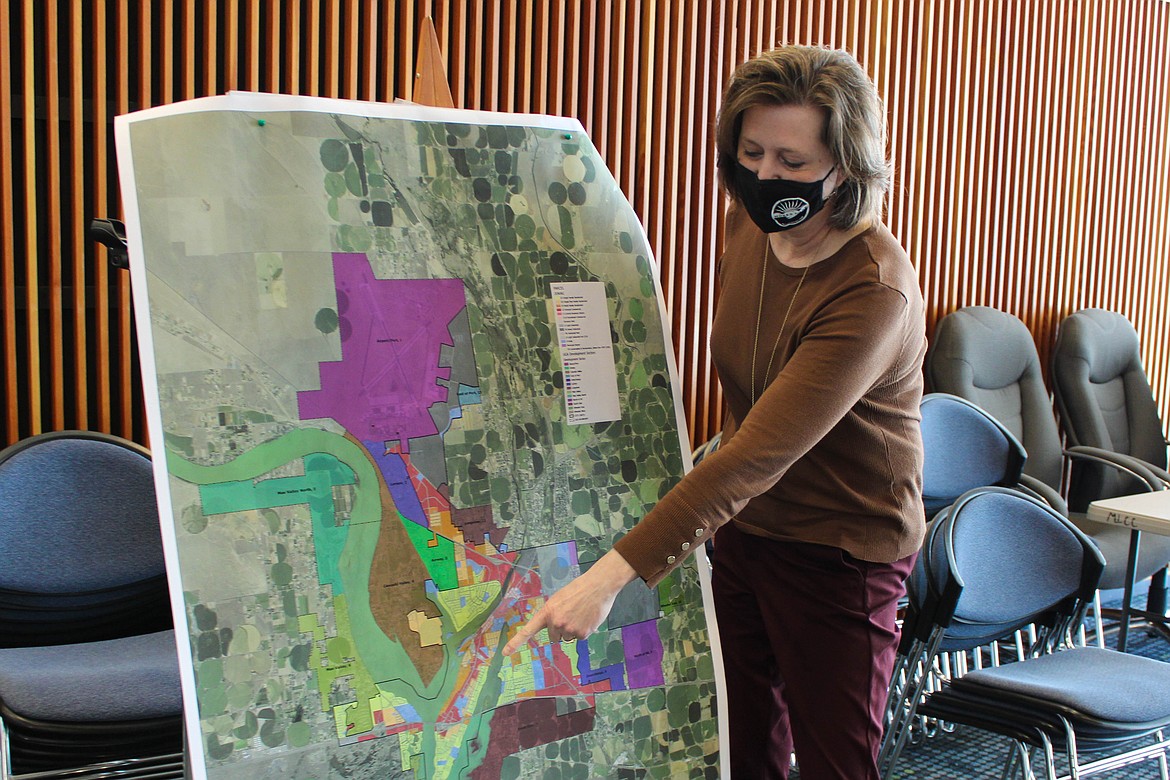 Moses Lake city manager Allison Williams highlights how services such as water and sewage would have to stretch to annex urban growth areas as listed on the previous City Comprehensive Plan on Wednesday.
Sam Fletcher
by
SAM FLETCHER
Staff Writer
|
April 1, 2021 1:00 AM
MOSES LAKE — "Your comprehensive plan is your Bible for your city," said Moses Lake City Manager Allison Williams. "It says how you're going to grow. These are the facilities and the services that you need to grow, and here's how you're going to finance it."
Moses Lake hasn't updated its entire plan for about a decade, but is in the process and will discuss data from consultants April 13 during a work session prior to the city council meeting.
The 1990 state Growth Management Act requires cities to put forth a comprehensive plan addressing growth, especially in the following areas: urban growth, sprawl (unmanaged growth) reduction, regional transportation, affordable housing, economic development, property rights, permit processing, natural resource industries, open space and recreation, environmental protection, early and continuous public participation, public facilities and services, historic preservation and shoreline management.
Cities are required to provide full updates to this plan every eight years. Moses Lake hasn't done this since 2001.
However, the city has updated parts of the plan, Williams said. Regional transportation, for example, was updated in 2015. But Moses Lake is long overdue for an updated holistic city vision. Currently, it is in the drafting process of a new plan.
In 2020, the city received a $100,000 grant from the state Department of Commerce for a revitalized Housing Action Plan. Because this would require contractors, data collection and public input, much of which overlaps with the overdue comprehensive plan, the city decided to marry the two plans and work on them in tandem.
Public input was sought. From May through November 2020, the city gathered information from 43 online surveys, participants in an online city story map, nine 19-person community focus groups and six discussions with 13 stakeholders.
The key to stakeholders is diversity, Williams said, Moses Lake residents of various socioeconomic, ethnic and educational backgrounds and ages volunteered their voices. This included representatives from Big Bend Community College, Grant Transit Authority, Rotary Club, Public Utility District, Grant County Housing Authority, Grant County Public Libraries, Moses Lake School District, Hope Source, Moses Lake Youth Baseball and others.
According to the Comprehensive Plan Phase 1 Engagement Summary, key hopes and desires expressed from stakeholders include businesses and parks to orient toward the lake, investment in lake water quality, a more vibrant downtown, better opportunities for healthy youth activities, better amenities, such as restaurants, a new bridge across the lake, better community aesthetics, retaining Moses Lake's small-town feel and more jobs for young people.
City comprehensive planning documents report Moses Lake has grown 15% in the last decade, but this growth has had little effect on city density. It's almost exclusively outward growth.
This poses serious problems for long-term sustainability, Williams said. Urban development areas as listed on the previous comprehensive plan, such as Mae Valley, may be incredibly expensive to annex, running city services from the sewer plant by the sand dunes.
Stakeholders recommended BERK Consulting, Makers Architecture and Urban Design and Perteet Inc. to analyze infrastructure, logical growth and development, and make suggestions based on data, a process which started last year.
The consultants, in upcoming work sessions, will likely say it's not logical to continue with the current urban growth areas, Williams said. The city can grow for the next 20 years without extending city limits.
"That's going to be hard for our community to hear, because we keep hearing 'growth growth growth growth growth' without realizing there's so much opportunity inside the city," she said.
One of such examples is Broadway Avenue, Williams said. Building on what is currently a limited use of the land will enable a more sustainable use of service infrastructure – water, sewer, electricity – as opposed to building new infrastructure in the outskirts of town.
Stakeholders have also discussed a creative district, she said, a downtown revitalization effort of more urban housing and high-rise buildings.
"We really want to highlight some areas where there could be growth and redevelopment and change the trajectory of Moses Lake forever," she said.
A lot of Moses Lake's voices, being a small, conservative community, come from "old guards," she said. There's a lot of political sway, whereas the comprehensive plan is supposed to be a very objective process, based on data and desires of the entire community.
They have worked to involve more of the younger demographic, she said. How do young Moses Lake residents want to see their community change over the next decade?
On April 6, BERK Consulting, the planning commission, city council and citizen stakeholder groups will have a steering committee meeting, prior to the April 13 city council meeting, said City Clerk Debra Burke.
In May, the planning commission will review the new comprehensive plan draft, begin another session of public comments and make a final recommendation to the city council.
The city council will make their final consideration and adoption of the updated comprehensive plan in June.
Sam Fletcher can be reached via email at sfletcher@columbiabasinherald.com.
(This has been updated to reflect correct meeting dates.)
---