Grant County Fair planning advances, hinges on phase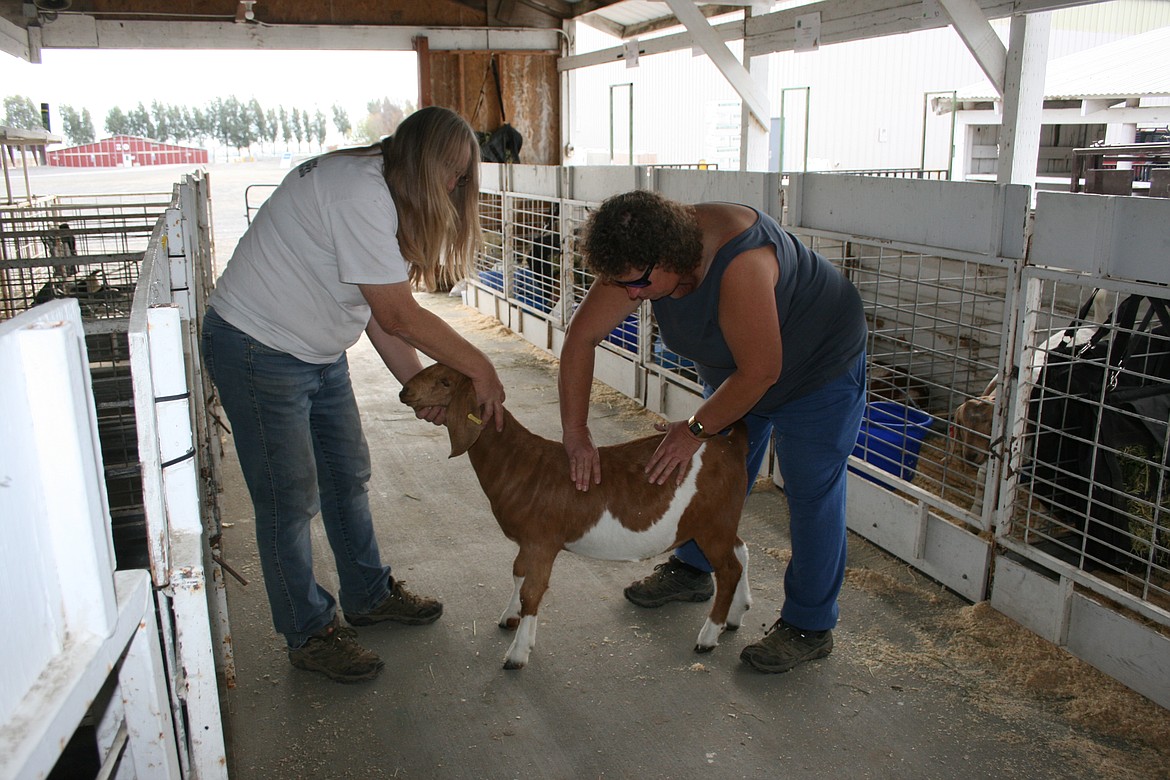 Volunteer Lori Bennett (left) and goat judge Vicki Jardine evaluate an animal at the 2020 Grant County Fair livestock show and sale. The livestock show and sale were the only fair events in 2020, but officials are planning for a bigger fair in 2021.
File photo
by
CHERYL SCHWEIZER
Staff Writer
|
April 1, 2021 12:55 AM
MOSES LAKE — It looks likely if the 2021 Grant County Fair happens, it will have a carnival and the exhibit buildings will be open. But numbers of COVID-19 cases will be a determining factor in its fate.
The county also must move beyond Phase 3.
Fairgrounds manager Jim McKiernan said officials are booking entertainment acts, food vendors and the carnival. Events planned by local volunteer committees, like the livestock show, horticulture and arts and crafts exhibits, are on track.
"Everything is a go," McKiernan said. "All the pieces are falling into place."
Exhibit buildings would be open and the carnival should proceed if the county has moved beyond Phase 3 of the reopening plan imposed by Gov. Jay Inslee in January, even if social distancing and sanitation protocols are still required, he said. The activity most likely to be affected by any restrictions would be the entertainment, he said.
Grant County is in Phase 3 of Inslee's reopening plan. A maximum of 400 people is allowed at any event, so that would be the number of people allowed on the fairgrounds at any given time if Phase 3 is in effect in August.
McKiernan said that would make putting on the fair, Aug. 17-21, impossible.
"If we're at a 400-person limit, I don't think there's a fair in the state that would actually happen," he said.
If the county has moved beyond Phase 3, there may be limits on the number of people allowed, but given the size of the fairgrounds, there would be room for a lot of people, at least under most of the distancing protocols, McKiernan said.
Cheryl Schweizer can be reached via email at cschweizer@columbiabasinherald.com.
---