Classic Chiefs game to show at Lions Field on Friday night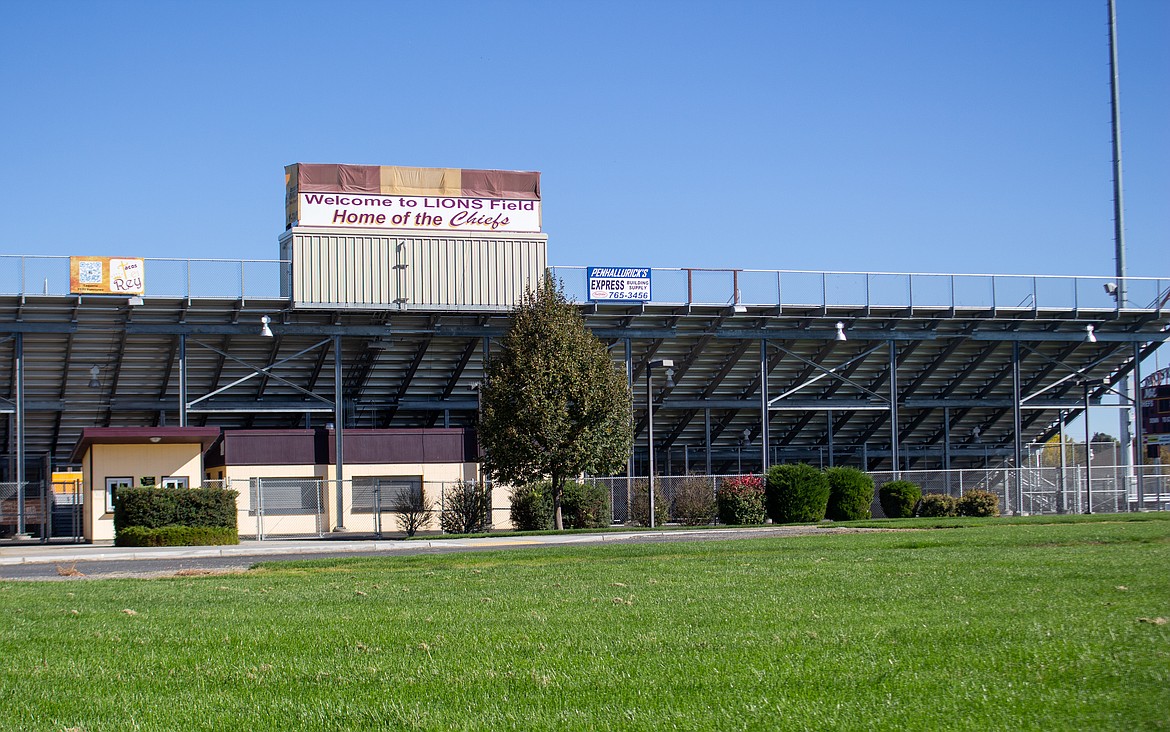 The backside of the grandstands at Lions Field in Moses Lake will be the scene for the Friday Night Football Flashback event, hosted by Moses Lake High School, on Friday night, Oct. 2.
Casey McCarthy/Columbia Basin Herald
by
CASEY MCCARTHY
Staff Writer
|
September 29, 2020 1:00 AM
MOSES LAKE — Chiefs fans will have a chance to get together at Lions Field this Friday night for a bit of a throwback event. Moses Lake High School will host a Friday Night Football Flashback, a "drive-in" setup, where fans can line up in their cars to watch a classic game featuring their Moses Lake Chiefs.
Friday night will feature a 2007 Homecoming game between the Chiefs and the Eisenhower Cadets, with play-by-play commentary from Matt Strophy and Brady Wiltbank with BNC TV. The game will begin at 7:30 p.m., with parking and concessions opening an hour before.
The game will be projected on the back of the grandstands at Lions Field. Distanced parking will be available for free in the grass lot behind the stands. Attendees are asked to stay in their cars during the game, other than for trips to the restroom or concessions. People are asked to wear a mask if they leave their vehicles.
MLHS Athletic Director Loren Sandhop said he and Assistant Athletic Director Clint Scriven had been tossing around ideas for a while of hosting something to promote student athletes. Sandhop said they had received a lot of positive feedback from the Friday Night Lights event in the spring, turning on the lights each Friday to honor the student athletes.
"We need a way for our kids to be connected, but do it safely, obviously, and have an opportunity for people to get together, turn on the lights, and have a way to do that," Sandhop said. "We don't have games to play right now because we can't, so that was the idea. We need to do something."
Sandhop said he started going through old storage containers and discovered a treasure trove of old footage of Chiefs football. Ultimately, they focused on finding a game when the Chiefs won with good production quality, something fans would be interested in coming out to watch.
They decided to do something like Grant County Fairgrounds and the city of Moses Lake have done, starting their own drive-in movie venues, but with old game footage.
The game is a throwback to a time before Lions Field even had turf.
Sandhop said they have Chiefs gear on sale, old rally towels from the era to hand out, and even halftime footage of the 2007 Molahiettes dance team.
"We wanted to have kids come back and say, 'Hey, that's my dad there on TV,' because some of them are dads now," Sandhop said.
The event is free to attend, but donations will be taken around halftime to go toward assisting families and communities affected by recent wildfires.
Whether it's $5 or $1,000, Sandhop said he will be happy with whatever they can get together to assist those in need. Finding a way for the Chiefs athletics community to help people in need is one of the main reasons the event came together, he said.
"That's something that Chiefs athletics stand for," Sandhop said. "It's more than just prepping to play the game. When you participate in high school athletics, you're a part of something bigger than yourself, and that's the culture that I want to have around here."
Friday night will be a chance for Chiefs fans to come together and relive a positive memory of the Chiefs, he said, while hopefully making a positive impact in the present.
Casey McCarthy can be reached via email at cmcarthy@columbiabasinherald.com.
---