Analyzing needs and wants first step in kitchen design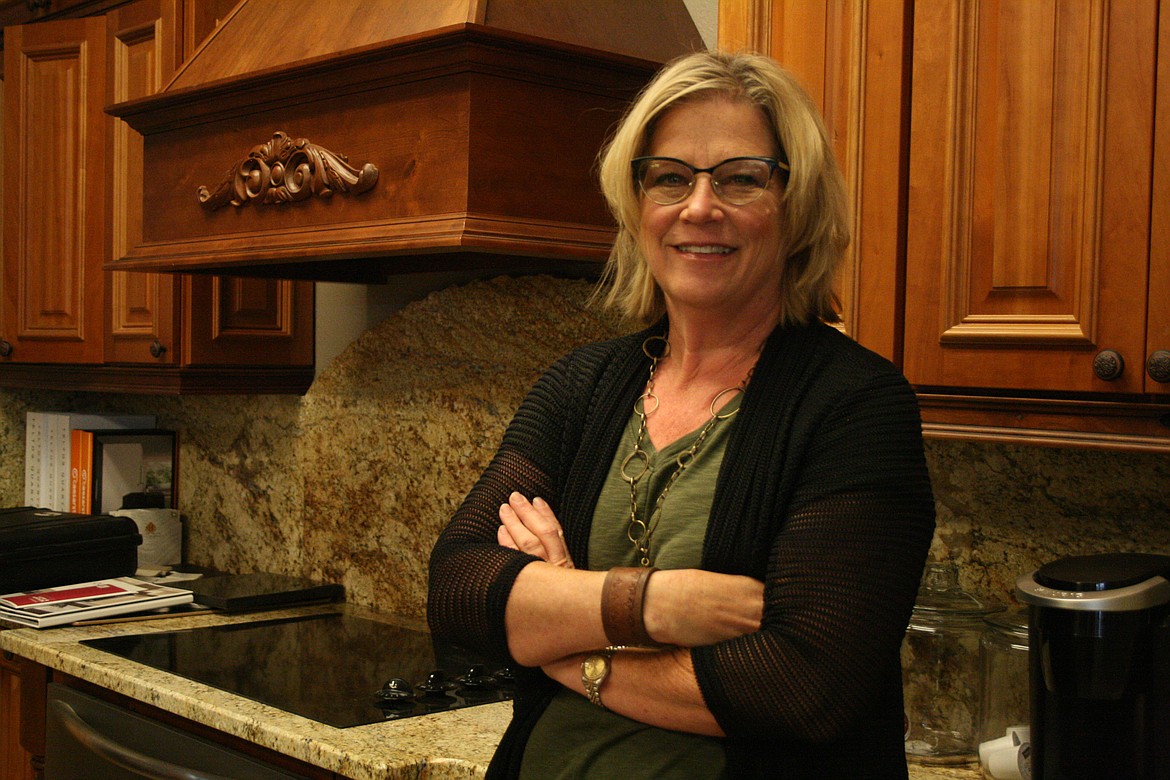 Barb Skaug, shown in the Skaug Brothers showroom, said good kitchen design starts with a clear idea of what homeowners want the space to work.
Cheryl Schweizer/Columbia Basin Herald
by
CHERYL SCHWEIZER
Staff Writer
|
September 27, 2020 1:00 AM
By CHERYL SCHWEIZER
Staff Writer
MOSES LAKE — Kitchen designer Barb Skaug said successful home design can change the way a room is used. It can even change the way people live in that space.
She cited the case of clients who started spending a lot more time in their remodeled kitchen – and also started doing more activities as a family in their new kitchen. "I like making a space work better," she said.
Skaug is the designer for Skaug Brothers Carpet One Floor & Home in Moses Lake.
The remodeling project budget will have the final say on what gets done. But Skaug said the first step is for the homeowner to think about how they live, what's important in that space, and what's not.
"Our homes look like us," Skaug said. In her case she owned black dogs, which made light-colored kitchen surfaces impractical. Some clients live in places where they track dirt in the kitchen, and that will make a difference when they're choosing flooring.
"Work, family and pets" are among the main parameters most homeowners start thinking about when they're considering a remodel, Skaug said.
When they're thinking about a design, homeowners usually have a feature they want to highlight. It might be cabinets or flooring or countertops, or it might be the overall color. Skaug said she thinks of design as a wheel, and she starts with that focal point. "That's the hub of this design wheel," she said.
Home design is subject to change, just like other fashions, and kitchen design is part of that. The biggest trend in modern kitchens is maintaining a clean look, with small appliances and other kitchen equipment hidden out of sight. That "minimalist" approach is driven by Millennials, Skaug said, who don't like the countertop clutter. All-white kitchens are another popular trend.
Skaug said people should think about their personal design preferences when working on a design, and keep in mind that their tastes may evolve. In her case, she said, she's gone from the stone and terracotta of Tuscan design to sleek Mid-Century Modern.
Looking at trends should be part of the design process, she said. However, the final design is most effective when it reflects the personal style and aesthetic of the homeowners.
And then – when a homeowner has some idea about what they want and need, what fits their lifestyle – then it's time to talk about the budget. Maybe the countertop or cabinet choices are budget-busters. But usually it's possible to get the look of the expensive countertop or cabinets in a more affordable material.
"We fit that puzzle of the kitchen together," she said, and check the price of that puzzle. "Then we can start changing things up," she said.
A designer can help a homeowner when it comes to making choices, she said, explaining the features and benefits of each component. Some materials are cheaper, but they may not perform as well over the long term. "Do your due diligence," she said.
On average, most homeowners will do 1.2 kitchen remodels in their lifetime, she said – and that's where a designer's experience can be helpful. "We do this (kitchen design) a lot," she said, hundreds over the course of her career.
There are a lot of options when designing a remodel, but part of the designer's job is to help homeowners determine what they want, and how to get what they want affordably.
---