Cleaners struggle with covid effects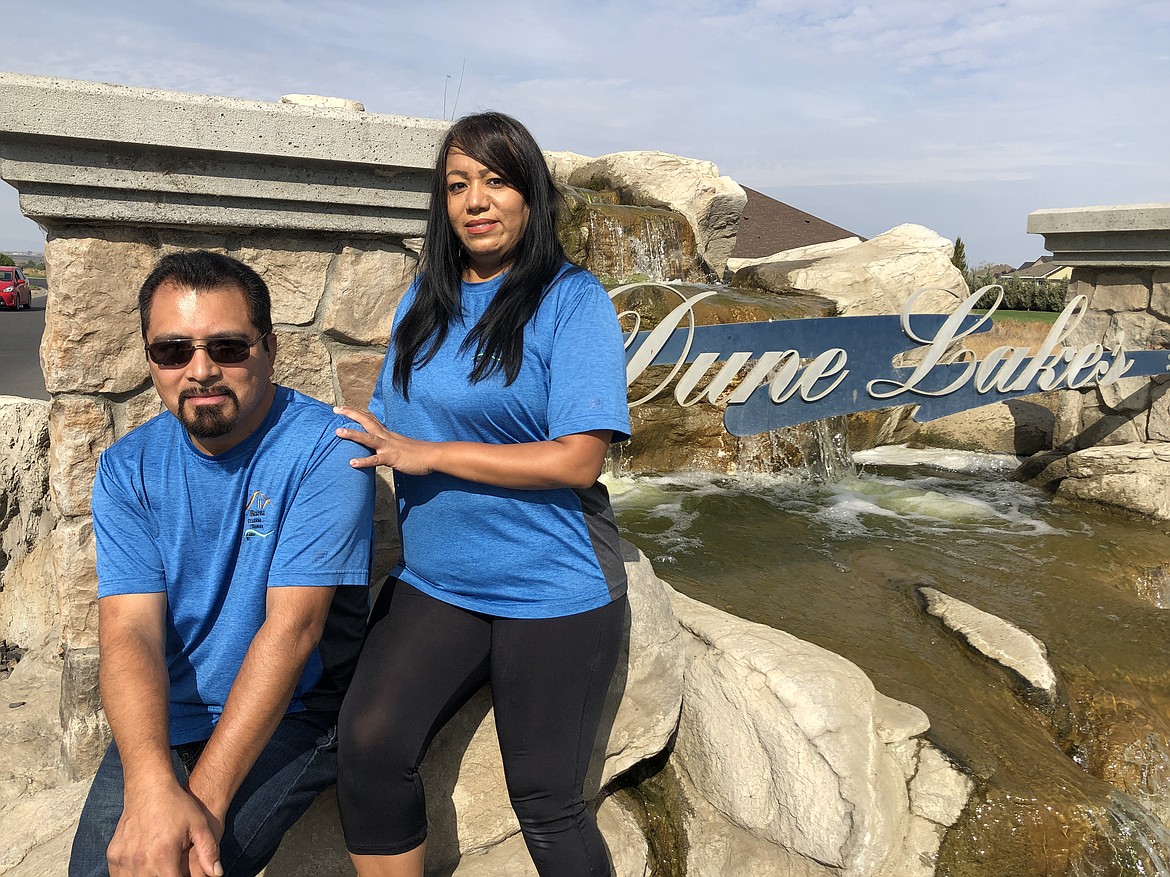 Angel and Beatriz Dominguez, owners of Beatriz Cleaning Service, at the entrance of the Dune Lake subdivision south of Moses Lake on Monday, where they were going to clean a house.
CharlesH. Featherstone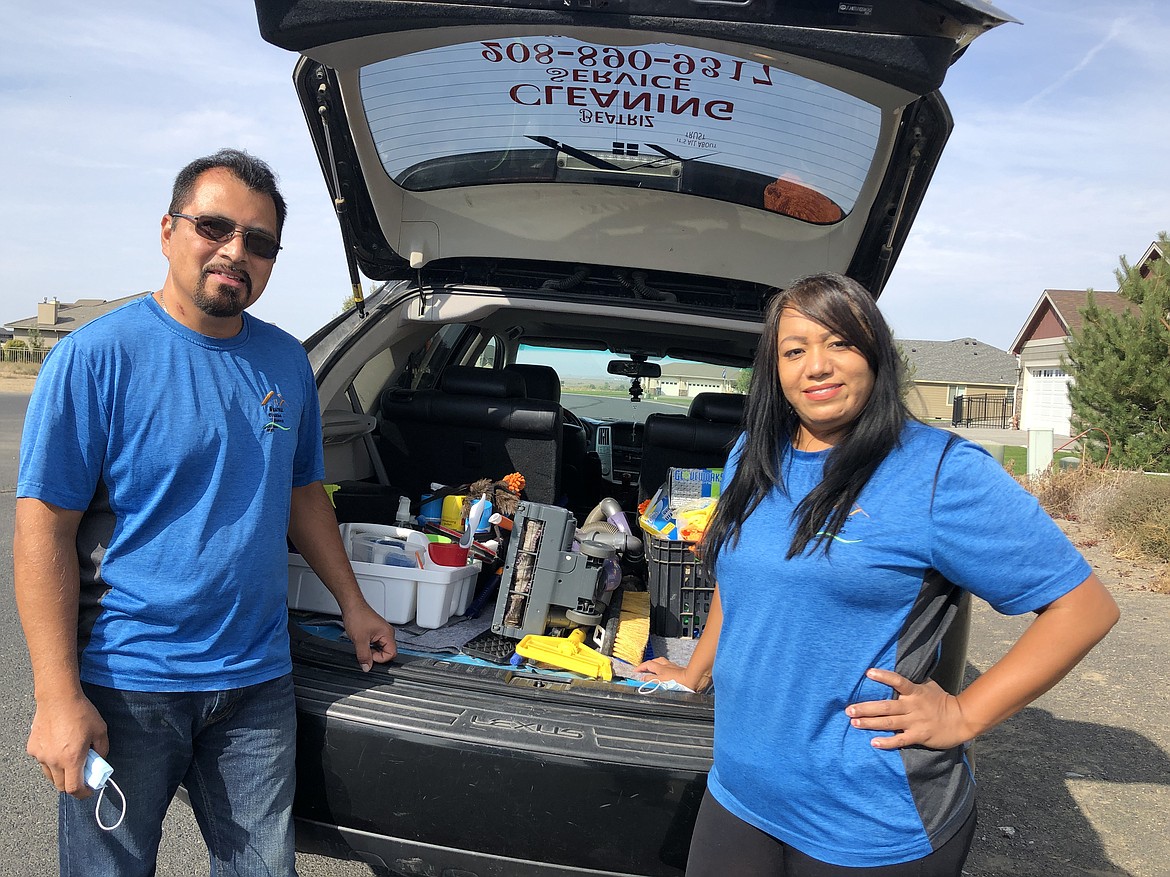 Angel and Beatriz Dominguez in front of their "office" as they get ready to clean a house on Monday.
Previous
Next
by
CHARLES H. FEATHERSTONE
Staff Writer
|
September 24, 2020 1:00 AM
MOSES LAKE — A lot of businesses suffered, lost customers and clients, when Gov. Jay Inslee effectively ordered the state closed in mid-March in response to the COVID-19 pandemic.
People who clean homes and businesses for a living were no different.
"It made a significant impact upon us," said Angel Dominguez, who along with his wife, Beatriz, owns and operates Beatriz Cleaning Service in Moses Lake. "It completely paralyzed us."
Dominguez said clients began canceling even before Inslee issued his order closing the state's schools and all "non-essential" businesses.
In fact, Dominguez said, the situation was so difficult the business where he and Beatriz staged their ribbon-cutting last year — Evolve Fitness — dropped them as a client following the COVID-19 closures.
"Cleaning for them brought us a lot of clients," he said.
It's been tough on a lot of small cleaning companies, many of which are one- or two-person operations run out of cars and vans. While no others were as open about the effects of the pandemic closures as the Dominguezes, several did say the closures have permanently affected their business.
"I don't have as many clients anymore and at one point I didn't have any clients for a month," wrote one of the owners of Simply Flawless Cleaning Services, listed simply as Andrea and Monique, in a Facebook message. "Due to remote learning they are doing at the schools, my partner had to quit altogether so I'm working alone now."
"Which is fine because as I said we don't have barely any business anyway," the owner wrote.
But the Dominguezes had an additional problem: on March 18, they both came down with COVID-19 themselves after Angel Dominguez attended a job fair in Yakima.
"I think I brought it home," he said.
Dominguez said he got so sick he was hospitalized at Legacy Emanuel Medical Center in Portland for six weeks, at least part of that time in an induced coma and on a special machine to help put oxygen into his blood, and was asked to sign medical directives for his next of kin just in case.
"The docs were pretty much expecting the worst, and they were surprised with my recovery," he said.
In fact, Dominguez said, despite being told he would not be able to walk out of the hospital when discharged, he did, in fact, walk out. Beatriz, however, didn't get anywhere nearly as sick as he did, and was able to take care of herself.
"I'm happy we're still here," he said. "Many people were praying for us."
While it took some time to recover, to regain their strength and energy, the Dominguezes are now back at work, with all but a few of their pre-COVID clients.
"We wanted to wait until we fully recovered even though there was a great financial need," he said. "Both of us feel fully recovered."
"Most of our clients were ready to have us back, to do their homes," he added. "By the last week of June, maybe 98 percent of our clients came back."
Angel and Beatriz both wear facemasks as they clean, and they disinfect everything as well, he explained.
"It's a way of keeping them safe and ourselves safe," he said. "It happened to us, we're going to do whatever possible to take care of you."
However, while they have retained most of their pre-pandemic clients, Dominguez said they've trouble attracting new ones because people are still scared.
And it's a feeling he understands. Dominguez said he's anxious about being in public spaces where people don't wear masks, and he believes that being careful and taking this disease seriously — and sharing his story — can put people at ease.
"It creates a bond," he said. "It makes it easier to trust us."
Charles H. Featherstone can be reached at cfeatherstone@columbiabasinherald.com.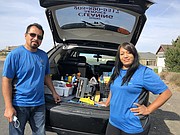 ---