Local lawmaker calls for investigation after Inslee reportedly brings infested apples into pest-free area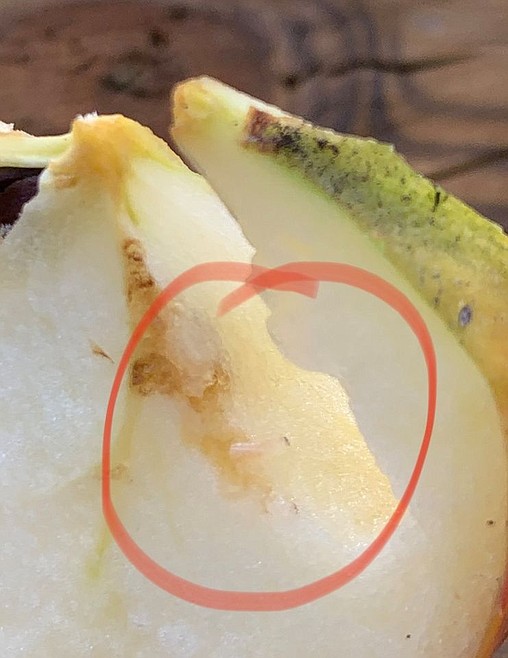 Douglas County officials posted this photo of an apple infested with apple maggot larvae. The apple is reportedly one of many brought into Eastern Washington by Governor Jay Inslee, which Sen. Judy Warnick said Wednesday likely was in violation of state law, during recent stops to fire-stricken towns in the region.
Courtesy photo
by
EMRY DINMAN
Staff Writer
|
September 17, 2020 1:00 AM
OLYMPIA — A local lawmaker is calling for an investigation and possible penalties after recent reports that Governor Jay Inslee brought apple-maggot-infested fruit to Eastern Washington during his visit to towns impacted by wildfires, allegedly breaking state law in the process.
Douglas County officials reported Wednesday that they are scrambling to locate all of the donated apples before the pest can spread through the region, potentially harming the production of apples, the state's premier export crop.
During visits to the residents of Malden, which lost many buildings in the recent fires, Bridgeport, and a retirement home in Omak, the governor brought a box of apples picked from a tree in the lawn of the governor's mansion. This had already sparked some degree of backlash from residents, who criticized the decision for the state's chief executive to bring apples to a disaster-stricken agricultural community in need of supplies.
"I think the governor was trying to do what he thought would be helpful, but to take apples into a prime apple-growing area, it might have been a better gesture to bring other supplies to folks who have lost their homes or other things to the fire," said Sen. Judy Warnick, R-Moses Lake, in an interview.
However, Douglas County officials reported Wednesday that apples donated by the governor in Omak had tested positive for apple maggot larvae, an insidious pest that lays eggs in fruit and which can be very difficult to remove from an area, Warnick said. To prevent the spread of the pest, which can threaten the state's largest export crop, certain areas, such as Thurston County where the governor's mansion is located, are considered apple maggot quarantine areas.
State law requires that fruit produced in such quarantine areas be inspected before transport into a maggot-free area in Washington. Failure to comply constitutes a misdemeanor, Warnick said.
"I'm surprised and frankly disappointed," said Warnick, former chair of the state Senate Agriculture Committee, in a statement. The senator called for an investigation and "stiff penalties" Wednesday.
"It was a nice gesture, but not well thought through. As the state's executive, he should have followed the law to keep our state's agriculture safe, instead of putting it at risk," Warnick added. "I think that the stiffest penalties are in order."
In a statement, Inslee apologized Wednesday for bringing the apples into Eastern Washington communities.
"Last week Trudi and I wanted to express comfort for the communities suffering from devastating fires," Inslee said in the statement. "When I visited some of these areas, I took some apples we picked from our tree in Olympia. We regret this mistake. This is a good reminder of the importance of awareness around apple quarantine."
"We appreciate the Washington State Department of Agriculture's efforts to help recover these apples and we are assisting to help make that happen," Inslee added.
---