Lingering smoke a concern in wine business: Grapes may, or may not, be affected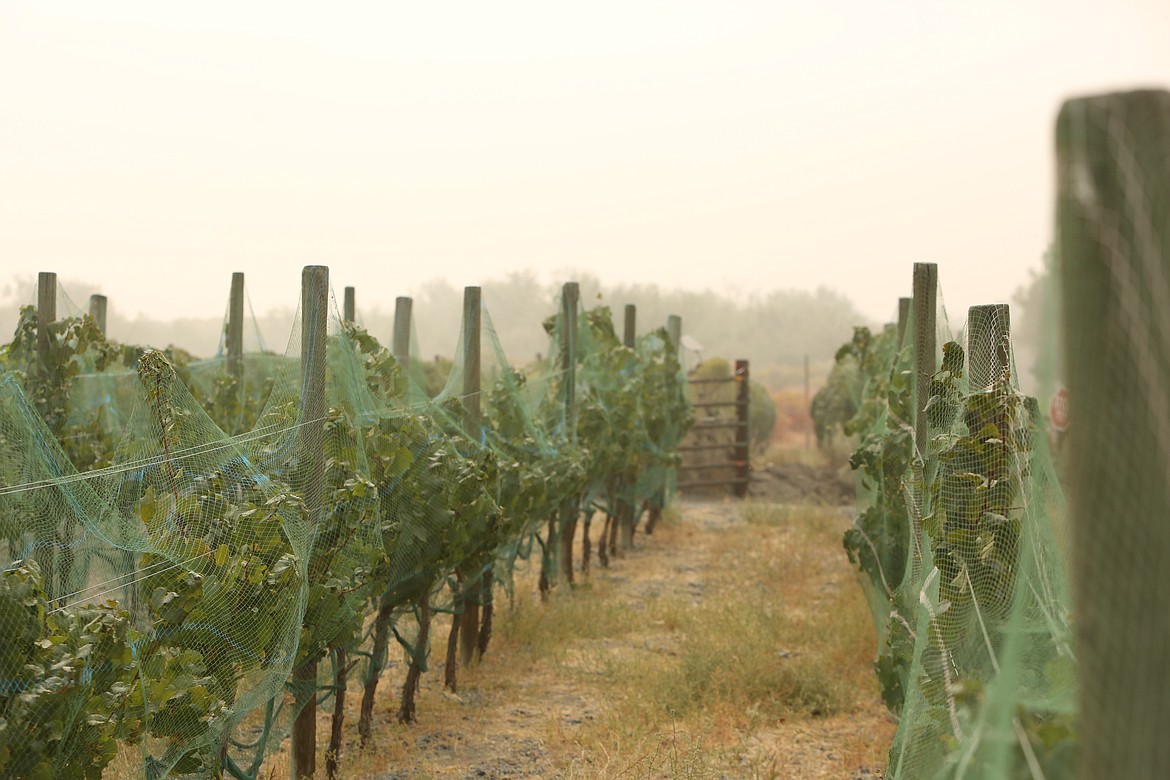 Smoke blankets the small Camas Cove Cellars vineyard in Moses Lake along with much of the rest of the American West Tuesday, potentially threatening the quality of the wine the fruit is slated to become.
Emry Dinman/Columbia Basin Herald
The smoke and the risk it poses to the quality of the wine Camas Cove Cellars can expect is particularly devastating, owner Nancy Parr said in an interview, because this year's crop had been shaping up to be the best yet.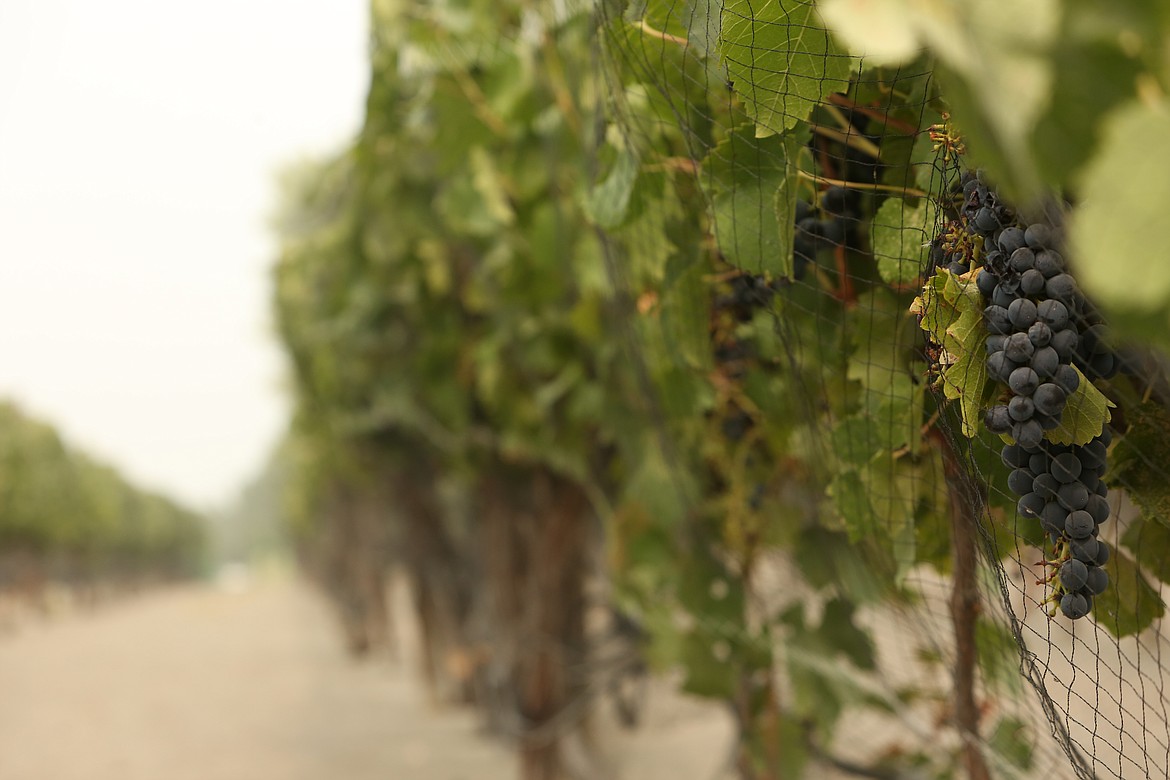 The smoke and the risk it poses to the quality of the wine Camas Cove Cellars can expect is particularly devastating, owner Nancy Parr said in an interview, because this year's crop had been shaping up to be the best yet.
Previous
Next
by
EMRY DINMAN
Staff Writer
|
September 16, 2020 1:00 AM
By EMRY DINMAN
Staff Writer
GRANT COUNTY — As smoke from wildfires blankets the West Coast, some Columbia Basin wine grape growers and makers are watching vineyards with concern, uncertain if the 2020 vintage will be made less palatable by "smoke taint."
"We've had one of the best crops we've had in years. We've kept the deer out, we've kept the birds out, and (the grapes are) beautiful," said Nancy Parr, who co-owns Moses Lake-based Camas Cove Cellars with her husband, Dennis. "But this is probably the most load of smoke over a period of time we've seen."
While grapes are not necessarily more vulnerable to smoke than other crops, the fermentation process, particularly with red wine, makes it more likely for a number of foul-smelling and -tasting compounds to taint the finished product, said Tom Collins, assistant professor in the Viticulture and Enology program at Washington State University.
"Particularly in the red winemaking process, we ferment the juice with the skins because the color and tannins we're looking to get are in the skins," Collins said. "It also turns out that most of the compounds that cause these aromas in wines are in the skins."
Adding to the potential pain for growers, a taint isn't something that can always be immediately detected, with some of the offending flavors not noticable until the fermentation process or even the aging process, Parr said.
"They say that sometimes you can't taste it immediately, that you can even go through the whole process, have it wait a year or two before tasting it again, but then it can still come out and you can taste in on the tongue, on the palate," Parr said.
That was the experience of Freddy Arredondo, winemaker for Cave B Estate Winery, located on the eastern cliffs of the Columbia River Gorge, during a bad wildfire season in 2012. During that year, the smoke hanging over the vineyard wasn't launched up the coast from Oregon and California but was originating just across the river, Arredondo said.
"It was right across the ridge with lots of smoke and ash that blew on our vines," he said.
While most of the estate's 2012 vintages were at worst only slightly affected, the taint was unmistakable in a rosé variety, but it had been barely detectable even in that batch until after the wine had been fermented and then gone through the sterile filtration process, Arredondo said.
If grapes do pick up smokey aromas, they can range from benign – Arredondo compared the impact on some of the 2012 reds to the flavor imparted by smoked oak barrels sometimes used to age wine – to ruinous, with flavors like cigarette smoke and ash, Collins said.
That's not to say that consumers run the risk of cracking open a bottle of red wine that tastes like an ashtray, Collins said, because a bottle like that will never reach a store shelf. Still, even if growers run the risk of fermenting a vintage that can't be sold, it may still be better to go ahead and turn the grapes into wine, Collins added, due to a growing field of study into removing smoke taint by using tools like certain types of "fining agents" or enzymes.
Despite the oppressive smoke lingering over the region now, it's not clear to what extent local wines will be affected, if at all, Collins said. A number of factors are at play, including the distance to the fire and the type of fuel that's burning, he noted. Atmospheric chemistry can potentially neutralize some of the troublesome compounds in the smoke, or certain, heavier particles falling out before the smoke makes it to Washington from hundreds of miles away.
"The first thing to say is that it's complicated," Collins said. "But it's not reasonable to say that 'that area had smoke, so their wine isn't good that year.'"
Determining for certain whether grapes in the Columbia Basin have been affected by smoke taint requires testing, Collins said, whether by sending samples to a laboratory or with small-scale fermentation a few weeks ahead of the rest of the crop. Until those tests are completed, Collins said, it isn't possible to tell simply by looking at the density of smoke if the flavor of the wine will be affected.
In fact, many longtime winegrowers in Grant County said that they were unfazed by the smoky haze across Washington in recent days. Arredondo said he was less concerned with this year's smoke than he was in 2012 with fires burning much closer to the vineyard.
Brandon Rice, head winemaker for Ancient Lake Wine Company, in George, said he had been more concerned with 2018 wildfires that had torn across Washington and Canada, which he said ultimately had no effect on that year's wine.
Weather forecasters predict a return to normal air quality in the coming weeks.
For many growers, such as Rhonda Davis, owner of Royal City-based Foxy Roxy Wines, who said her business's income has dropped by two-thirds this year, the greatest impact on their businesses has been and will remain pandemic-related closures and restrictions.
Emry Dinman can be reached via email at edinman@columbiabasinherald.com.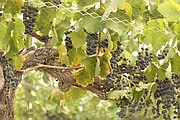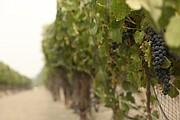 ---