Moses Lake girls soccer hopes to build off last year's success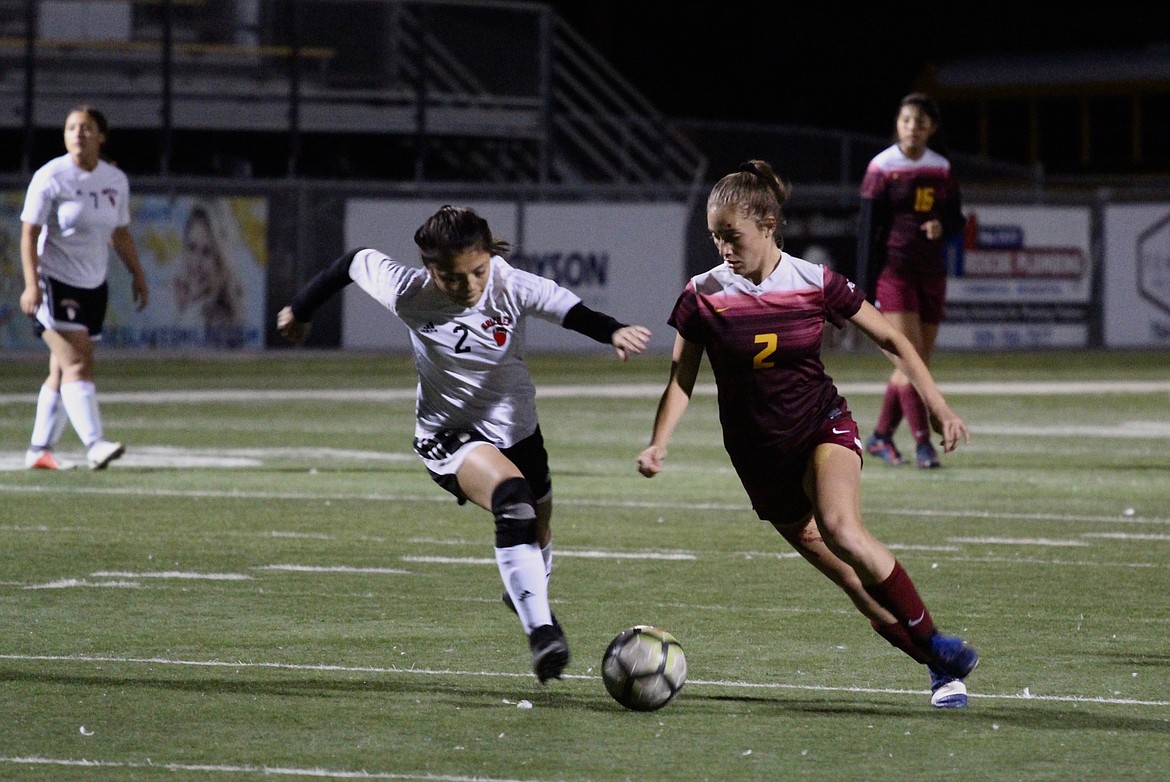 Reigning Columbia Basin Big 9 Offensive Player of the Year Natalie Bunch, dribbles past a defender last fall. The Chiefs look to build off last year's success this spring if the season is able to be held.
Casey McCarthy/Columbia Basin Herald
by
CASEY MCCARTHY
Staff Writer
|
September 16, 2020 1:00 AM
MOSES LAKE — After making a surge to the District Championship game last fall, Moses Lake High School girls soccer coach Liz Bigger said in an interview on Tuesday she's hoping they can improve off last year's run if they are able to return this spring.
The Chiefs' soccer season was moved to the spring under the Washington Interscholastic Activities Association's revised athletic calendar for 2020-21. Bigger said she hasn't had much contact with players after letting them know the season was postponed last month.
"We don't even know the season, everything's up in the air," Bigger said. "We're not sending out letters to sponsors, we're not doing anything until we know the season's a go."

She said the most optimistic plan for a start is beginning practice on the first of the year in January. The dead period for coaches ends near the end of September, but the county would need to be in Phase 3 for coaches to be able to have any meaningful contact with players.
She said there's nothing routine about any of the preparation for the season this year. Right now, she said, her players have enough on their plate already with school restarting this week.
"It's kind of a catch-22," Bigger said. "Do you talk about soccer or is the bigger issue what are these kids doing for school because they didn't have any idea what they were doing for school until a couple weeks ago? There's so much stress in their lives with that I felt like soccer was one of the last stresses to add to it."

Bigger said she's not focusing on sending out training plans to players, with the main concern being on her players coming into the season in shape in March. A few players on the team have been able to be involved with club teams, or tournaments out of state, this summer.
The best advice she said she can give players right now is to just go out and run.
"Now's the time to start running because that's what soccer is, the skills part of it isn't really as important for us," Bigger said. "I need girls to come into March conditioned because it's gonna be cold and miserable. They won't want to do conditioning when it's five degrees outside and snow."

Still months away from the start of the season, she said it's tough to predict how things will look once the season gets closer. The second an opportunity to return to practice comes, Bigger said she will go anywhere she can.
This will be the first time some of her players will be able to come right into soccer out of another athletic season. A number of players will coming directly out of the basketball season, already conditioned from the winter season.
The Chiefs got a taste of success with a surge of wins late last fall on the way to a district championship trip. Now, Bigger said, her team know what it feels like to be there, and will be ready to build off that success with a more seasoned team entering the year.
"Our freshmen were really stepping up, having some maturity stepping up as sophomores," Bigger said. "My sophomores, my two go-to's in the midfield and forward were gonna be great, and I've got a pretty solid senior class that really wants to taste it."
Whatever the season might look like, she said she's confident Moses Lake can have a positive year. Currently, she said, it's frustrating not having more information to share with parents or players.
"The parents just want to go out and watch, the girls just want to get out and run around, and then you have the love for the sport on top of that," Bigger said. "Hopefully in the spring, it would just be a good opportunity to get out there and return to the sport."
Casey McCarthy can be reached at cmccarthy@columbiabasinherald.com.
---