Tourism worth nearly $300 million to Grant County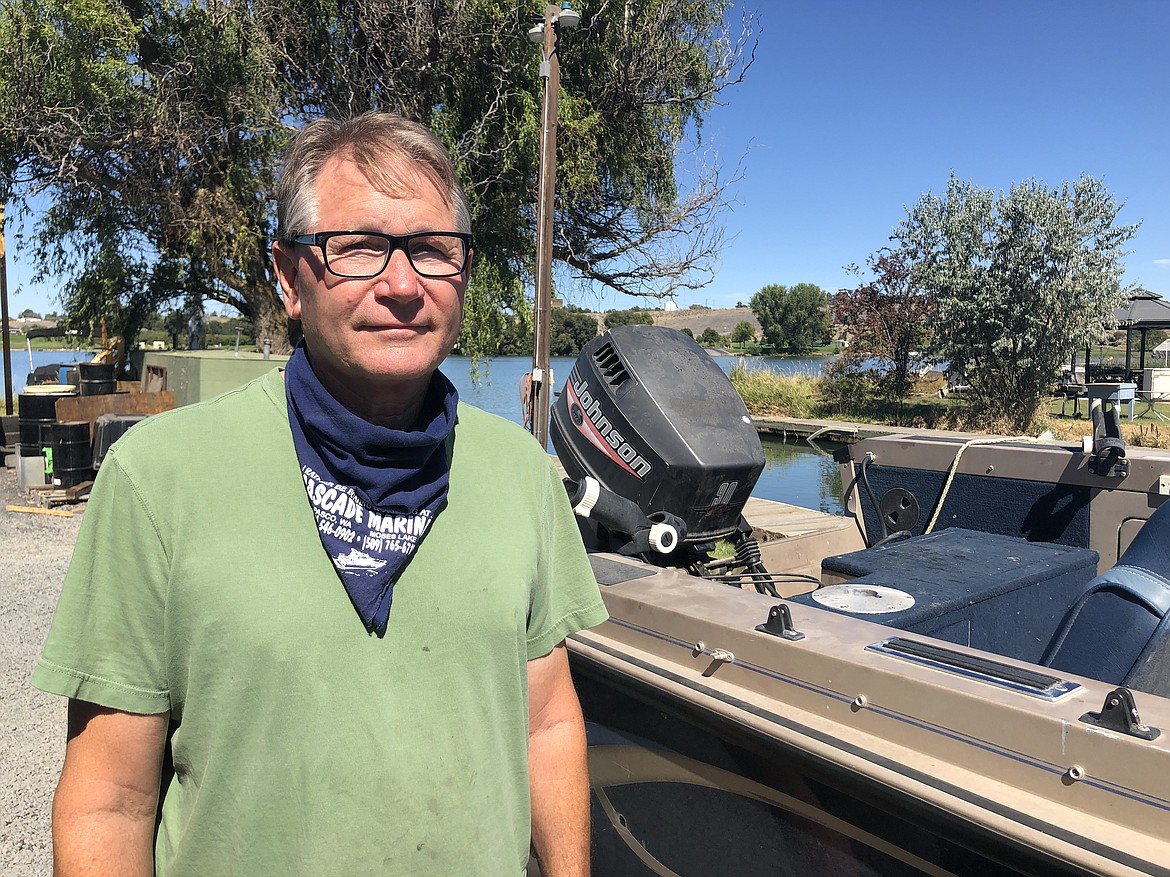 Ron Sawyer owns Cascade Marina in Moses Lake.
Charles H. Featherstone
by
CHARLES H. FEATHERSTONE
Staff Writer
|
September 11, 2020 1:00 AM
MOSES LAKE — While blue-green algae made lake-oriented tourism a bust last year on Moses Lake, this year has been different for some of those whose livelihoods depend on tourism.
"Because of COVID-19, people's options for recreation are really limited," said Ron Sawyer, owner of Cascade Marina in Moses Lake and a member of the Moses Lake Watershed Council. "They can either go boating, golfing, or camping, those are three main things, and all three of those industries are having record-breaking years."
"And that's helped us," Sawyer added. "It's counter-intuitive."
The lake itself is central to the city of Moses Lake, as is tourism dependent on boating, fishing and camping. In fact, according to a report commissioned earlier this year by the Moses Lake Watershed Council, tourism contributed $282.4 million to Grant County in 2018 — a 90 percent increase since 2000, and much of it a direct result of camping, boating and just plain recreating on Moses Lake.
Of that, the report said travel and tourism spending by campers in Grant County amounted to $52.1 million in 2018.
"We view the economic report as a starting point in a multi-year effort to understand the importance of Moses Lake to the surrounding community and economy," said report author Heather Sawyer, daughter of Ron Sawyer and an anthropologist with a Ph.D. from the University of Kentucky.
While the data is for the whole of Grant County, and thus includes hotel and camping receipts for The Gorge as well as other festivals and events countywide, Heather Sawyer and her co-author Kyle Mullen note that Moses Lake is "the population and economic hub of Grant County" with nearly one in four of the county's residents.
The Watershed Council was formed roughly a year and a half ago to address the blue-green algae blooms that had prompted Grant County Health District to post warning signs at public access points along the lake shore.
The algae blooms are prompted by high levels of phosphorous in the lake water and are responsible for potentially dangerous levels of a toxin in the water.
Ron Sawyer said that given how 2020 has been going, more people are willing to risk algae exposure if it means being able to get out following the weeks of COVID-19-related closures.
"A couple of things have changed in people's perspective. The blue-green algae is less of threat than COVID-19 is, so when they go out the door and are looking at things to be worried about today, it's farther down the list than it was last year," he said. "It was top of the list last year."
Because of that, Sawyer said business has been "non-stop" since Gov. Jay Inslee lifted restrictions on fishing in early May.
"I know it's on the news and on the website about the algae that's in the water," said Bonnie Long, the camp sheriff at the Cascade Campground. "And that has stopped some newbies from coming. But if they came and looked and seen that we still have have boating activities, water skiers, swimmers — the swimming area is still open, with a warning, it is lake water."
"Hose yourself off, prance through the shower, and go on with your life," Long said.
Harold Crose is a resource conservationist with Grant County Conservation District and a member of the Watershed Council. He said the report helps give the council a baseline to determine the economic effects the lake — and the algae — have on the region.
"It fills a gap," Crose said. "It helps us fashion a strategy and know how important the lake is to the community."
Crose said that data like that included in the report — much of which comes from the Grant County Economic Development Council — will help the Watershed Council identify state and federal funding to help address the algae problem.
Because any long-term solution, whether it means treating the water or diverting additional Columbia River water from the Columbia Basin Project, will cost a great deal of money.
"It's impossible to craft a good grant without good data," he said.
Charles H. Featherstone can be reached at cfeatherstone@columbiabasinherald.com.
---