Local home market is hot despite pandemic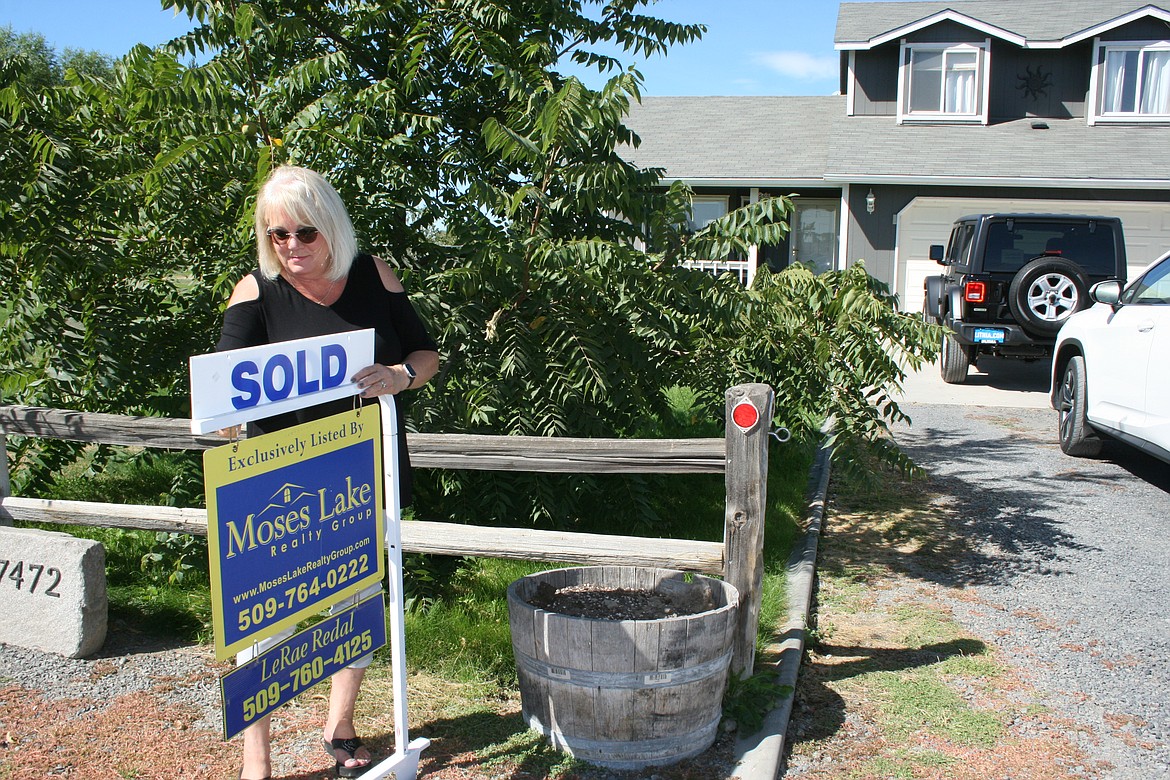 LeRae Redal adds the "sold" sign to a Moses Lake home that was on the market for 48 hours before buyers accepted an offer. Redal, the owner of Moses lake Realty Group, and other local realtors said Grant County home sales are booming despite economic turmoil caused by the coronavirus outbreak.
by
CHERYL SCHWEIZER
Staff Writer
|
September 4, 2020 1:00 AM
MOSES LAKE — The housing market in Grant County is hot, and there are a number of reasons for that.
Wait. What?
After all, there's a pandemic. Things – even movement, to say nothing of business – have been restricted.
It may seem illogical, but it's true.
LeRae Redal, owner of Moses Lake Realty Group, gave an example of how fast homes are selling. She listed a house for sale Aug. 19, had six offers at or above asking price, and the sellers accepted an offer on Aug. 21.
"Two days. It was two days," she said.
Mark Fancher, manager-owner at Coldwell Banker-Tomlinson Ranch and Home in Moses Lake, said the market is brisk in part because demand is so strong and there aren't enough houses for sale out there.
"Our supply of inventory is very, very low," Fancher said.
"One of the biggest issues in our market right now is the limited inventory," said Kandi Bersanti, broker at Windermere Real Estate, Moses Lake.
Several factors are causing high demand, starting with low interest rates. Tara Zerbo, broker at Better Homes and Gardens Real Estate-Gary Mann Realty in Moses Lake, said there are Realtors in her office with 35 years and more of experience in real estate, and "they've never seen (interest rates) this low." As of Sept. 2, the average annual percentage rate on a 15-year, fixed-rate mortgage was 2.664 percent, according to the Bank of America website. The average interest on a 30-year, fixed-rate mortgage was 3.029 percent.
"Interest rates are so low people are taking advantage of that," Redal said. The tight rental market and low mortgage rates mean that a monthly house payment might be lower than monthly rent, she said, and that's also prompting renters to consider buying.
The pandemic is causing a change in living habits, and in turn that's having an effect on the Grant County housing market.
Those orders to stay home because of the pandemic led to more people working from home. They have learned something from it.
"More buyers are realizing they can work from home, and with the faster internet in our area, we are getting more and more clients from out of the area," Bersanti said.
"People are trying to get out of the city, I guess," Redal said. "People are moving around."
"We have a lot of people that are kind of migrating their way over here," Zerbo said.
Many of those new buyers are moving east from the Puget Sound area. Which is – well, a lot of people in not very much space. "It's really cramped," Zerbo said. And because it's cramped it's expensive, in a way that Grant County is not.
"They (buyers) don't have to be over in the Seattle area. They can work from home in Grant County," Fancher said.
In addition, "Grant County is continuing to grow jobs, even during the pandemic," Fancher said. Potential buyers are moving to the county for those jobs, or are people who can work remotely and like the idea of living in a more affordable area, he said.
The stay-at-home orders also taught lessons to people who already lived here – like maybe the house that seemed a little too small is definitely too small, Zerbo said. Or maybe the space that was needed when the kids were all home is now surplus space since they've moved out.
"They have a lot of space and a lot of stuff," Zerbo said, and they're looking to get rid of both.
Some sellers are retiring, not only downsizing but moving out of the area, Fancher said.
"You couple that with the super-low interest rates," Zerbo said, "and it's way too good of a time to not buy."
Recent Headlines
---