ACH coach discusses delayed season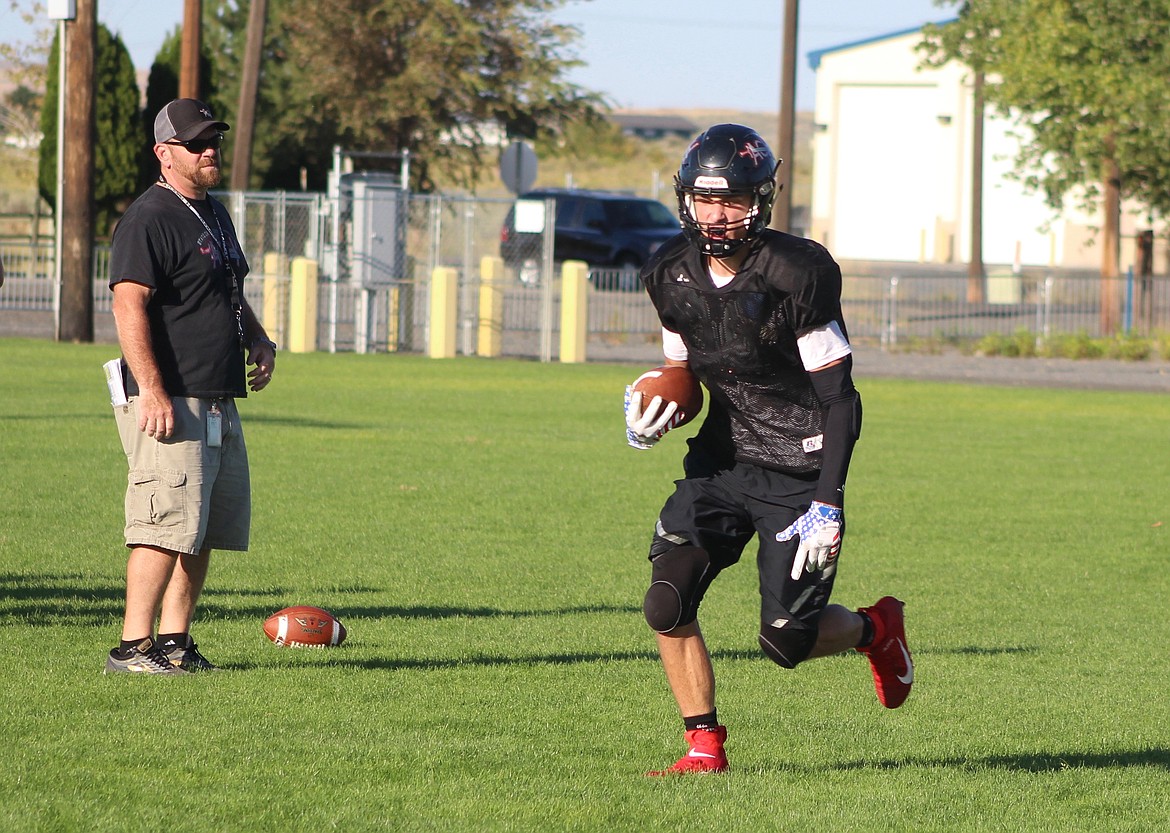 ACH football coach Brandon Walsh, left, watches his player run through a drill in front of him before the start of the football season last September.
Casey McCarthy
by
CASEY MCCARTHY
Staff Writer
|
September 4, 2020 1:00 AM
COULEE CITY — Brandon Walsh, head football coach and athletic director at Almira Coulee-Hartline High School, said he is just working on getting set up for virtual learning to begin the year with football on hold this fall.
With the season pushed back until the spring in the revised athletic calendar released by the Washington Interscholastic Activities Association, Walsh prepares for his 22nd year of coaching with an unusual season on the horizon.
He said he's not sure what he's looking to accomplish with the added time before the season begins but hopes to get some time in with his players this fall.
"In terms of our competitiveness, this extra time I would say hasn't been a benefit, just because we haven't been able to be in contact with the kids," Walsh said. "I'm hopeful that the kids have been doing stuff on their own on some level to stay in shape, get stronger."
One benefit of the season being pushed back will be giving his guys a little more time to mature physically as he relies on more juniors and sophomores this year. Even just those extra four or five months can make a big difference, he said.
As a coach, especially one from a smaller school, Walsh said it can be easy to take for granted that the season will begin each August. After having the rug pulled out from under him, he said he has a new appreciation for everything, including just how important athletics are to the academic process.
He said he knows his players are disappointed to not have a season this fall.
"Maybe one benefit when we do get to go back, there's going to be a renewed excitement because you can't take anything for granted," Walsh said.
He said it's going to be critical for coaches to work together this year with so many seasons scheduled tightly together. Luckily, with so many multi-sport athletes and being a smaller school, he said this is something ACH coaches are used to doing already.
Most coaches, including himself, coach more than one sport as well, Walsh said. With the time off before the season this year, he said athletes have more of a break than they ever typically get.
"Last year for example, our football team played into the semifinals," Walsh said. "We played on a Saturday, and we came back on Saturday night. And then they had basketball and wrestling practice on Monday. And it was the same when basketball was over, they went to baseball on Monday."
When you have success, he said that's just the way things play out, which isn't a bad thing. Walsh said the added time off will hopefully just have the guys itching to go when they do get the green light.
Playing eight-man football in 1B, he said could offer an easier opportunity to play under the revised guidelines than a typical 11-man team.
"Let's let everybody play eight-man football if that gets us on the field," Walsh said. "I've always been a run and shoot guy anyways, so we'll widen our splits and let's play."
With their 20-man roster, he said they fit easily under the safety guidelines that have been released. He said he's hopeful to find a way to play this spring, but added that so much is still up in the air right now.
Coaching is the way of the life around the household, with his wife coaching volleyball as well, Walsh said. Being home at 3 p.m. after school rather than heading to practice is an odd feeling, he said.
"I do have a renewed appreciation for it a little bit, and I'm really looking forward to when we can get back to doing that, for the kids' sake, and mine too," Walsh said. "It's a lot of fun. If it wasn't fun, I wouldn't be doing it, so I'm looking forward to when we can."
---