Rev. Klockers: Time to reflect while fishing: no walleye on a cold autumn day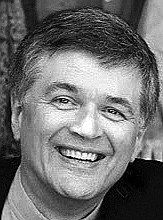 by
Rev. WALTER KLOCKERS
|
October 28, 2020 1:00 AM
A little over a year after we arrived in Moses Lake, I began fishing for walleye from shore. I remember the first time. It was an early morning on a cold October day. It was Oct. 11, to be exact.
That first time out, I noticed that there were far fewer fishermen around than what I had imagined. I reasoned that the cold weather had something to do with it. I don't mind when things get a bit chilly. If this meant fewer people, all the better.
Since that time, I have always marked Oct. 11 on my calendar with the hopes of experiencing the same the next year.
This time around, things changed up a bit. Higher temperatures extended into October longer than what I had anticipated. Oct. 11 came and passed.
Today, I went fishing for walleye from the shores of Moses Lake. I arrived at my spot about 6 a.m. and stayed until 7:45 a.m. It was 28 degrees Fahrenheit. In all that time I only had a single bite. There was another fellow out there with me. He had the same results. So, today I didn't bring home dinner.
This morning was a far colder than most for the past few weeks. So, things didn't happen as planned, on Oct. 11, and the results were not entirely satisfying.
Yes, just being in nature is rewarding in itself, but I didn't bring any fish home for the skillet.
I guess that is why they call it fishing, eh? It's not a sure thing. There are no guarantees unless you have a guide or charter that has the following as part of their contract: "You catch something, or you pay nothing."
In life, sometimes you may not get everything you want.
From the New Revised Standard Version of the Bible, Psalm 23, verse 1:
"The Lord is my shepherd, I shall not want."
What we have from God is the gift of grace, love and forgiveness that carries us beyond our earthly lives.
Is there anything that compares to this? Is there anything on earth that has greater value?
In those times when we may feel that we are somehow lacking, take inventory that includes what God has given, continues to give, and will give in the future.
All of this has already been netted for us by the Great Fisherman, Jesus Christ.
So that we may also feast at the Great Banquet, even if we ourselves get skunked.
Walter is pastor of Immanuel Lutheran Church in Moses Lake and has served as parish pastor for more than 30 years.
---