Limited practices starting up for high school athletics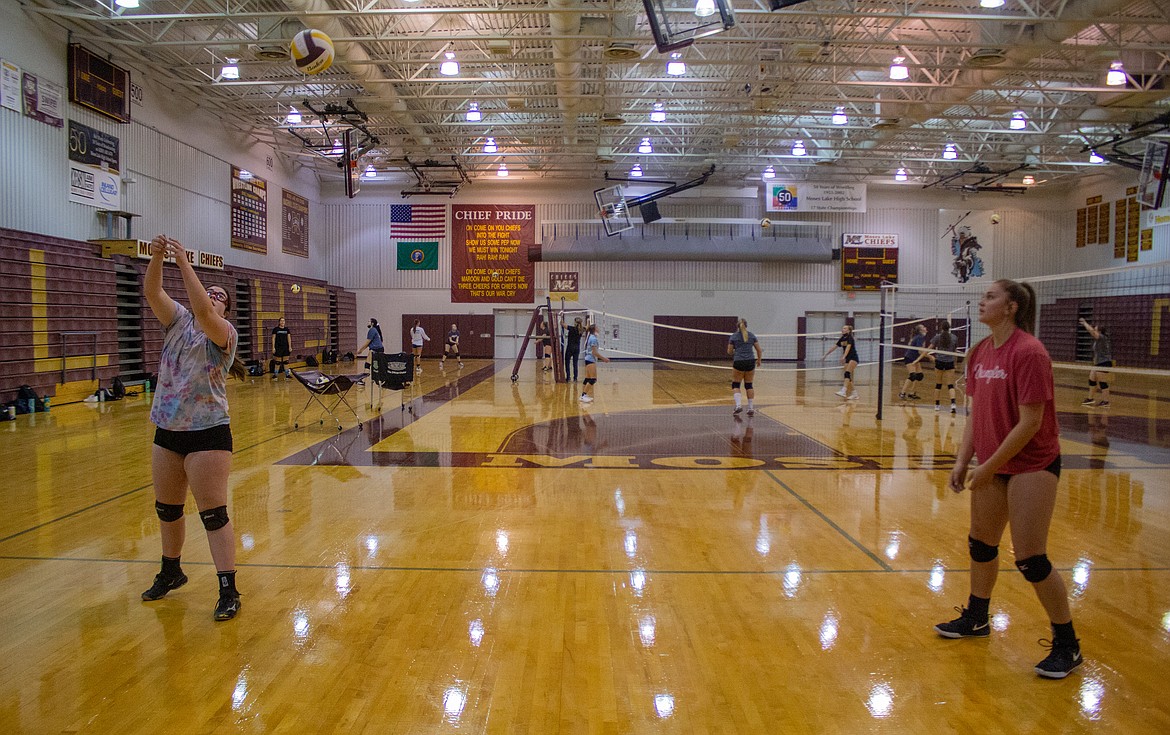 Moses Lake High School volleyball players, Sam Shelton, left, and Meagan Karstetter work on drills in their pod as Chiefs players are divided between gyms during practice on Tuesday.
Casey McCarthy/Columbia Basin Herald
by
CASEY MCCARTHY
Staff Writer
|
October 28, 2020 1:00 AM
MOSES LAKE — Limited practices have started for athletic programs in the area in recent weeks following revisions to guidelines regarding interscholastic activities and athletics.
Jennifer Gering, head volleyball coach at Moses Lake High School, got her team back in the gym for the first time on Monday. Heading into her second practice, Gering had a total of 42 players on all her teams together. Those players are split into seven pods and spaced out within the gyms in the high school.
She said her players were excited and enthusiastic to be practicing for the first time since many of them saw their club seasons cut short in March.
"It's really nice being back in the gym, having the kids back in the gym and seeing everybody," Gering said. "It's been a long time coming."
With small pods limited to six people each, Gering said, they are somewhat limited as far as drills they can work on. She said they have mostly worked on basic skills early on, practicing general technique and getting back into a volleyball mindset.
Even limited to six-on-six or three-on-three drills, she said, her players have enjoyed being back in action.
"They're having a blast," Gering said. "They're doing everything they're supposed to but definitely need to work on conditioning."
After missing out on the summer program and losing eight players from last year's varsity squad, Gering said, it's really important to get this early time in before the season. She said it is vital to getting the program to where it needs to be to start the year.
Sam Shelton, a senior on this year's team, said she was excited to touch a volleyball again for the first time since March. Shelton said it's great getting to come back early, too, before the season begins in the spring.
In her final year with the Chiefs, Shelton said, she wants to make the most of it.
"I really want to make this a good year," Shelton said. "I want to be a role model because I'm one of the only seniors, so I just want to be a model for the younger players because we'll probably have some younger ones on our varsity team."
Being a leader for the younger players can be a challenge with the practice split into pods that don't mix, Shelton said. To make up for this, she said, she's just trying to keep her own pod of players high-energy and making good use of time.
Shelton said she wants to make the most of every practice this year as she sets her sights on continuing her playing career beyond the season.
"One of my main goals is to go play college volleyball," Shelton said. "I've been getting some colleges looking at me, so I really just want to get some good games and film in, have them come and watch, all of that."
Casey McCarthy can be reached via email at cmccarthy@columbiabasinherald.com.
---