Othello to receive grants for Lions Park improvements
by
CHERYL SCHWEIZER
Staff Writer
|
October 23, 2020 1:00 AM
OTHELLO — Major upgrades will be coming to the playground in Lions Park in Othello, courtesy of three grants from state recreation programs.
Mayor Shawn Logan said four full-size basketball courts will be added to the park as well. The project will be "100 percent funded by grants," Logan said.
The grant programs are part of the 2021-23 biennial state budget, and the money must be appropriated by the Washington Legislature. Logan estimated the project would be completed by 2022.
The city scored first in a pool of 37 applicants for a grant from the Youth Activity Facilities program to build the new basketball courts, and was second in a group of 24 applicants for a grant from the Land and Water Conservation Fund to upgrade the park. Othello was third among 81 applicants for a Washington Wildlife and Recreation grant for the playground. If all three grants are fully funded, the city will receive about $1.35 million.
City officials also received $5,000 from the Othello Lions Club, and $6,500 from the Columbia Basin Health Association, for the playground project.
The basketball courts would replace the two existing courts and add two more. The existing tennis courts would remain.
"It's a game-changing project for Othello," Logan said. The new "Pride Rock" playground would replace the existing swings and climbing bars with new equipment.
The new playground, 7,000 square feet, will have a separate play area for children 5 years of age and younger, and a designated area for kids 5 to 12 years of age. The existing gravel surface will be replaced with material specifically designed for playgrounds.
The new playground will have more trees and more picnic tables, and will be more accessible for children with physical disabilities.
Logan said he's been involved with city improvement for 30 years, and one consistent theme in that time has been the need to provide more activities for children in Othello. The city didn't have the money to do the project Logan envisioned. "But I didn't let that stop me," he said.
Othello was competing against projects in Seattle, King and Pierce counties, Spokane and Spokane County, and scored well against all comers. "We brought it to them," Logan said. "We're competitive over here in Othello."
Cheryl Schweizer can be reached via email at cschweizer@columbiabasinherald.com.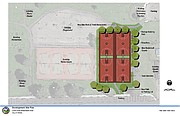 Recent Headlines
---