Ephrata athletes to start limited practices Monday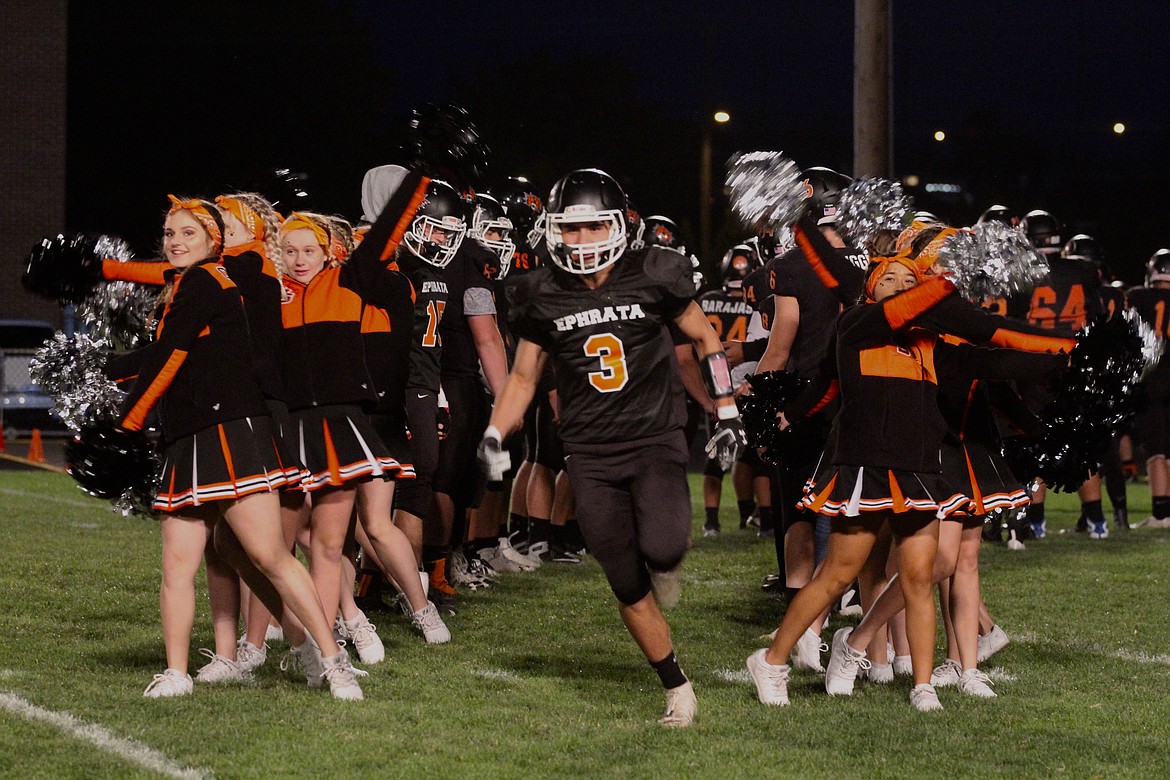 The Ephrata Tigers football team heads out of the locker room before the start of their rivalry game against Quincy High School last fall.
Casey McCarthy/Columbia Basin Herald
by
CASEY MCCARTHY
Staff Writer
|
October 23, 2020 1:00 AM
EPHRATA — Spring athletes at Ephrata High School will get a chance to return to practice on Monday for the first time since athletics were put on pause due to COVID-19 in March. Ephrata will restart practices next week under the new guidelines for high school athletics released by the Washington Interscholastic Activities Association earlier this month.
Bryan Johnson, athletic director at Ephrata High School, said school officials elected to break down the upcoming practice calendar for athletics into seasons to help accommodate the high number of multi-sport athletes at the high school.
"We're going to go 12 days of practice for spring sports starting on Monday ... and then go 12 days for fall sports, and 12 days for winter," Johnson said.
This format will hopefully allow coaches to not have to worry about sharing kids across practice schedules as much, Johnson said. He said it's a "huge social and emotional boost" for the students being allowed to return to action and interact with their peers after being off for more than seven months.
Johnson said he and school district officials worked with the school district safety team to modify their return-to-play plan to form the safest option for student athletes and coaches. Much of it was based on the guidance from the state and department of health, he said.
Practices will be limited to student pods of no more than six, with pods 30 feet apart.
"Those guidelines are pretty specific on what you can and cannot do, but just getting some exercise and some skill work in is great," Johnson said. "Just having fun, and try and do it in a safe manner, following all the guidelines in a safe manner."
He said it will be crucial for coaches and students to be responsible so athletics are not halted again. Johnson said that's the last thing he wants to happen.
Coaches are excited to get back to working with their players again. Johnson said people like himself and his coaching staff didn't get into education to stare at a screen in a classroom, but to interact and make a difference in students' lives.
"This is one step closer to getting back to normal, and it's a nice trial run before athletics get going," Johnson said.
Comments from parents and students have been nothing but positive about returning to action, he said. They've been waiting patiently, and getting back into things will be a big lift for the school and the community, he added.
"Now it's finally really happening Monday, so that's exciting," Johnson said.
---