Rodeo photographer chases the light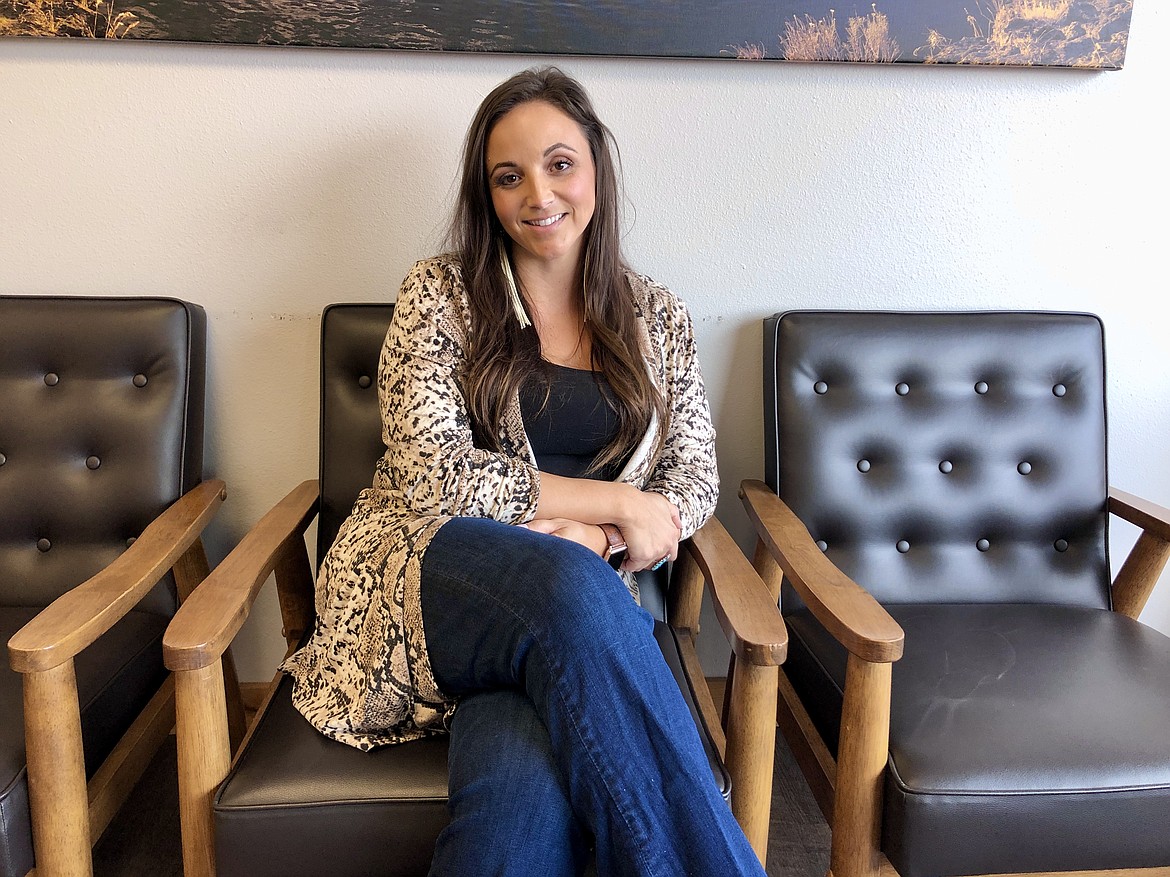 Roseanna Sales specializes in taking pictures of rodeos. In 2017, she was one of four official photographers at the National Finals Rodeo, and will be again this year.
Charles H. Featherstone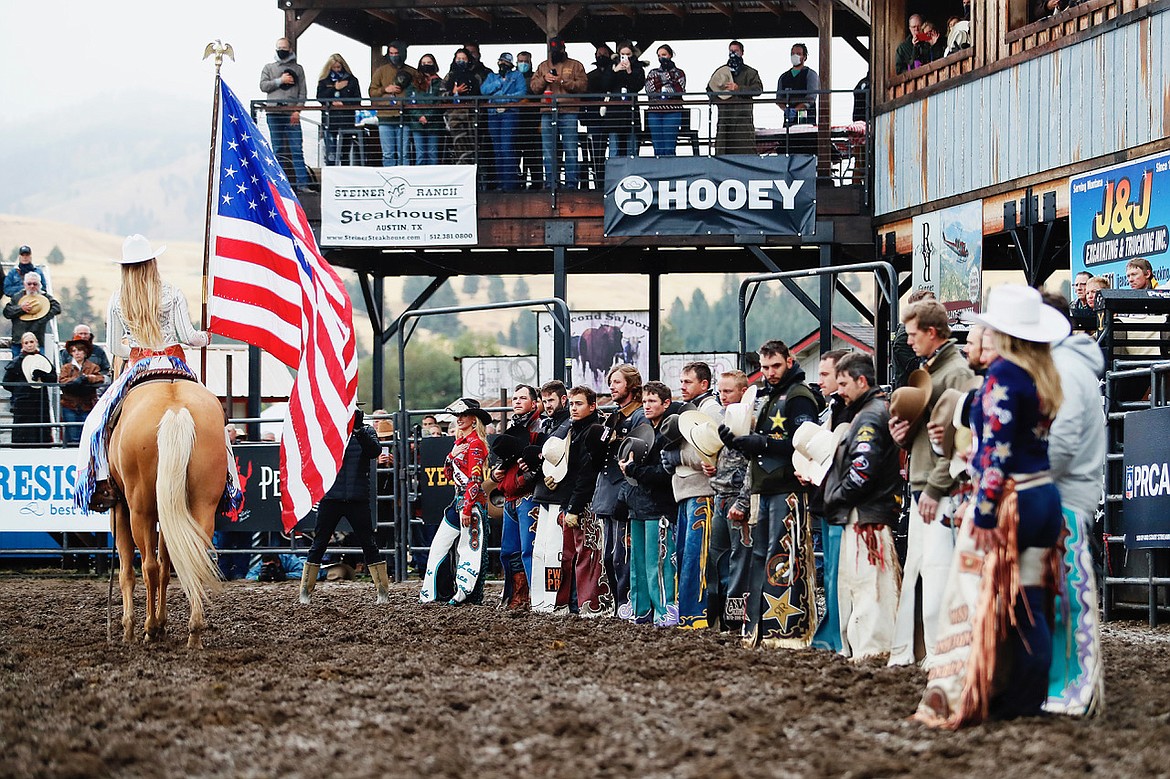 Rodeo cowboys and spectators salute the flag at the 2020 Darby, Montana, Riggin' Rally.
Pick-up men Cody Flitton and Ty Reeder work on uncinching Paint Me Ruby at a rodeo in Logan, Utah.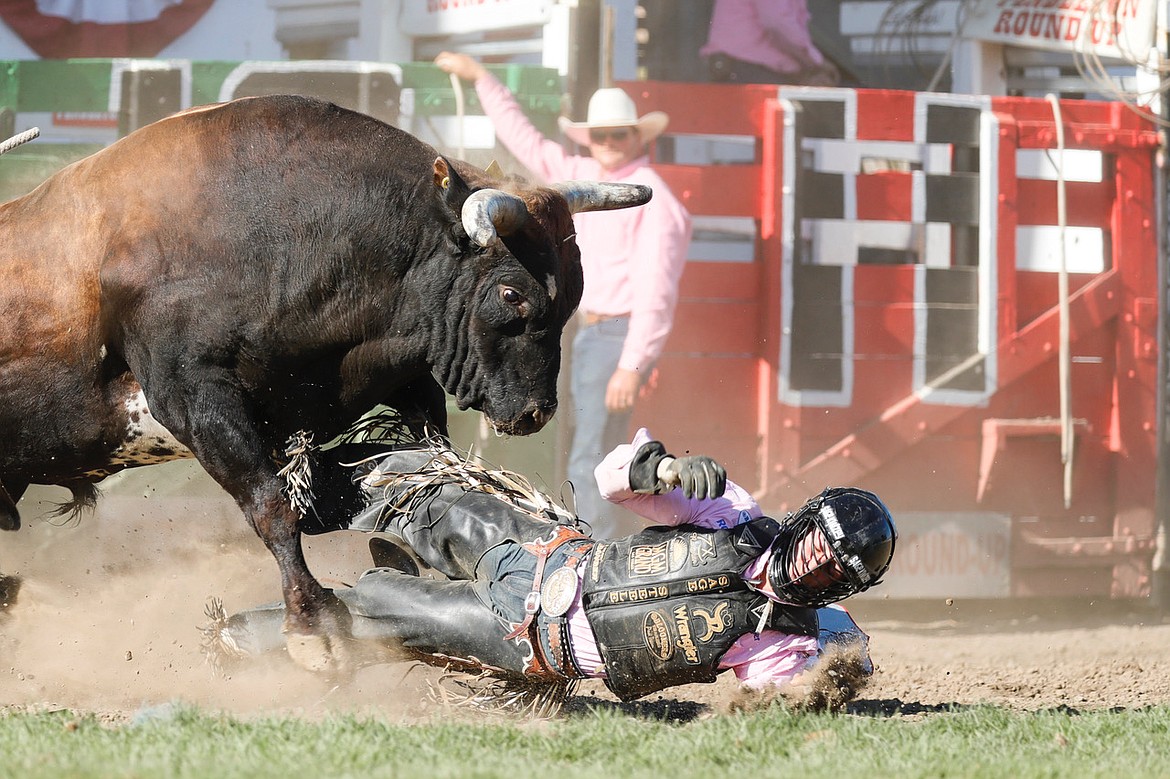 World Champion bull rider Sage Kimzey meets his match at the 2019 Pendleton Roundup in Pendleton, Oregon.
Previous
Next
by
CHARLES H. FEATHERSTONE
Staff Writer
|
October 22, 2020 1:00 AM
MOSES LAKE — As a rodeo photographer, Roseanna Sales said she often finds herself "chasing the light."
It's especially true given that so many of the rodeos in Eastern Washington are held at night.
"Here in our rodeo circuit, every arena is set up differently," Sales said. "So for me, a lot of it is finding the light if I'm not setting up strobes."
While the Moses Lake Roundup arena at the Grant County Fairgrounds is small enough to light up properly, Sales said the Omak Stampede's stadium "is nearly impossible" because the arena is so large.
And for a photographer, even a well-lit arena can be dark at night.
"You have to find your pockets of light," she said. "And hope the animal goes in your pockets of light."
"Sometimes it's just the luck of the draw, just finding out where the animal is coming out of, trying to be creative and finding something different," she said. "I think it kind of helped coming from a non-rodeo background and looking at it from fresh eyes rather than growing up in the rodeo world."
"I think that helped me to see things different and try and find a more creative shot," Sales said.
It must be working. Sales, 36, only started working as a rodeo photographer in 2016, but was invited to photograph the 2017 National Finals Rodeo (NFR) in Las Vegas "in the dirt," that is, from inside the arena. And was asked — "pushed" is the word she uses — to apply again this year, and will be back in the dirt for this year's NFR in Arlington, Tex., on Dec. 3-12.
It's a rare honor, Sales said, one that helped make her the Professional Rodeo Cowboys Association's photographer of the year in 2017.
"Not a lot of women have shot in the dirt at the NFR," she said. "It's definitely a male dominated industry."
Sales said she got her first camera when she was 12 and started taking action shots of her brother "doing crazy stuff on his dirt bike" around the family farm.
"That's kind of what started the action part of it. And then it kind of took off from there," she said.
Sales, who works as a tax specialist and bookkeeper at American Tax Service in Moses Lake, said she photographed weddings and portraits "for about 10 years" before she got burnt out and then begged Sue Tebow, a noted photographer herself who documents farm life and does marketing for the Moses Lake Roundup, to let her take pictures of the roundup in 2016.
"I did that, and I came home that night and just knew that was what I needed to do," she said. "I just fell in love with it."
Sales said she then got a photographer's permit from the Professional Rodeo Cowboys Association and spent a good part of 2017 "chasing the rodeo circuit" and sleeping in the back of her car building her portfolio, some of which is available on her web site, www.roseannasales.com.
For Sales, it's the action and the drama of rodeo, of capturing and conveying that in images.
"These guys spend so much of their time on the road," she said. "They have to really love it to do it. There's really not an awful lot of money for a lot of those guys, and they're just chasing the buckle."
"There's a lot of blood, sweat and tears in it. I don't know know if a lot of them show those tears, though," she said.
With the COVID-19 pandemic, Sales said that most of the rodeos in Washington were canceled, and she had to travel out of state — even as far as Utah — to find events to shoot. It also meant that she missed the rodeo folks she's made friends with over the last couple of years.
"I met a lot of wonderful people, the family that you gain on the road," she said. "I missed that the most this summer, I didn't get to see a lot of my rodeo family."
It is, however, the action the keeps her in the dirt, taking pictures, looking to tell a story in pictures.
"I love it for sure. It's an adrenaline rush having a 1,200-pound animal coming at you when you're in the arena."
Charles H. Featherstone can be reached at cfeatherstone@columbiabasinherald.com.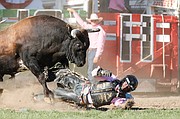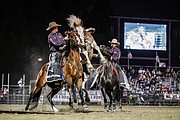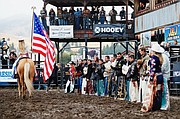 ---