Second Harvest Mobile Market comes to Othello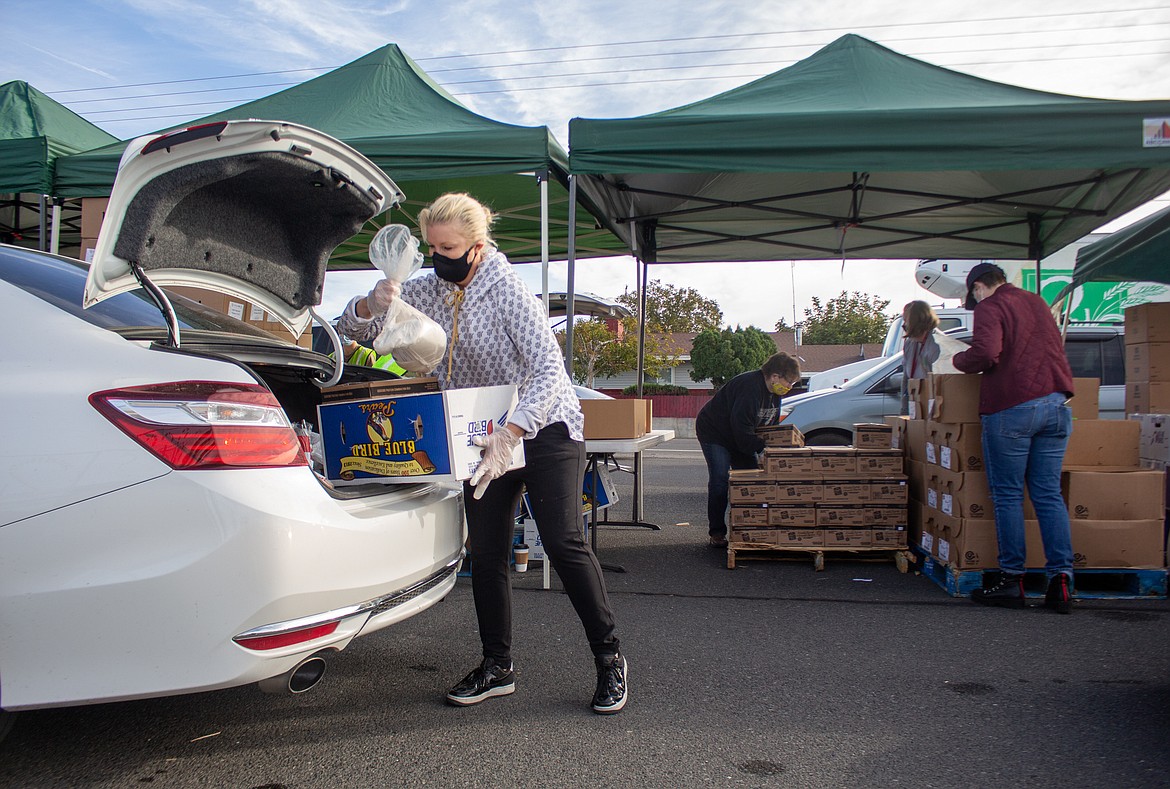 Jennifer Baginksi, a volunteer helping out at the Second Harvest Mobile Market distribution in Othello on Tuesday, places a load of food items into the back of a car.
Casey McCarthy/Columbia Basin Herald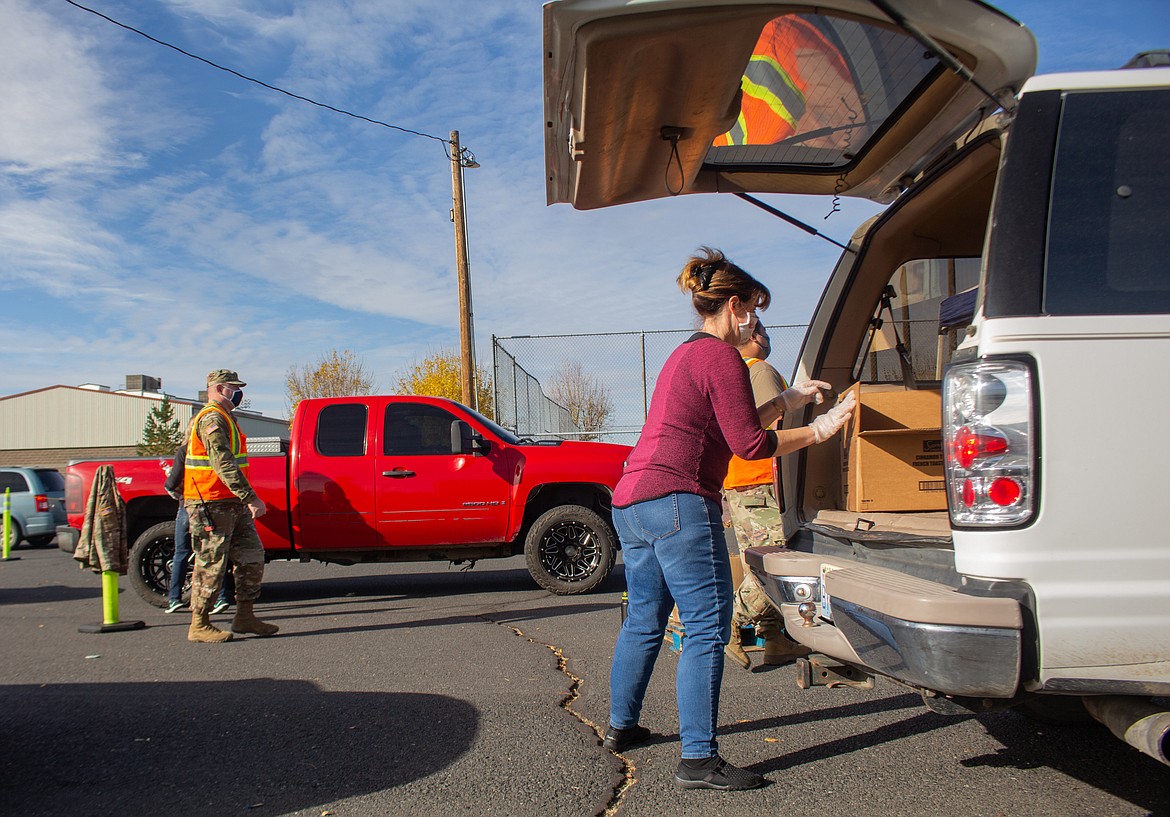 Cheryl McCort, front right, loads up food items into the back of car while Washington Army National Guard members help coordinate traffic in the background at the Second Harvest Mobile Market event in Othello on Tuesday.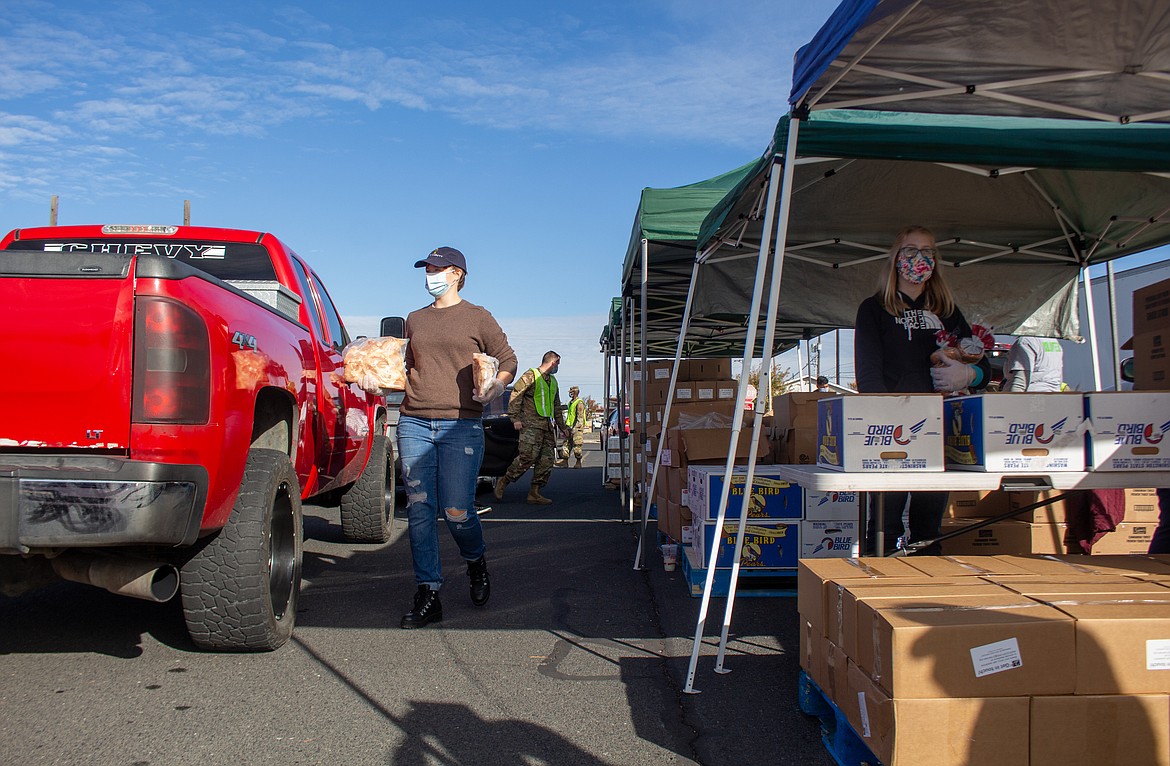 Volunteers, Abi Withers, left, and Rebekah McCort, right, help distribute items at the Second Harvest Mobile Market food distribution in Othello on Tuesday morning.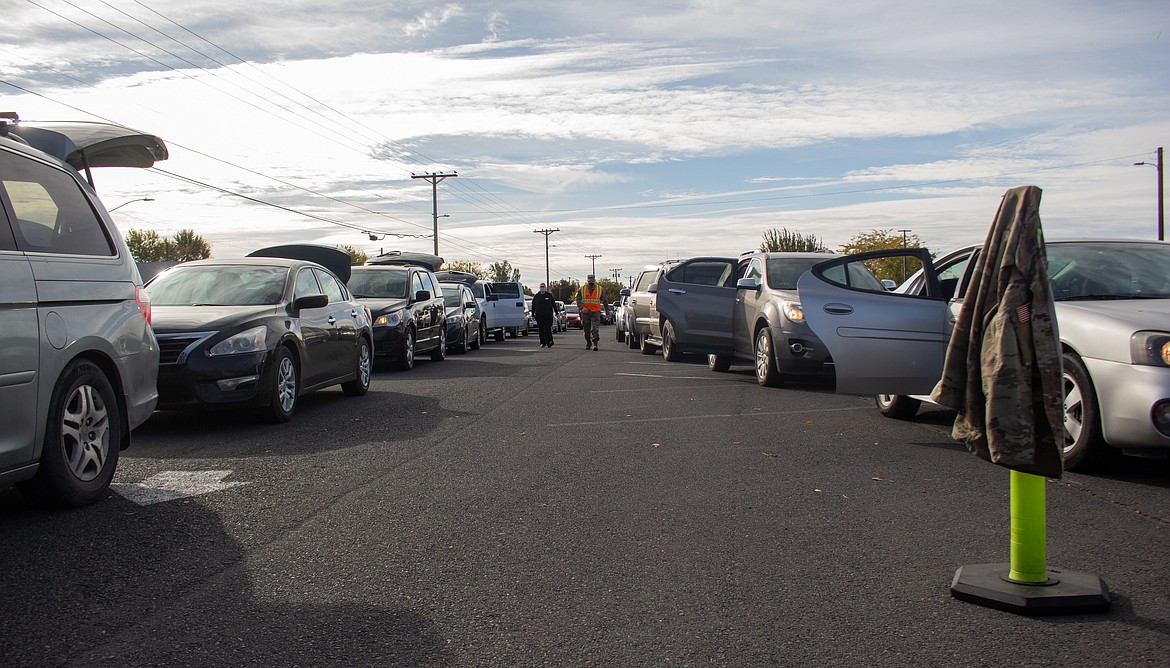 The line of cars was up to more than 100 before the Second Harvest Mobile Market even kicked off at 10 a.m. on Tuesday at Othello High School.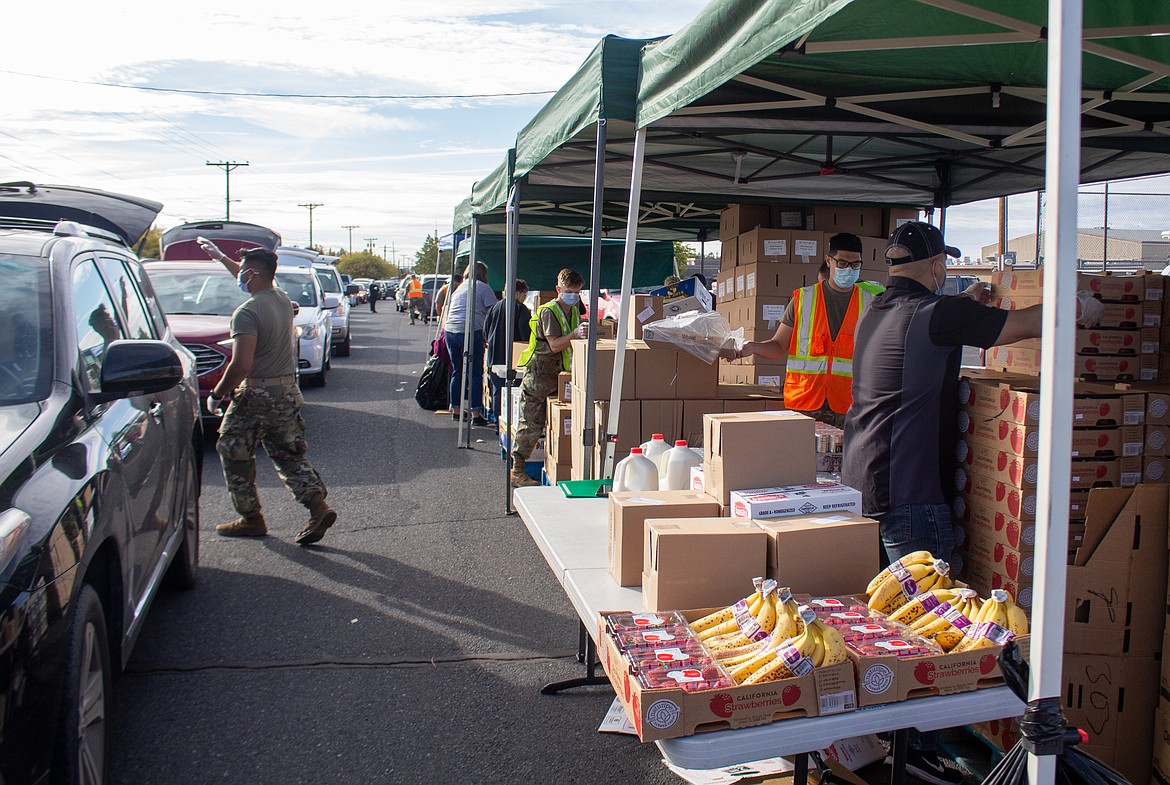 Cars lined up down and around the Othello High School parking lot on Tuesday afternoon as people came out for the Mobile Market food distribution offered by Second Harvest.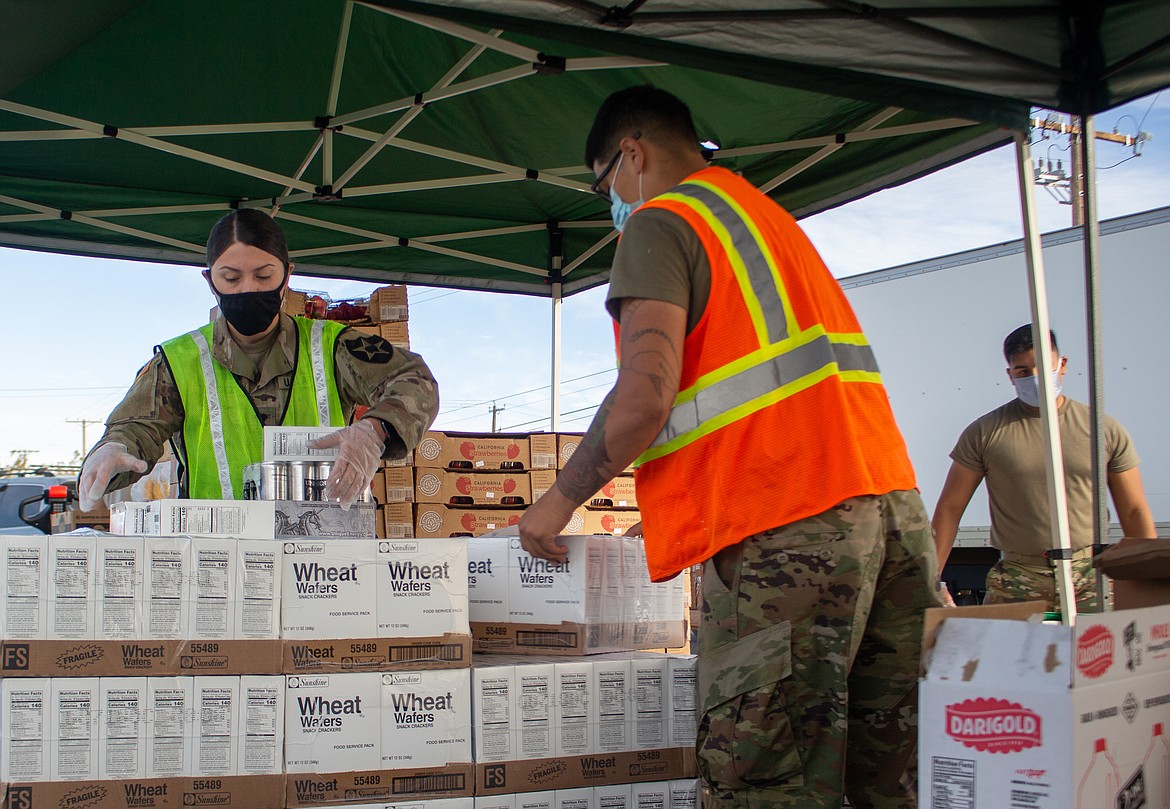 Trynity Mendez, left, and Jairzino Andrade gather items together as they get set for the next car to pull forward during the Second Harvest Mobile Market food distribution in Othello on Tuesday.
Previous
Next
by
CASEY MCCARTHY
Staff Writer
|
October 21, 2020 1:00 AM
OTHELLO — Second Harvest's Mobile Market food distribution set up at Othello High School on Tuesday, to the welcome of a long line of cars.
Reagran Lara, nutrition education manager with Second Harvest, helped coordinate the free food event and has been involved with many of the distributions this year. She said the calls for the Mobile Market events have continued to come in since the pandemic began in spring.
"We feel it immensely," Lara said. "We get a lot of calls, we get a lot of people on Facebook and social media asking when we're going to be there, kind of cries for help, because they're really desperate."
If anything, she said, requests from various towns and communities around the region have gone up this year. She said Second Harvest will provide the distributions as long as it can and certainly through the end of the year.
More than 100 cars were lined up in Othello before the event even kicked off Tuesday morning, which, Lara said, has been the norm recently. Even at events when there aren't a lot of cars waiting when they get started, once the distribution begins, cars arrive.
Luckily, she said, no one needed to be turned away at the event on Tuesday. Most of the food was dispensed within the first hour of the distribution.
A wide variety of items was available. Fruits and vegetables included carrots, potatoes, tomatoes, onions, strawberries and bananas. Cheese, cream, eggs and milk filled the dairy boxes. Chicken and taco meat were available. Wheat flour, bagels and pasta were some of the other items on hand.
Donations came from Second Harvest, with a wide array of sponsors, including Tyson Chicken and Walmart.
Lara said Second Harvest has tried to respond to any calls from people in its coverage area to bring the Mobile Market to them at some point. While there might be only one a week early on in the summer, she said, they are up to about three or four Mobile Markets a week now.
Washington Army National Guard members have helped with distribution and coordination of planning. Lara said the Guard provides a lot of the muscle needed and is a key factor in making these events possible.
Sgt. Emmanuel Torres and his fellow National Guardsmen were in Othello assisting with the event on Tuesday. Torres said many of the members coming out to assist with the Mobile Markets are thankful to have a direct impact on their community. He said they are happy to help out with the "grunt work."
"A lot of us are human too, and our soldiers here might be going through their own struggles, experiencing that firsthand," Torres said. "They're grateful that they can go ahead and give another person the ability to smile through this hardship."
He said Second Harvest is the main coordinator for the event but the Guard is happy to support its mission.
Casey McCarthy can be reached via email at cmccarthy@columbiabasinherald.com.
Recent Headlines
---