Royal City Food Bank receives large donation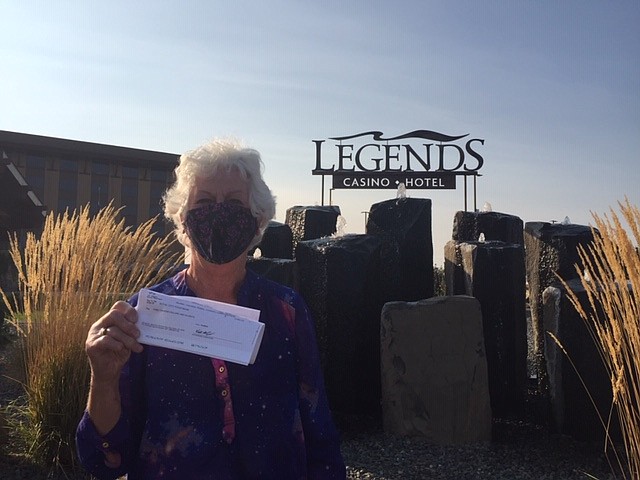 Mary McKinney, chairman for the Royal City Food Bank, holds a $3000 check donation from Legends Casino, in Toppenish. The donation will be used to purchase food.
Courtesy photo
by
RACHAL PINKERTON
Staff Writer
|
October 19, 2020 1:00 AM
ROYAL CITY — The Royal City Food Bank received a $3,000 contribution from Legends Casino, in Toppenish, on Wednesday, Oct. 7. The casino awards money each year to a wide variety of applicants, including food banks, police and firefighters.
"The money is allotted for food," said Mary McKinney, chairman for the Royal City Food Bank. "It's not for repairs or bills or whatever."
Currently, the Royal City Food Bank is serving between 300 and 400 people each week.
"COVID is still playing into this a lot, I think," McKinney said.
When businesses were forced to close this spring due to COVID-19-related proclamations, the Royal City Food Bank saw an increase of over 100 food boxes each week. Heading into winter, McKinney doesn't think there will be any decrease in the number of people needing food.
"We're still kind of busy," McKinney said. "And it's slower right now because people are picking apples."
The food bank is being supported by Second Harvest with donations of fresh produce and dry goods. It also picks up food from Moses Lake.
"We have some really full shelves," McKinney said. "We're lucky. We take it when we can get it."
Full shelves is a good problem to have when heading into the holiday season. But there are some holiday-associated items that the food bank still needs.
"We normally have potatoes and onions come in — they didn't come this week," McKinney said. "It would be really nice if someone would give us turkeys. We need non-perishables that are holiday-oriented, even things like marshmallows and pie crusts. Things that people can make."
McKinney said that donations of masa, ground corn used for making tamales, would also be appreciated.
"We used to give masa every month, but it went away," McKinney said. "It is expensive to buy."
To help give the food bank a boost before the holidays, there will be a nonperishable food drive at the Royal City Harvest Foods grocery store on Saturday, Oct. 24, from 10 a.m. to 2 p.m. The food bank also accepts donations by appointment.
"For meat or larger donations, please call in advance," McKinney said.
Cash donations are also accepted, as it allows the food bank to purchase items needed that aren't on the shelves.
To reach the Royal City Food Bank, call 509-346-2679 or 509-560-3357.
Rachal Pinkerton can be reached via email at rpinkerton@suntribunenews.com.
Recent Headlines
---