Tips for getting your heating unit ready for the winter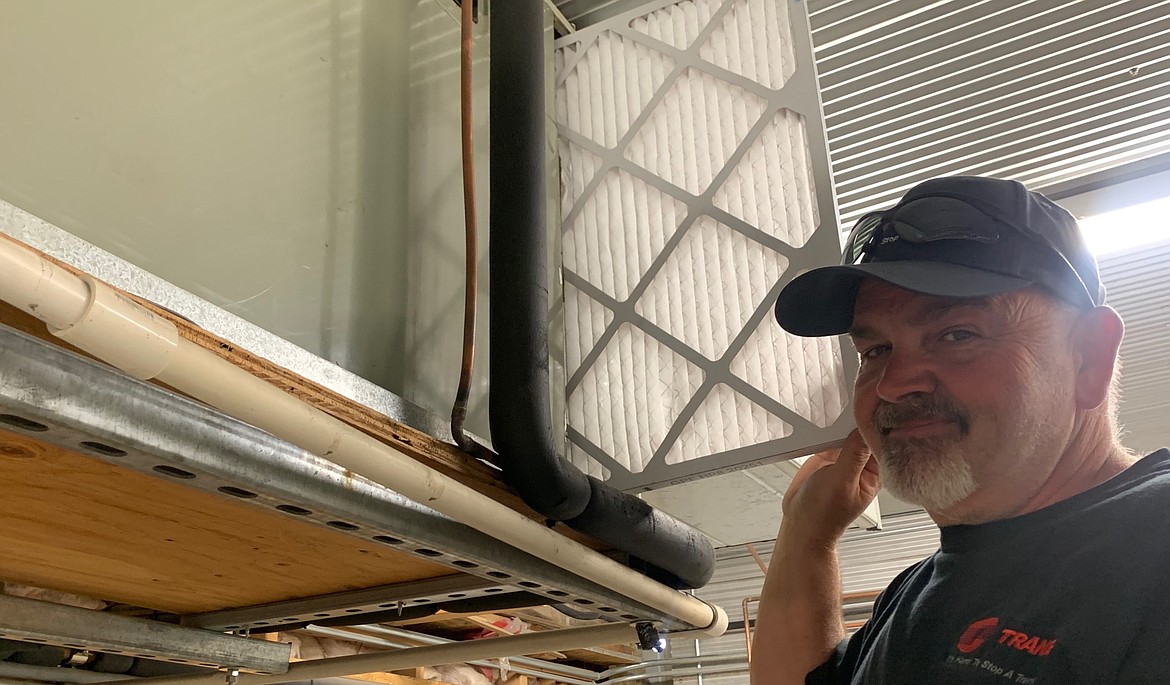 Dave Carlson, service manager with Polhamus Heating & A/C Inc., smiles as he pulls out a filter of a unit he's currently working on.
Kasee Smith/Courtesy Photo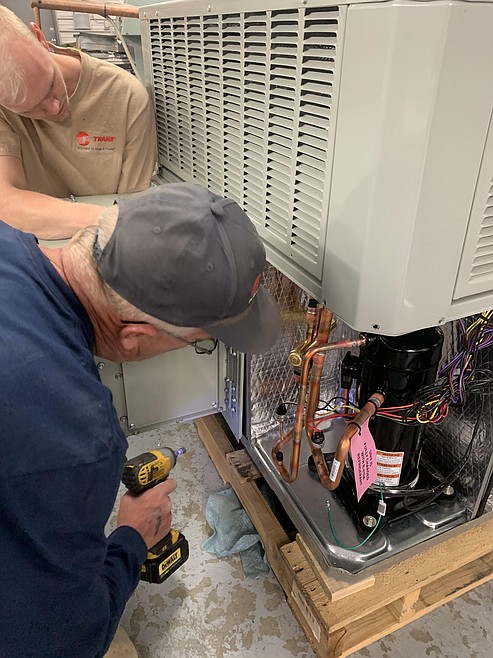 Stephen Stucky, left, and Dave Grant of Polhamus Heating & A/C Inc. work on a getting a package unit ready to install for a commercial building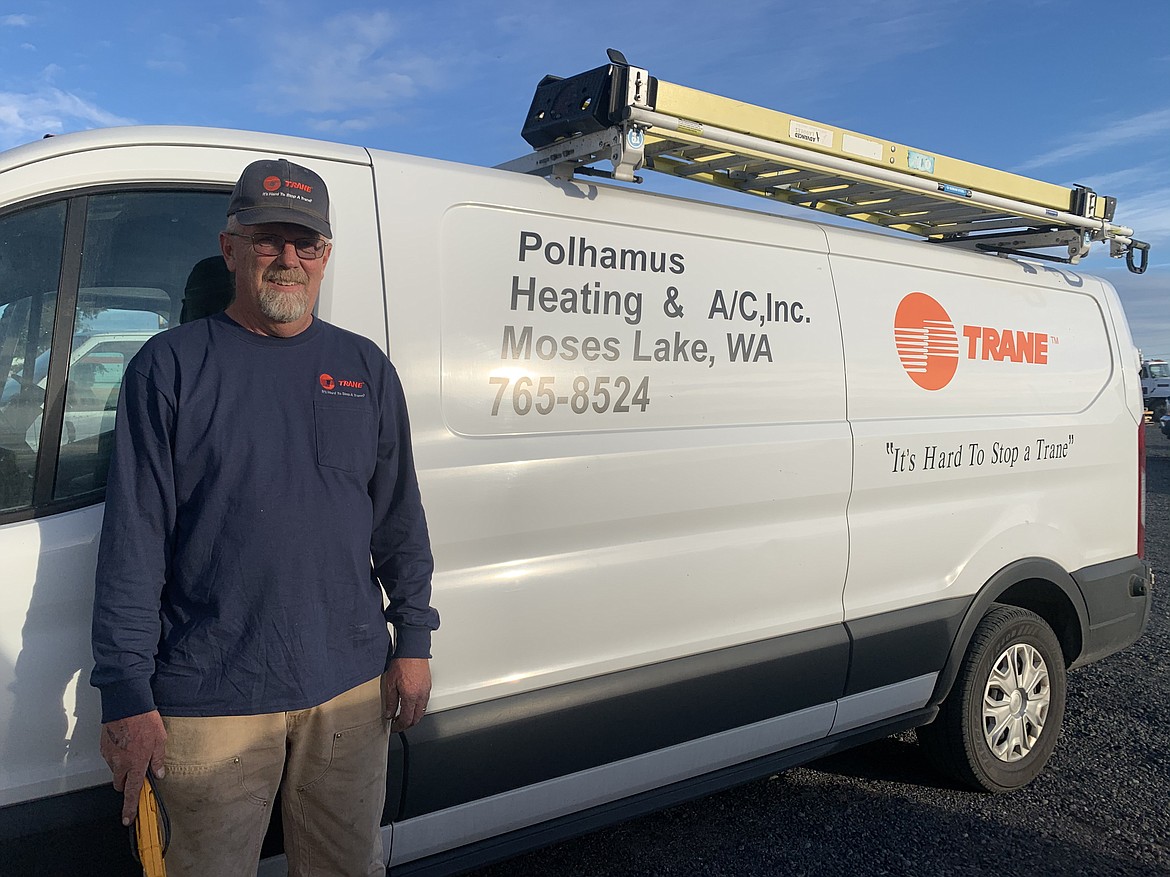 Polhamus Heating & A/C Technician Dave Grant beside one of the company vans. Grant, and other technicians, see an uptick in service calls from customers about their heating units typically around this time of year as the weather gets cooler.
Previous
Next
by
CASEY MCCARTHY
Staff Writer
|
October 16, 2020 1:00 AM
MOSES LAKE — Colder temperatures are right at the doorstep this fall, with winter knocking at the door. Ensuring your home's heating unit is ready to go for the cooler months can be beneficial to help prevent issues coming up when the unit is needed most.
Dave Carlson, service manager with Polhamus Heating & A/C Inc., said they recommend having service done before winter if possible. Carlson said the reason for that is there are a number of issues that could have come up, including burned wires, since last year.
He said they have a lot of calls from customers about these concerns around this time each year. Making sure the heating coils are clean is key, and he said it's a good idea for customers to change the filter on their unit on a regular basis as well.
"Filters are crucial, especially to central heating and air," Carlson said. "That's the key word, air. The filters have to be changed, and it's a good idea to clean those coils on a regular basis so we have maximum airflow."
Changing filters on a regular basis can help prevent additional service and keep the utility bill down with the unit not needing to run as fast, or as hard.
For heat pumps, he said they would make sure the refrigerant level is correct and not damaging the compressor by running with too little. As the temperatures get down into the teens and single digits, he said units are going to be working as hard as they can.
If they're about to break, they will, but Carlson said preventive maintenance can help make sure that doesn't happen. A lot of people may have kicked on their heat for the first time in the last week or so, with temperatures dropping down at night.

"We're gonna get a lot of service calls with, 'I think something is burning or on fire,'" Carlson said. "That's not the case most of the time. It's just the dust burning off the elements throughout the summer that collected there."
Early in the fall, he said, people might not realize their heating elements aren't working as well as they should because their home remains at a comfortable temperature.
"In reality, they might have an element or two that are out, and they won't know until the temperatures get down much colder where they actually need those extra elements, and they actually realize that's a problem," Carlson said.
Finding out your heating unit isn't working properly when the temperatures are near single digits is not ideal. Depending on how busy they are at the time, he said, it could be a week or two until the unit can be fixed.
For people interested in replacing their home's heating system, Carlson said they can give Polhamus or any other company a call to come out and see what they might need. He said they offer a free estimate for customers where someone will size up the house and find out what system meets their needs. Options range from standard options all the way up to the higher end with all the bells and whistles.
Some customers with separate heating and cooling units, Carlson said, will cover their cooling units during the winter to prevent debris and snow from getting inside.
"While not necessary, it's not a bad idea either," Carlson said.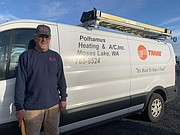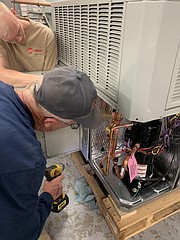 ---