Meet Grant County's newest defender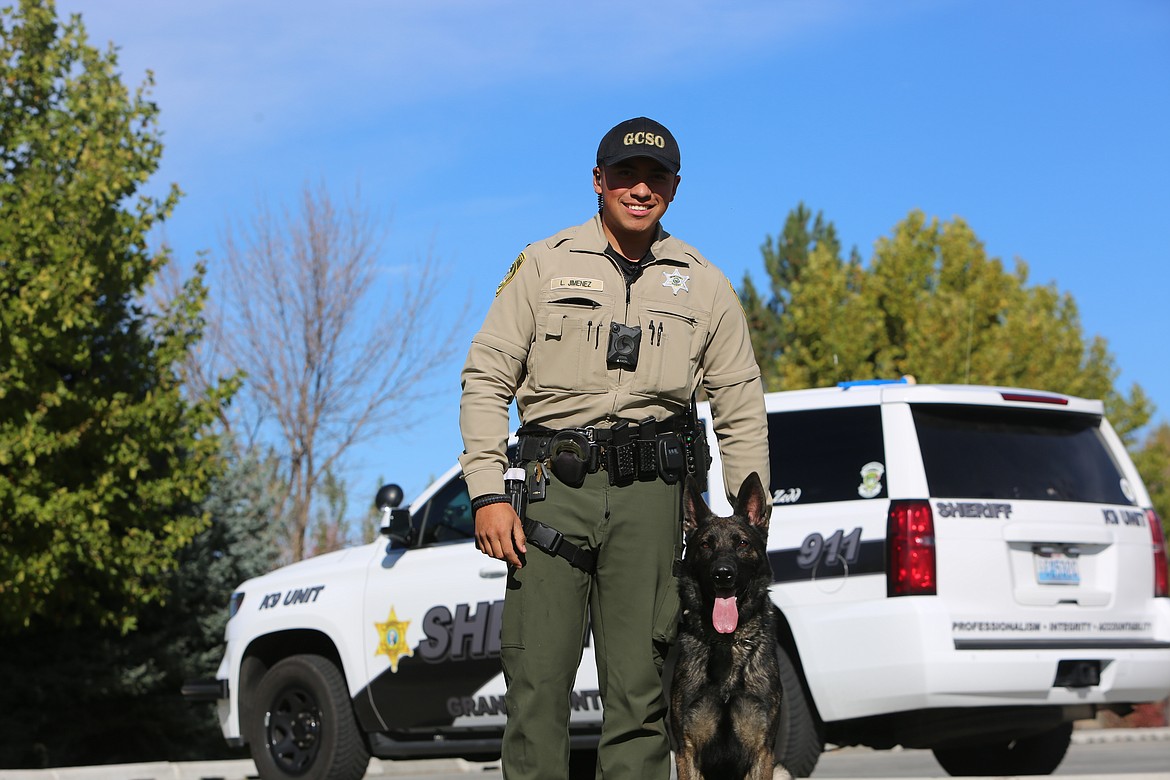 Deputy Luis Jimenez stands next to K-9 Zedd at a grass lot behind a Moses Lake church Wednesday, tossing the ball around between calls.
Emry Dinman/Columbia Basin Herald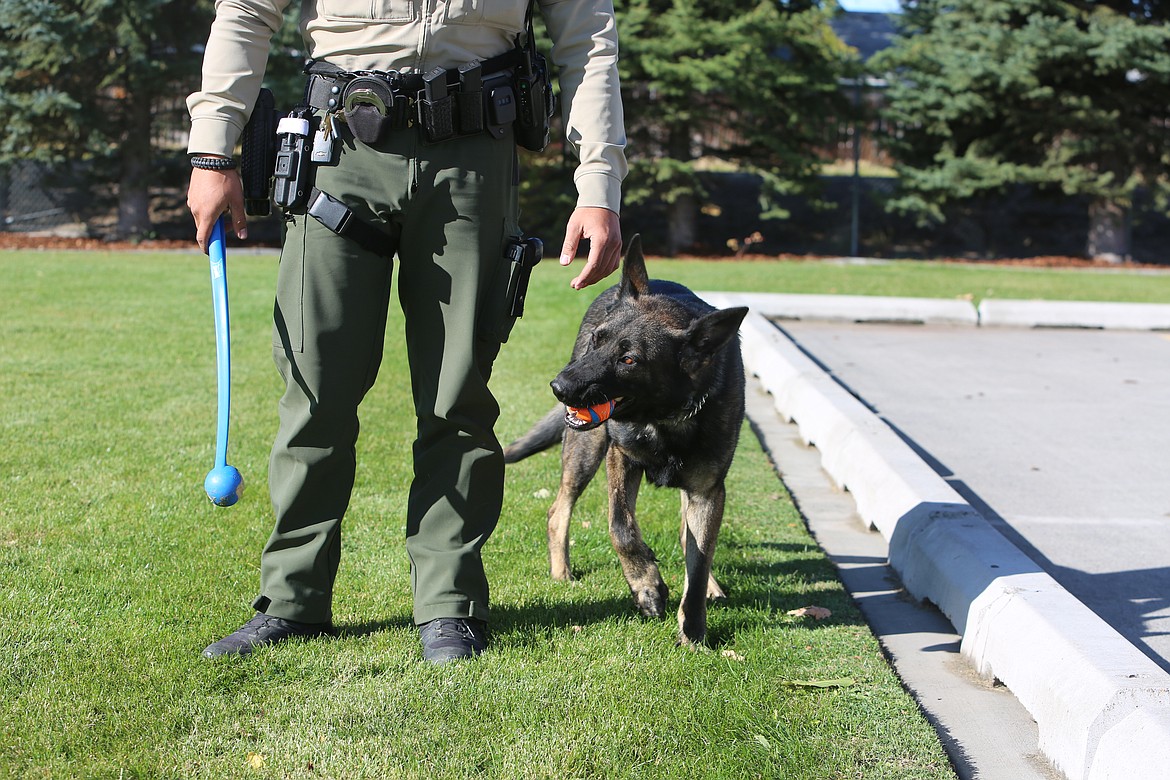 Zedd, a four-year-old German shepherd, spent his early years as a private security dog for Spokane resident Mitch Ackerman. Eventually, Ackerman decided that Zedd wasn't meeting his full potential, and began looking for a law enforcement agency to take him on. In August, Zedd hit the streets of Grant County with his handler, Deputy Luis Jimenez.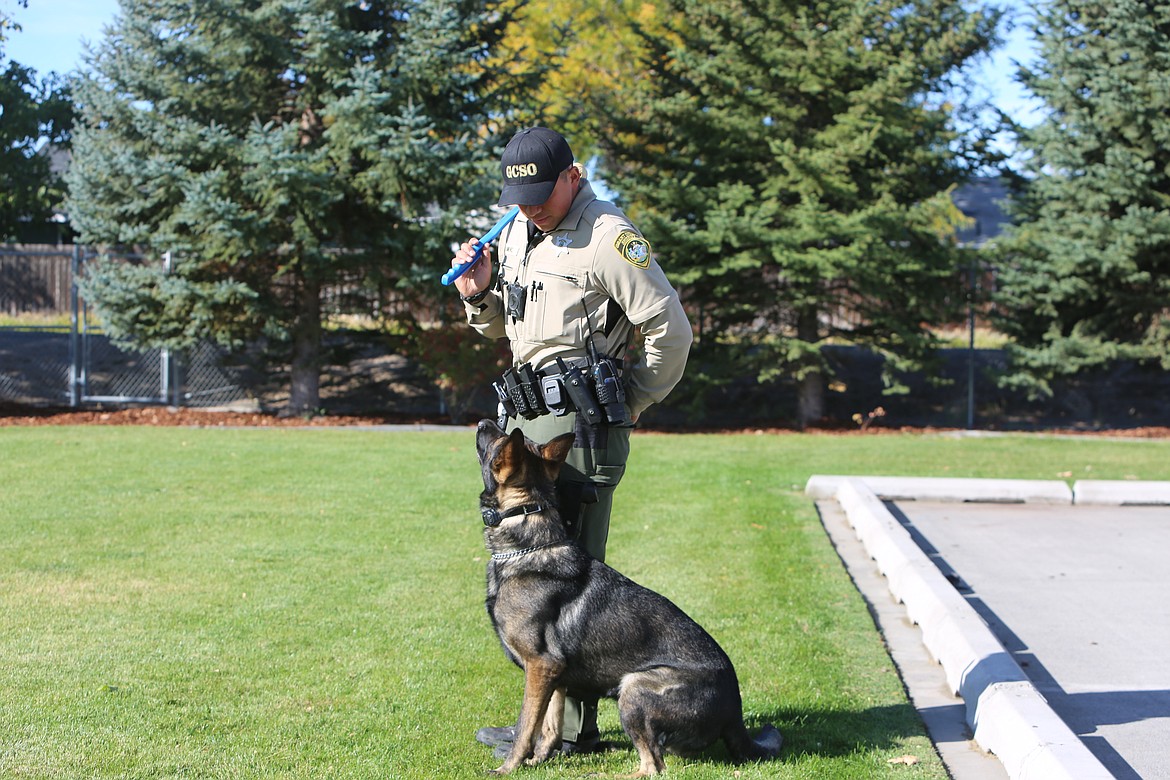 Zedd waits eagerly for Jimenez to toss the ball.
Previous
Next
by
EMRY DINMAN
Staff Writer
|
October 16, 2020 1:00 AM
MOSES LAKE — On what may be one of the last few sunny days of the season, Grant County Sheriff's Deputy Luis Jimenez and his partner got out of their patrol car behind a local church to play ball between calls.
Of course, Jimenez used a ball launcher so he wouldn't get his partner's slobber on his hands.
It's been a little over two months since Jimenez hit the streets with the newest member of the sheriff's office's K-9 unit, K-9 Zedd, whose name is short for Zadak, which is Czech for "Defender."
The dark-colored German shepherd, who turned 4 in September, replaced the recently retired K-9 Chicka, an eight-year-old Belgian Malinois who's spending the rest of her days sunbathing in the backyard of her first handler, Deputy Ric Char. When Char was promoted to sergeant around the beginning of the year, Chicka had been transferred to Jimenez in February.
Chicka had been Jimenez' first K-9 partner, a fitting passing of the torch by Char, who had inspired Jimenez to join the force in the first place while coaching his soccer team in high school.
"He would show up in his uniform, and I was like, oh, I want to wear one of those," Jimenez said, smiling.
Jimenez studied criminal justice at Big Bend Community College, before enrolling in the sheriff's office's reserve program in 2015, volunteering his time free of charge while getting some first-hand experience. He tried to apply with the sheriff's office in 2016, but the agency wasn't hiring and he took a position with the Spokane County Sheriff's Office.
It didn't take long for the Grant County Sheriff's Office to realize its mistake in letting Jimenez get away, and a little over a month after Jimenez graduated from the academy, he was asked to come back home. In February 2017, Jimenez started patrolling the streets of Grant County.
By then, then-Deputy Char had already started working with K-9 Chicka, who along with K-9 Grizzly was one of the sheriff's office's first two patrol dogs in more than two decades. As the department kept adding dogs, Jimenez worked for more than a year as a K-9 training decoy, donning an oversized protective sleeve and letting 75 pounds of teeth and muscle take him to the ground. It didn't take him long to decide that he wanted a K-9 partner of his own.
"Just seeing dogs work," Jimenez said, watching Zedd search for a ball Wednesday. "Seeing him look for his ball and then he picks up on its scent, it's just satisfying. And then obviously you see, like with Live PD, dogs helping catch bad guys."
"They have skills we don't that the dogs can use to find the guy," Jimenez added, chucking the ball again.
When Char was promoted, it was Jimenez who was chosen to take his place in the K-9 program.
He trained with Chicka in Spokane for 10 weeks before they started patrolling together, but when they started working together, she quickly proved her worth. Jimenez recalls one of those first times searching for a suspect with Chicka, an hour and a half after the initial call went out over dispatch. Where the human officers couldn't keep up, Chicka excelled.
"We were able to find the guy, and he was just hiding somewhere where we would never have found him by ourselves," Jimenez said.
But Chicka's age- and career-related health issues were becoming more of a concern. Eight years old is an average retirement age for police and military K-9s, whose jobs can be rough on their bodies over time.
So, when a Spokane-resident named Mitch Ackerman offered the sheriff's office his private security dog, a well-trained German shepherd named Zadak, it seemed an easy choice. Chicka moved back in with Char, who officially adopted her, and Jimenez went back to the books with Zedd for another 10 weeks in Spokane.
After graduating in July, the new partners hit the streets in August. Zedd's already defused some tense situations, including a September incident when a man suspected of assaulting his girlfriend had barricaded himself in his Moses Lake home.
"He ends up giving up as I'm walking up with Zedd," Jimenez said. "An officer asks, 'Why'd you give up? Was it because of the dog?' And he was like, 'Yeah, I don't like those dogs."
"Word gets around, dog bites hurt," Jimenez added.
Zedd still hasn't been deployed to bite a suspect yet, Jimenez said, though he expects the first time will happen sometime in his first year. In the meantime, Zedd is getting plenty of exercise – Jimenez often brings him to play fetch at this grass lot behind the church, which is fenced in and a quiet spot for him to run Zedd around.
The public hasn't been as well acquainted with Zedd as it has with the rest of the county's police K-9s, largely due to the pandemic and the resulting dearth of fundraisers, fairs and other opportunities for the sheriff's office to shine the spotlight on its newest four-legged recruit. Once the pandemic is over, Jimenez said he expects that to be rectified.
Though likely not keen to go through a third round of training anytime soon, Jimenez expects the next chapter of his law enforcement career, side-by-side with a K-9 partner, will be a long one. And, he said, he's especially grateful to be starting this chapter in Grant County.
"We have a great community that supports us," Jimenez said. "Obviously you see communities in other states and the other side of this state where law enforcement is not so liked, and I know there are some places that want to get rid of the K-9 programs, but we're very supported."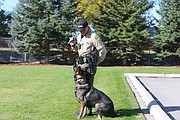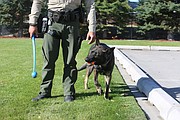 ---