Golf tournament raises money for wrestling team during uncertain year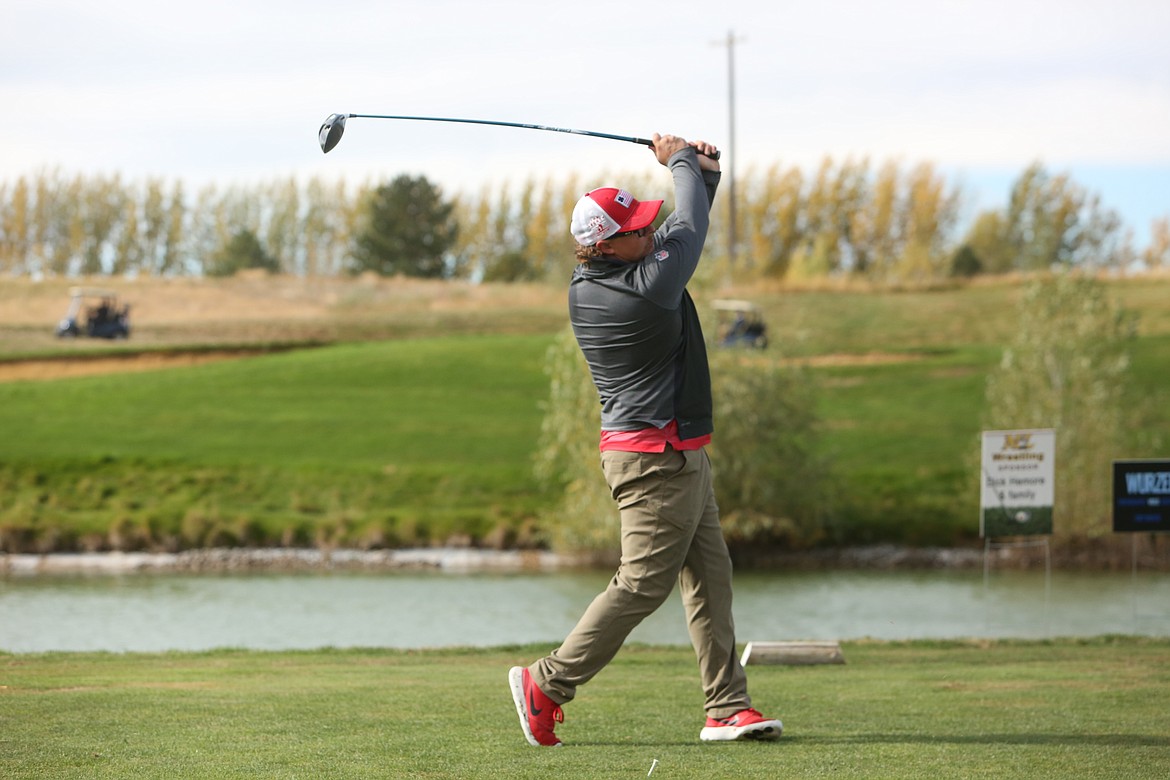 Jarod Koziol took some time out of his birthday Saturday to hit the greens in support of the Moses Lake High School wrestling team.
Emry Dinman/Columbia Basin Herald
by
EMRY DINMAN
Staff Writer
|
October 12, 2020 1:00 AM
MOSES LAKE — Twenty teams with four golfers each made the rounds through The Links at Moses Lake on Saturday morning in support of the Moses Lake High School wrestling team.
The eighth annual golfing tournament fundraising event for the community's premier sports team was a success, despite a brief spell of bad weather and the protracted pandemic that has for months hobbled many fundraising events.
"It's very fortunate that the community has supported us throughout these years, including former wrestlers," said Jaime Garza, head coach of the high school wrestling team. "We weren't sure how this would go, but the response was healthy."
Garza has high hopes for this year's wrestling team, he said at Saturday's event. The team sent 13 kids to the state tournament last year, and 11 of them are returning to this year's team. In addition, many students on the team this year are seniors, who bring their experience with them to what will be their final year to compete in high school wrestling.
"We have a lot of depth, the most depth that I've ever coached," Garza said. "Right now if we were to look at who's in the top four or five teams, I'd definitely include us up there."
While Garza has confidence in his team's abilities, he's a lot more unsure about what the upcoming season will look like. Though wrestling typically starts on the third Monday of November, Garza said, this year a shorter, six-week season isn't scheduled to begin until Jan. 4.
And though the state recently issued new guidelines on school sports, which allow small groups to practice together, competitions for some sports like wrestling are still banned for schools in counties as hard hit by the virus as Grant County.
In order for local high school wrestlers to compete, current guidelines require Grant County to have no more than 75 new cases of the coronavirus per 100,000 people for a two-week period. Even after dramatic declines in recent weeks, the county is still seeing almost three times that number of new cases.
Despite the uncertainty, Garza said he wants his wrestlers to be ready no matter what.
"People ask where we're at, 'Will there be a season?'" Garza said. "I don't know, but one thing we need to be certain of is, are you going to be ready to step on the mat and compete? And that's something that each athlete can control."
Many showed up Saturday morning in support of Moses Lake's team, a welcome sign during uncertain times, Garza said.
"As a head coach, I couldn't have asked for a better community to coach for," Garza said. "The fan base is great, and our athletes are very fortunate because when they step on the mat in the high school gym, they're surrounded by a strong crowd that understands wrestling, that values it, and in turn I think that's why people keep supporting us."
Emry Dinman can be reached via email at edinman@columbiabasinherald.com.
---