Tree planted to honor Royal City volunteer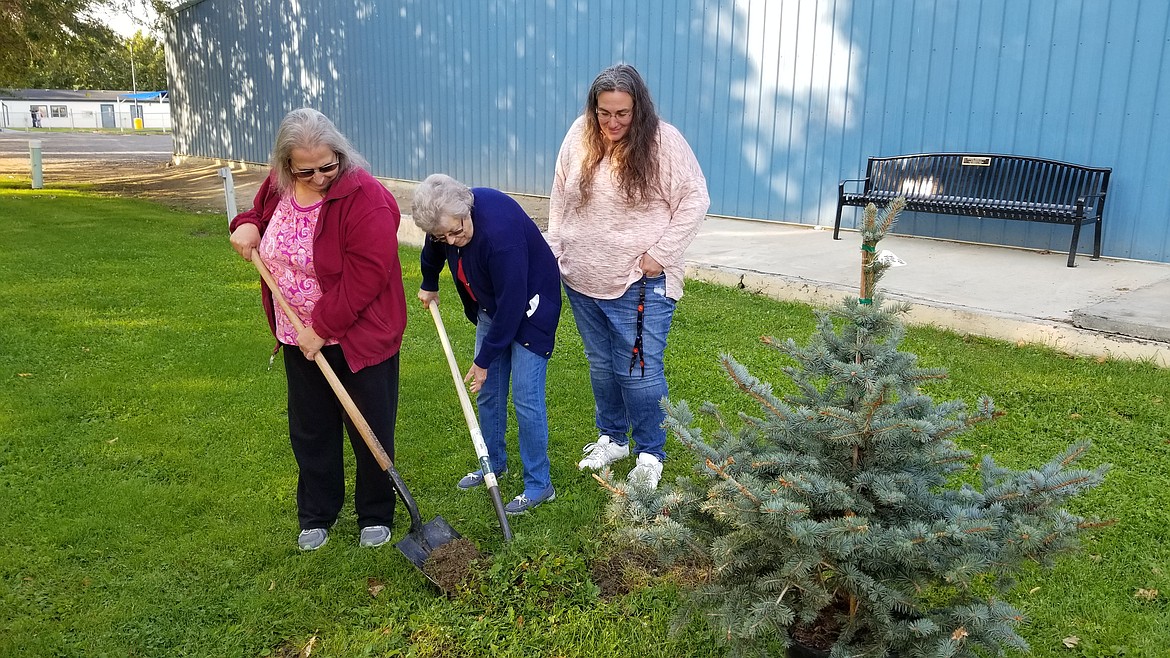 Karla DeCaro (left) and Alice Parker, daughter and wife of "Ike" Parker, dig the first shovels of ground in Royal City Park to plant a tree in his honor, while granddaughter Renae DeCaro looks on. Parker spent many years service the Royal City community.
Rachal Pinkerton/Sun Tribune
by
RACHAL PINKERTON
Staff Writer
|
October 7, 2020 1:00 AM
ROYAL CITY — The wife, daughter and granddaughter of longtime Royal City farmer and volunteer "Ike" Parker planted a tree in the Royal City Park in his honor on Wednesday, Sept. 30.
Parker, whose real name was Ivan, and his wife, Alice, came to the Royal City area in the mid-1960s. They built a farm close to Frenchman Hills where they raised a variety of crops.
"We had a little bit of everything," Alice said. "When we had rill irrigation, we had all kinds of crops. When we finally put circles on it, we had fewer crops."
Ike Parker thought about his community and got involved in what was going on.
"Our folks always taught us, 'Your community is only as good as you make it,'" Alice said. "He has always been involved in the community."
Both Ike and Alice were 4-H leaders. Ike was also on the Grant County Fair Board for 18 years.
"He was always a person to be behind the scenes doing things," Alice said. "He wasn't out in the front all the time. All you had to do was tell him what needed to be done and he was there ready to help. That was one of his strong points. He was an expert at being behind the scenes."
Ike also encouraged and supported Alice to get involved in agricultural causes. Alice was executive secretary for the Columbia Basin Development League for nearly 20 years. She was also involved in a group called WIFE or Women Involved in Farm Economics.
"We were real active back in the '70s, '80s and '90s," Alice said. "I was national president in '88 and 89. He was a big help to me through all those years."
Ike, who died in 2002 after fighting cancer for 22 year, liked to play pranks on people.
"He was pulling jokes on everyone all the time," Alice said. "He was a real fighter. He continued to fight it (cancer) clear up to the end."
As a way to honor Ike Parker and the contribution he made to the Royal City community, a tree was planted in the Royal City Park. Alice said that in Colorado, where she and Ike grew up as neighbors, it was difficult to get trees to grow due to a lack of rain. After moving to Washington, the couple planted windbreak trees around their house.
"He was one to always think trees were important," Alice said. "I look at this park (Royal City Park). The first year helping with Community Days and 4-H kids, there wasn't tree (number) one. We were just out here in the hot sun. This is quite an improvement."
One of the couple's three daughters, Karla DeCaro, and her daughter, Renae DeCaro, attended the tree planting ceremony. The tree planting was done with the assistance of members of SHOC (Strengthening the Heart of Our Community) and the Royal City Public Works department.
Rachal Pinkerton may be reached via email at rpinkerton@suntribunenews.com.
Recent Headlines
---