Ephrata coach remains in 'wait and see' mode as proposed athletics start date draws closer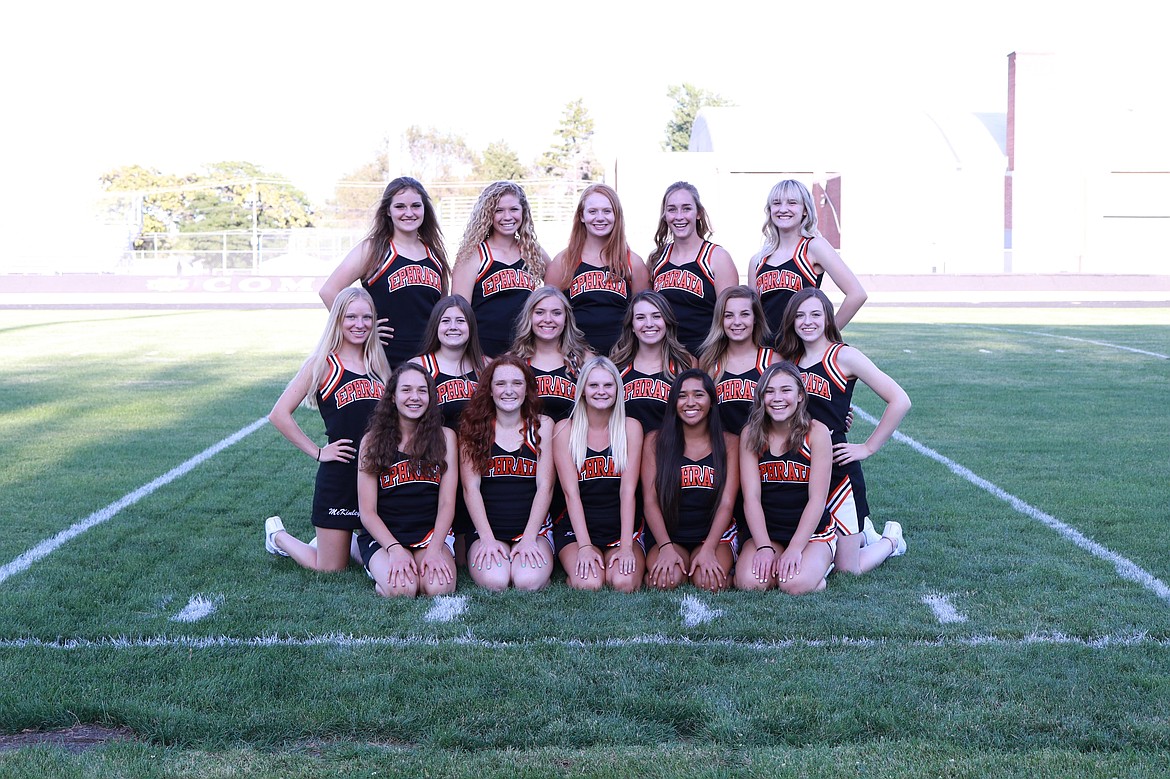 The Ephrata High School varsity cheer team and their head coach, Heather Wood, look forward for a chance to get going again this year once given the green light to go ahead.
Courtesy Photo/Heather Wood
by
CASEY MCCARTHY
Staff Writer
|
October 7, 2020 1:00 AM
EPHRATA — Coaches around the the Basin continue in the "wait and see" mode as they look forward to the green light to begin competition and events again.
Heather Wood, Ephrata High School head softball coach, varsity cheer coach, physical education teacher and junior class adviser, felt firsthand what it was like to miss out on the opportunity for a season with her softball team last spring.
Luckily, she said, the cheer team was able to host tryouts just before the shutdown occurred in mid-March. Right now, she said everything just involves waiting for a chance for things to become available again.
"For softball, I've got quite a few athletes that are playing fall ball right now," Wood said. "But for cheer, we need to get those girls together. They're the social butterflies."
The proposed 2019-20 athletic calendar has seasons pushed much more tightly together, but, she said, with the reduced seasons, she doesn't see it being much busier than usual. She said she's sure the girls are ready get back out to cheering for the fans, but a lot will depend on what is allowed when that moment comes.
Even when athletics hopefully return, she said, it's hard to tell what the parameters will be regarding spectators and fans at events.
"I don't even know what they're going to say when we're able to come back, if we're even able to have fans," Wood said. "There's so many things that are left up to other factors, and we'll just go from there. It will be interesting."
Wood said her cheer squad hasn't taken on becoming involved in cheer competitions much so far, focusing more on cheering at other athletic and school events.
"We're just more there to support the athletes and things like that," Wood said.
Six seniors are on the cheer team this year, and the majority of the squad is returning from last season. While she said she's committed to trying to find the best way to make something possible for her squad this year, everything relies on what the school district decides.
She said she is trying to think outside of the box, and not just wait to see what guidelines are issued. As junior class adviser, she said they came up with a different idea for last year's trick-or-treat event hosted at the high school. This year, the class is partnering with the city of Ephrata to host a drive-thru trick-or-treating event on Halloween for the kids.
"We're stretching our mind as to what we can do to make the situation better that we're in," Wood said.
---