A Friday night under the lights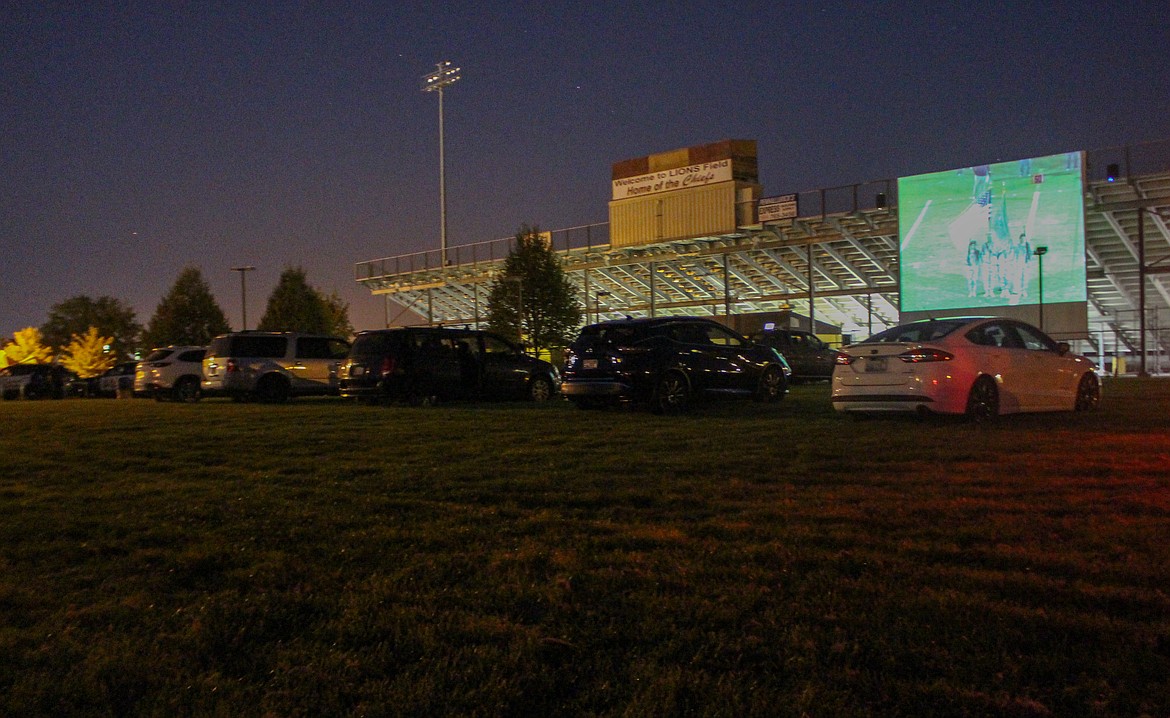 Cars lined up in the grass lot beside Lions Field on Friday, Oct. 2, for the Friday Night Football Flashback event hosted by Moses Lake High School.
Casey McCarthy/Columbia Basin Herald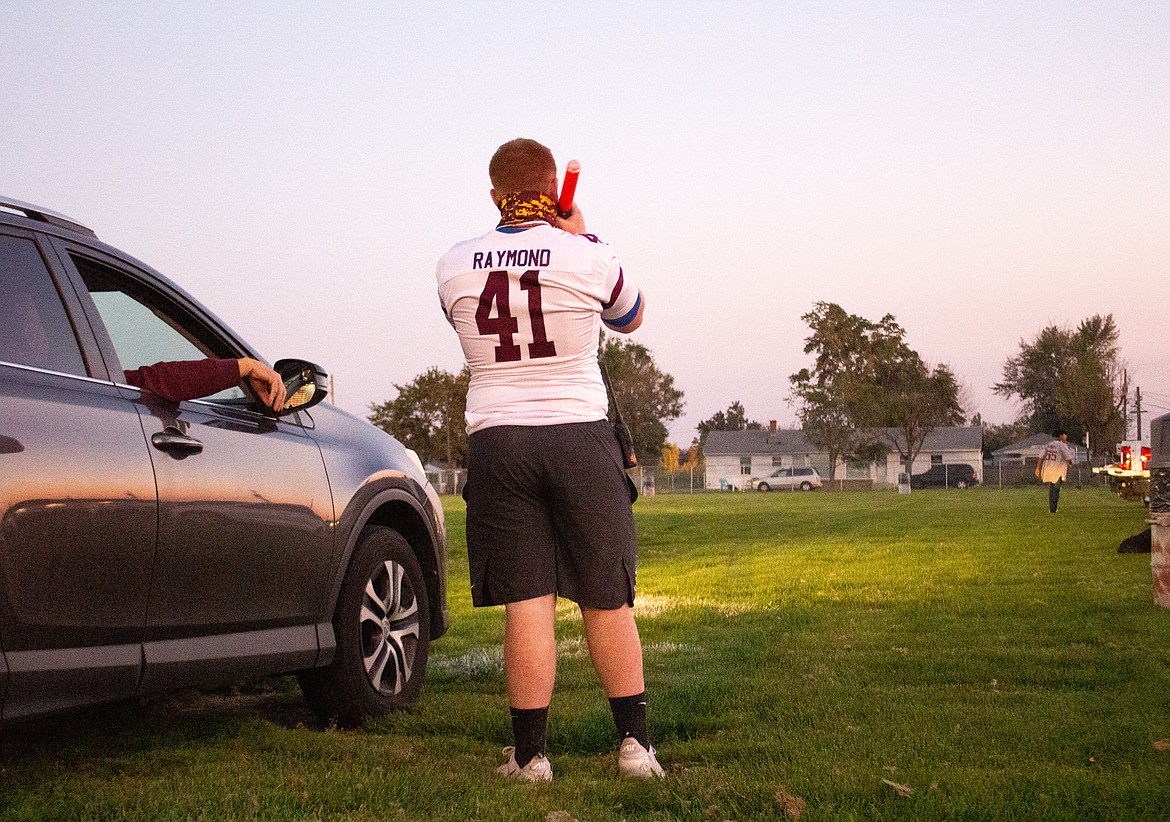 Moses Lake High School's Reise Raymond directs cars as they pull into Lions Field on Friday, Oct. 2, for the Friday Night Football Flashback event.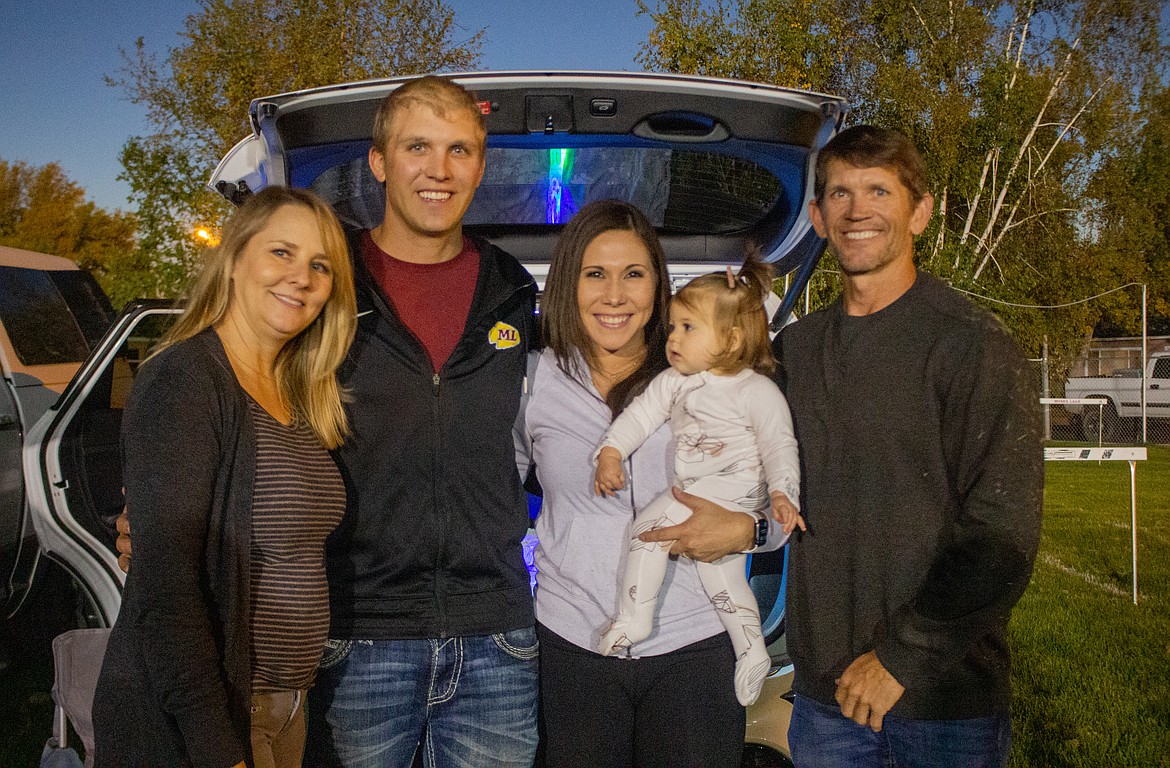 From left: Tara Newton, Jacob Newton, Jade Newton, young Ember Ray Newton and Mark Newton came out to Lions Field on Friday night to watch Jacob's 2007 Moses Lake Chiefs football team take on Eisenhower in the Homecoming battle. Jacob Newton asked his wife, Tara, to that very Homecoming dance 13 years ago.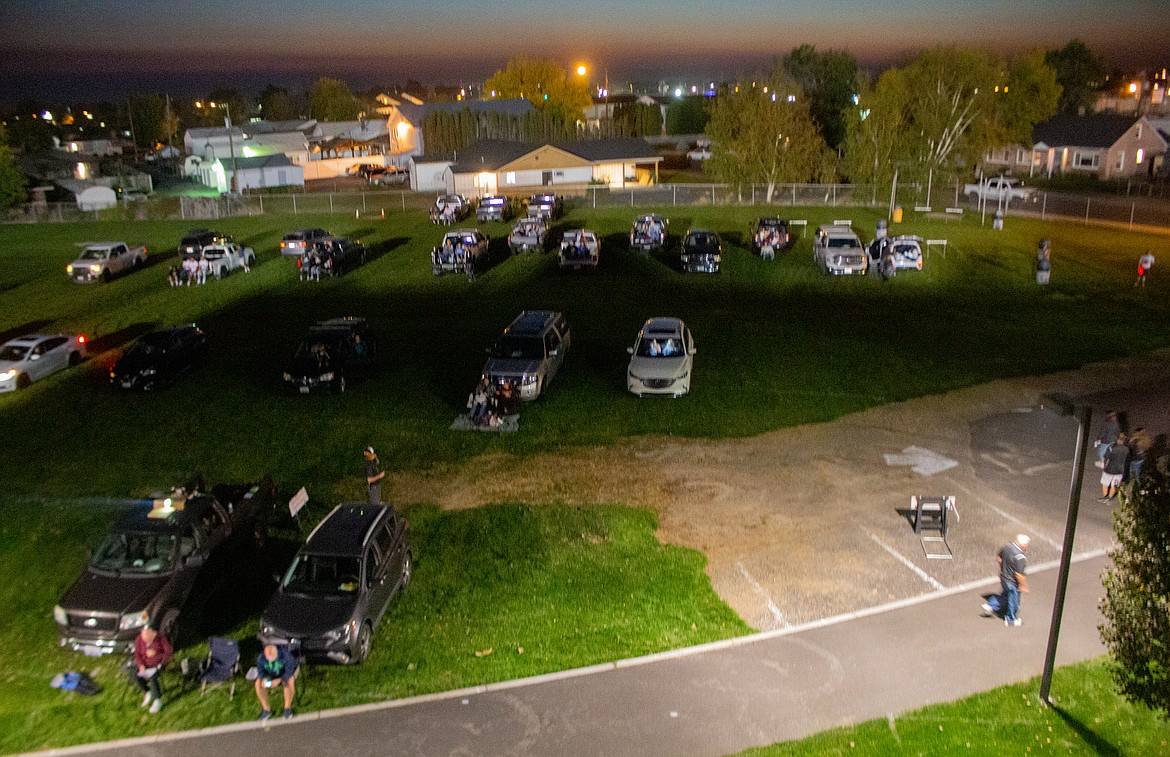 Chiefs fans had a chance to get together at Lions Field in Moses Lake on Friday night to watch a throwback game featuring the 2007 Moses Lake High School team facing off against Eisenhower.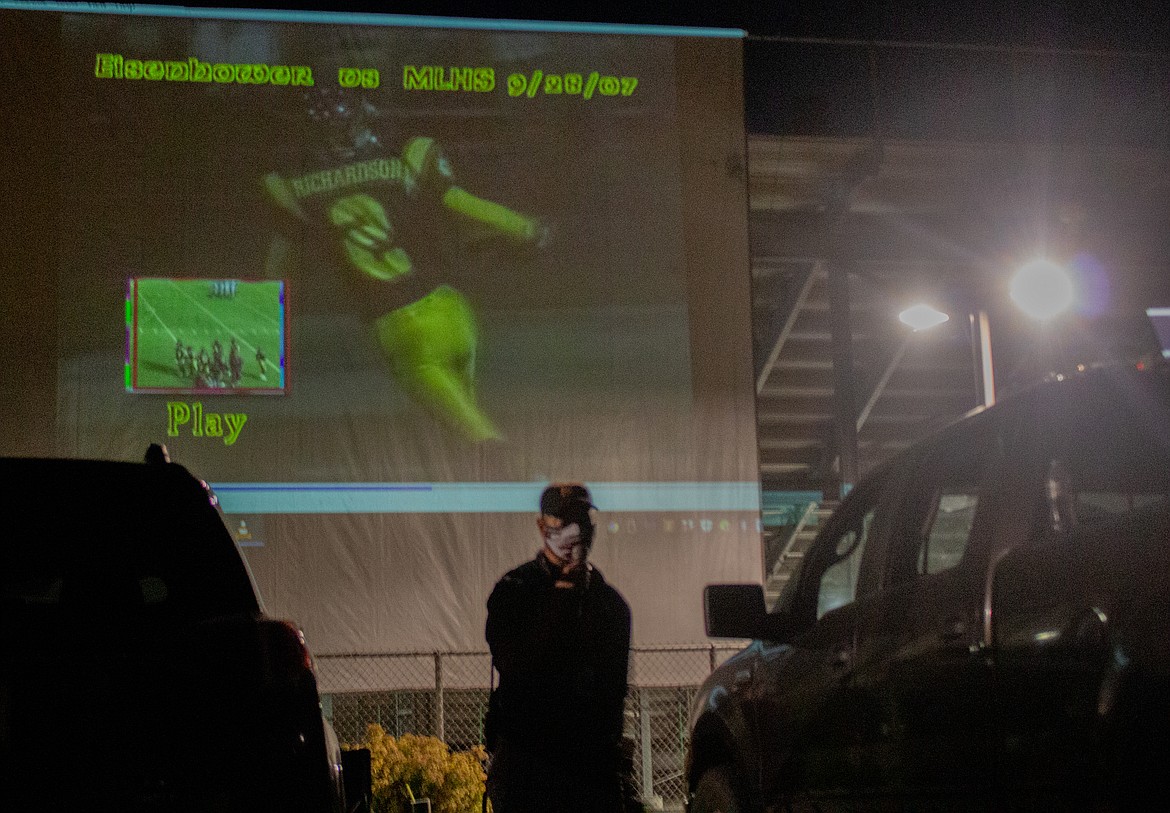 MLHS athletic director Loren Sandhop addresses the crowd before the game kicks off at the Friday Night Football Flashback event at Lions Field on Friday, Oct. 2.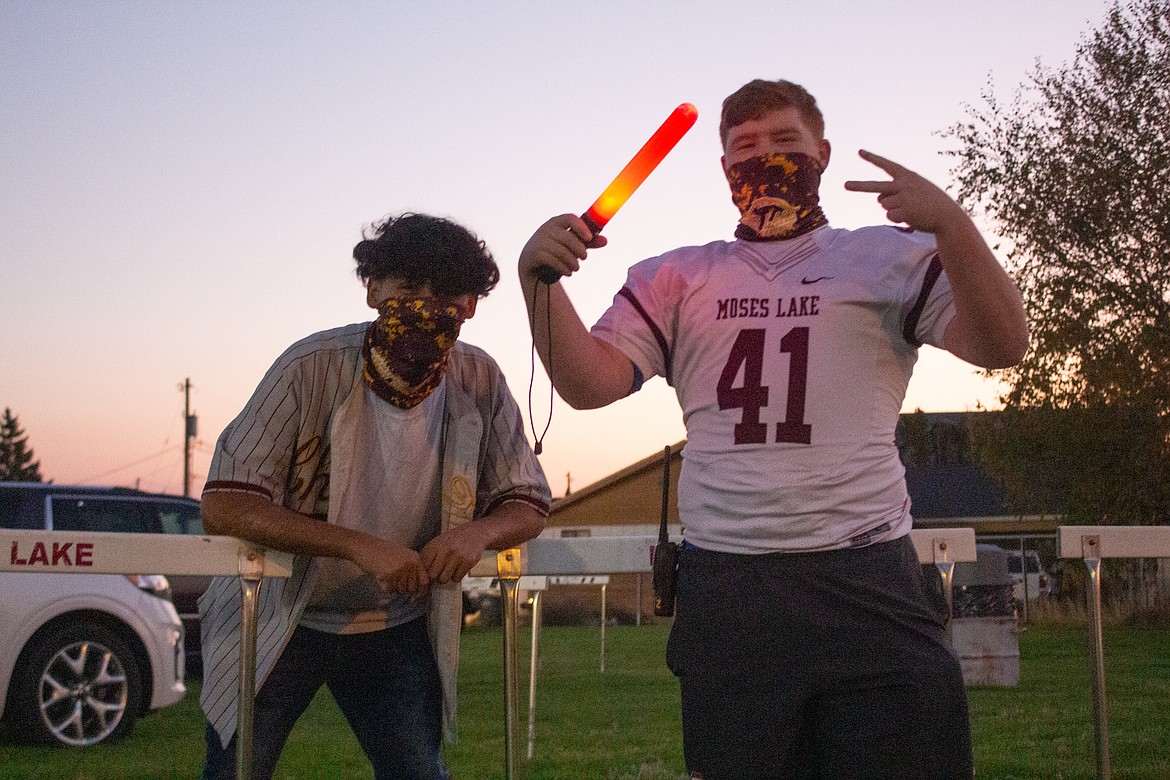 Moses Lake High School football players Leo Cortez and Reise Raymond had the chance to catch up as they helped out with parking at the Friday Night Football Flashback event at Lions Field on Friday, Oct. 2.
Previous
Next
by
CASEY MCCARTHY
Staff Writer
|
October 5, 2020 1:00 AM
MOSES LAKE — Longtime Chiefs announcer Mike Love made his signature call on Friday night, "Welcome to Lions Field, home of the Chiefs," as Moses Lake High School's Friday Night Football Flashback kicked off. With the current high school football season postponed until the spring due to COVID-19, fans instead came together to celebrate a moment from the program's history.
Cars lined the grass lot behind Lions Field on Friday night, with current members of the football team helping cars filter in before the game film started at 7:30 p.m. Members from the MLHS baseball team sold team gear as well to help get a jumpstart after missing their season last spring.
Jacob Newton, a former Chiefs football player, had a special connection with the 2007 Homecoming game being shown, a game between his former Chiefs and the Eisenhower Cadets. Newton, a member of the 2007 team, said it's crazy seeing how much his senior season has shaped his life since. Dreams of playing college football weren't the only things he accomplished in his final season.
"I asked my wife to this dance, and 13 years later now, we have a baby," Newton said. "It's crazy how this game and being here in this town, playing on this football team, meant so much to me and my family. All of my brothers played here. It's crazy how one little decision you make in high school can come full circle, and now you're back around watching yourself."
Newton was joined by his family, his wife Jade and their newborn daughter, as he was transported back in time with the rest of the crowd on Friday. He is a middle school football coach in town and said he expected a lot of "coach" calls from his former players as his name was announced during the game.
As a former athlete, he said, he just feels bad for the students, in all sports, not being able to play right now.
"They've worked so hard for 17, 18 years of their lives, and this was the year that they were going to go out and make a statement for themselves, put their stamp on Chiefs football, and their sports," he said. "It's really sad how this has gone."
With a new baby at home, he hasn't been out to too many events as a family the last few months. Having a school offer an event like this one for free is a "big thing," he said.
Chiefs head football coach Todd Griffith chatted with some fans and volunteers before the throwback event kicked off on Friday night. Griffith said getting ready for Friday night went much like any typical game night would.
"I went home and put my game gear on like I normally would, have my coaching shirt on, coaching shorts, coaching shoes," Griffith said. "I was treating it like it was a game night. It's kind of crazy, I was telling my wife before I came here that I haven't been down to Lions Field since last year."
Griffith said it was exciting being back down at the field and seeing everyone, especially his players. Other than through Zoom meetings, he said, he hasn't been able to see much of his team since last season. Seeing them get a chance to interact with one another was nice, he said.
For the community, events like Friday night's offer a semblance of a return to normalcy that a lot of people are looking for, he said.
"Granted, it's not normal, but I think the more we can start inching ourselves towards that, the better off we'll be," Griffith said.
Leo Cortez is a senior defensive back with the Chiefs this season, one of a number of players out assisting with traffic on Friday night. Cortez said being back out at the field felt great, even if it wasn't quite the same as coming out for a game night.
"It still feels great to have people come out and support us," Cortez said. "Even though we're watching an old film, just knowing they support us is great."
The Moses Lake senior said he believes there's a lot this year's team can learn from watching the 2007 team in action: things they did right, things they did wrong.
Cortez said he's going to be extra motivated to make the most of this season once the green light is given. Personally, he said, he knows he'll be hyped up for it.
"I know all these seniors, especially everyone playing last year, I know all of those guys are going to be excited too, especially the way the last season ended," Cortez said.
Loren Sandhop, athletic director at MLHS, said about 34 vehicles showed up for the event, not including people volunteering with the event. While he said they had room for a little more than 100 cars, Sandhop said he felt it was a successful night.
Donations were taken up at halftime of the game to raise money for those affected by the Malden wildfires: $235 was raised for Whitman County United Way fire relief.
"It was socially distanced and safe, and a good opportunity for us to raise money for a good cause, and also for our kids to reconnect with each other," Sandhop said.
Some of the current football players described the excitement they got when Mike Love's voice welcomed everyone back to begin the event. He said the players are itching to get back, and an event like this shows the program is not giving up on working to get something going this year.
The Chiefs honored Love and his wife on their anniversary on Friday night as well. Sandhop said Love and his longtime announcing partner, Ray Mayo, have been sacrificing their Friday and Saturday nights to celebrate the program at Lions Field and the Chiefs gym in football and basketball seasons for nearly 50 years.
Getting things set up on Friday night was nice to do after months of having everything on hold for the most part with athletics, Sandhop said.
While nothing is set in stone, he said they are hoping to host similar events every month until the students are able to return this year.
Casey McCarthy can be reached via email at cmccarthy@columbiabasinherald.com.
---