Troopers find surprise in abandoned boat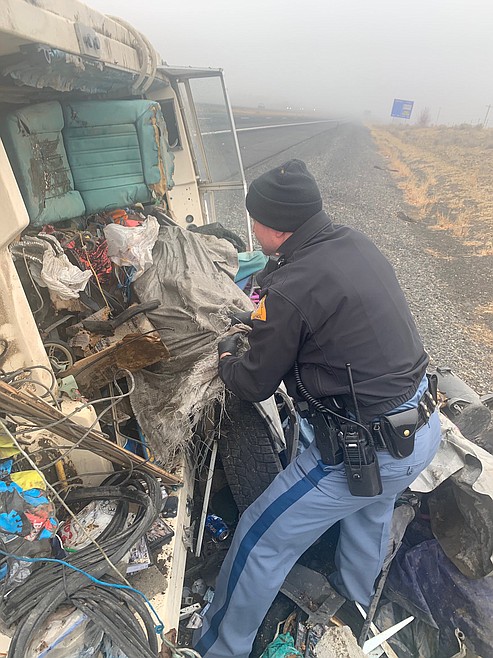 Trooper Sage Schafer digs through debris left in an overturned, abandoned boat Friday. He and Sergeant Ryan Raymond had come to the scene to clear away the boat, but discovered four week-old kittens amid the abandoned property.
Photo courtesy of the Washington State Patrol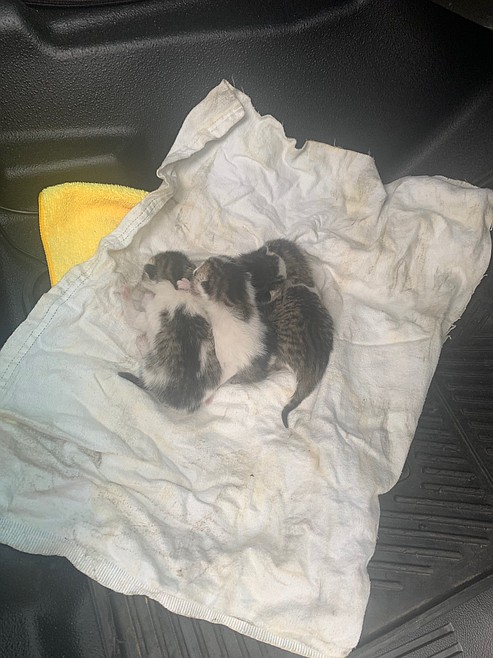 The four kittens located in the abandoned boat were roughly a week old, still had their eyes closed and require bottle-feeding.
Previous
Next
by
EMRY DINMAN
Staff Writer
|
November 30, 2020 1:00 AM
MOSES LAKE — Four week-old kittens, too young to have opened their eyes, were discovered Friday in an overturned boat that had been abandoned on the side of Interstate 90 and rescued by responding members of the Washington State Patrol.
The boat, packed with debris, was left on blocks eastbound on the freeway Thursday night when it was knocked onto its side by high winds, said Trooper John Bryant, public information officer with the state patrol.
Trooper Sage Schafer and Sgt. Ryan Raymond went to the scene to clear away the potentially dangerous abandoned property when the pair turned to each other.
"Did you hear that?," asked one.
Upon investigating, the two located the source of the noise: it was the faint meows of four baby, pink-nosed kittens.
The WSP attempted to contact the owner of the boat, but have since determined the vehicle's last registered owner was not likely to be the person who last had possessed it, Bryant said. It is also unclear whether the kittens were in the boat when it was abandoned, or if their mother had recently taken to the impromptu shelter to give birth.
Unable to immediately contact an area shelter to get the kittens placed, a private individual, known to the troopers for rescuing animals, took them in and has been bottle-feeding them regularly, Bryant said. The kittens likely will be placed with a shelter sometime in the next week and are expected to be quickly adopted, he added.
Reporter Emry Dinman can be reached via email at edinman@columbiabasinherald.com.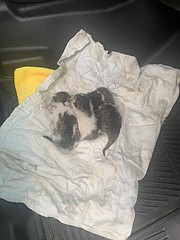 ---