Happy places: Greenhouse owners discuss how plants fare after first frost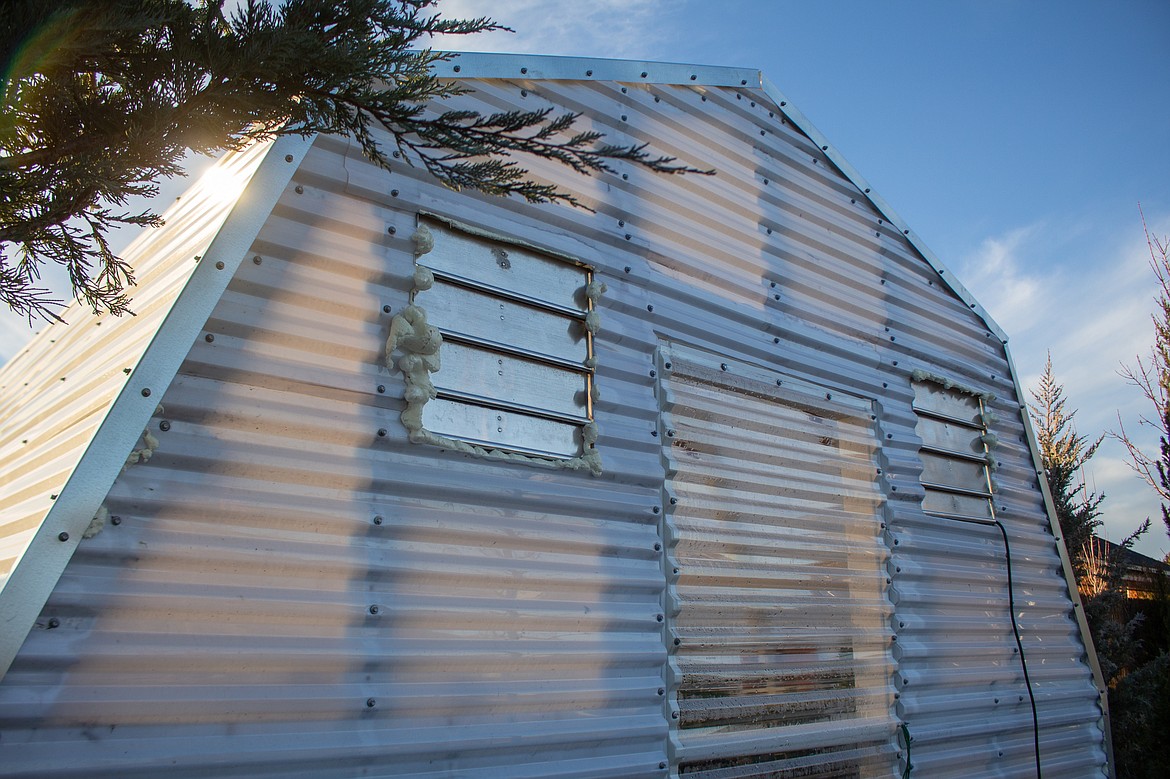 Holly Trinnaman's greenhouse in Moses Lake has fared well so far after the first few weeks of frosty weather.
Casey McCarthy/Columbia Basin Herald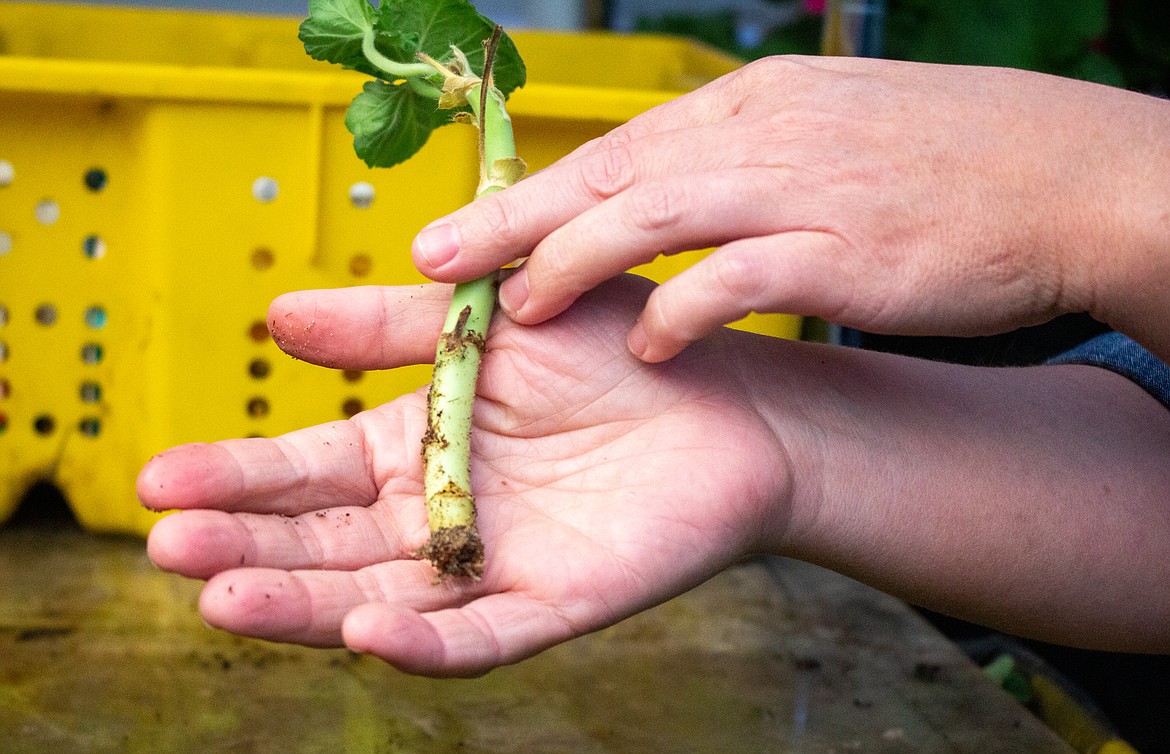 Holly Trinnaman of Moses Lake holds up one of the geraniums that has started to form new roots in her new greenhouse.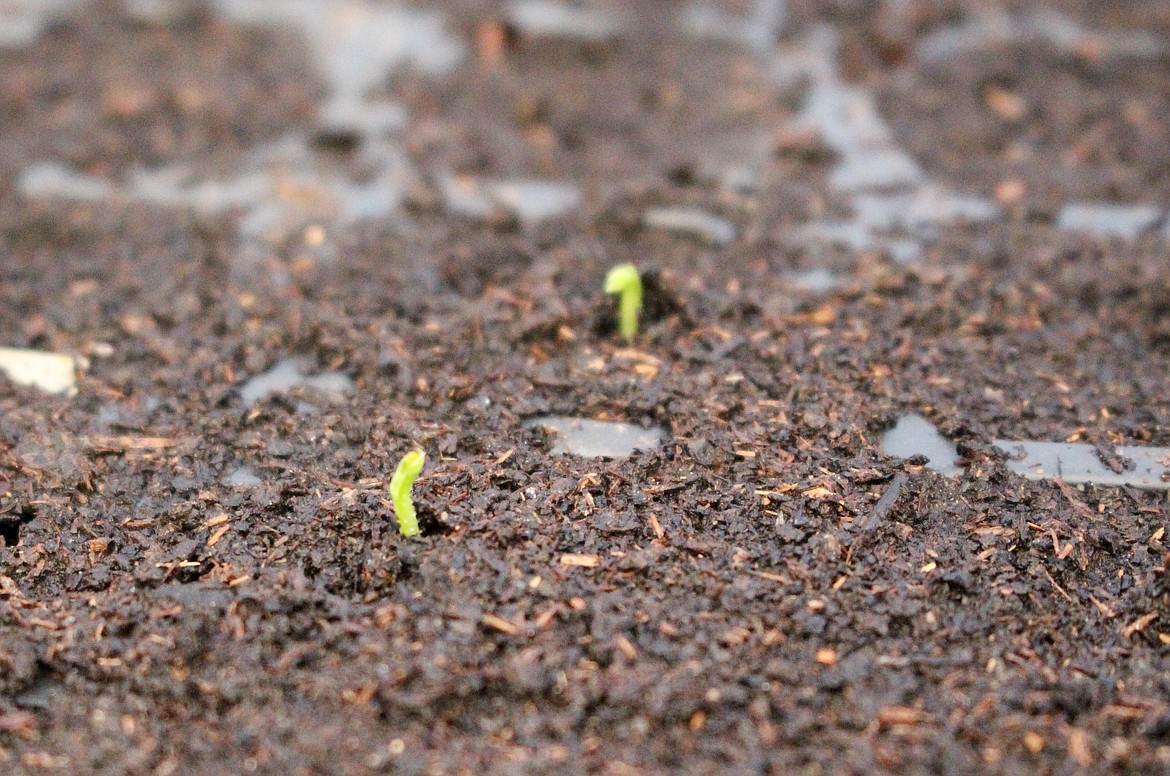 Sweet pea seedlings begin to rise out of the fertilizer in Holly Trinnaman's greenhouse in Moses Lake.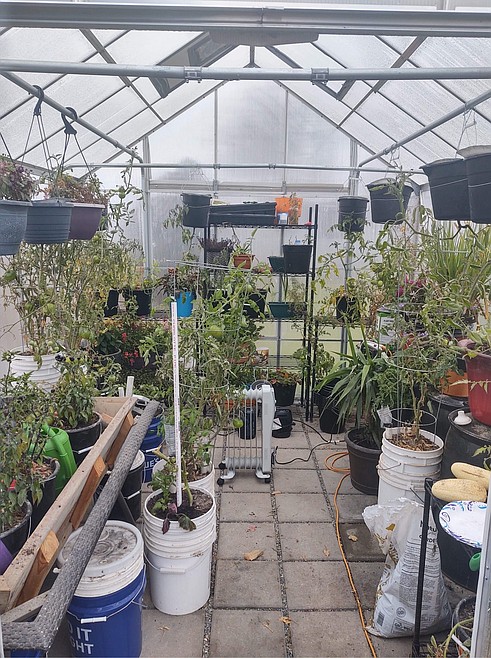 A heater sits in the middle of the floor of Justin Henley's greenhouse in Moses Lake.
Previous
Next
by
CASEY MCCARTHY
Staff Writer
|
November 29, 2020 1:00 AM
By CASEY MCCARTHY
Staff Writer
Greenhouses in the area, and the plants they house, have seen their first tests in recent weeks, with temperatures dropping and even a few snowflakes falling. For first-time greenhouse owners and caretakers, these first few weeks of chill can offer a look at how the structure may handle the coming winter months.
Justin Henley set up his new greenhouse in his backyard in Moses Lake earlier this year in hopes of keeping some of his tomatoes and pepper plants producing into the winter months. All of his plants have survived the first frosts, although a few are struggling a bit, he said.
Duct tape was added to seal up the panels, and weather-stripping was added to the doors to help block the wind.
Henley said he has had to try a few different heating options to keep the greenhouse above freezing at night.
"I started out trying to use a propane heater, but it wasn't efficient because it would run 24 hours a day," Henley said. "I switched to an electric space heater, a small one at first, and it wasn't able to keep up."
He has landed on using an oil-filled radiator heater, trying it out by itself at night for the first time on Monday. Henley said the heater did just fine keeping the structure above his target 40 degrees.
Black water-filled barrels used for passive heating in the greenhouse have helped to keep the temperature from dropping as rapidly at night, too.
"That's only on days when the sun is out," he said. On cloudy days, Henley said the barrels aren't as much help.
Henley said he is still working on figuring out the right watering schedule for some of his plants, given there is less sun and more humidity in the greenhouse. Despite the troubleshooting he has dealt with, he said he has already talked to his wife about adding a second building in the future.
"As stressful as it is to try and keep these things alive, now that I have succeeded in doing so for at least the first couple of weeks, I'm excited and I'm OK with the challenge," Henley said. "If the wife would let me, I'd already be planning on putting in that second one."
Henley said he still has some peppers setting on some of his plants he'd brought inside and even brought a few tomato plants back to life.
Not frozen
Holly Trinnaman and her husband built their greenhouse over the summer in Moses Lake, expanding on some plans they had found online to make the structure larger. The 16-by-10 foot building has done well so far, Trinnaman said.
"I have two space heaters in there to kick on at night, it takes the edge off," Trinnaman said. "It has not frozen. The lowest it's gotten is about 39 degrees, and that was the goal ... to keep it from freezing."
At those low temperatures, she said most plants won't grow very much, but the root systems can still get stronger. Even if there aren't leaves, Trinnaman said that doesn't mean the plant isn't strengthening.
Expanding spray foam was used to help make the structure airtight, she said. Cheap shelves she found online have proved to work well inside the building, too.
A few cold crops – lettuce and peas – have even started to sprout inside the greenhouse. Trinnaman said that is exciting to see.
In addition to sealing the edges of the structure with foam, Trinnaman said she is glad they used opaque panels on the side rather than clear ones.
"The sun we get in the summer months would just be totally uninhabitable for anything in there at that time," she said.
The opaque walls also offer some privacy.
Trinnaman said she now likes to go out to escape to her "happy place" inside the greenhouse.
One thing she said she did wish they had done when putting together the greenhouse was add concrete or pressure-treated wood around the foundation. The wood, she said, they have there now will most likely rot out eventually.
"You always learn things as you go," she said.
For a first-time build, Trinnaman said she is definitely more pleased than regretful with how it turned out.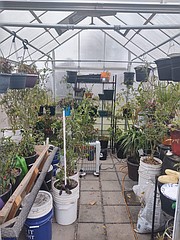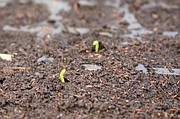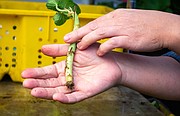 ---