Maria Celaya appointed as Mattawa mayor
by
CHERYL SCHWEIZER
Staff Writer
|
November 27, 2020 1:00 AM
MATTAWA — Mattawa City Council member Maria Celaya has been appointed as the mayor of Mattawa.
Celaya replaces Scott Hyndman, who announced his resignation Monday. She will be in office until the next municipal election in 2021.
Council members selected Celaya during a special meeting Wednesday. The vote of the seven-member council was unanimous.
Mayor pro tem Brian Berghout also expressed interest in the job, as did council member Silvia Barajas. Council members chose Celaya after a 45-minute executive session.
Celaya has been on the council since March 2010. She said in an interview after she was appointed that her interest in city government was sparked while serving as an interpreter for council meetings.
"I want to give back to my community," she said.
Celaya is a Mattawa native.
She's a 10-year volunteer with the Red Cross, she said, and volunteers at her church, Our Lady of the Desert Catholic Church.
Currently, Celaya is a teacher of second grade at Mattawa Elementary School.
"Empowering our youth is one of my biggest things," she said. That includes encouraging Mattawa kids to continue their education or training beyond high school. "It's doable," she said.
One of the ideas she said she wanted to pursue was providing internships with the city for Wahluke students.
Celaya said she wants to meet with the city council and staff to review where the city is and where it should be going next. One project that's already in the works is the expansion of Mattawa City Hall.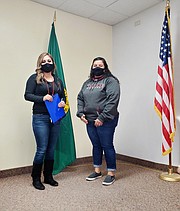 ---