Two injured after allegedly unsecured load comes loose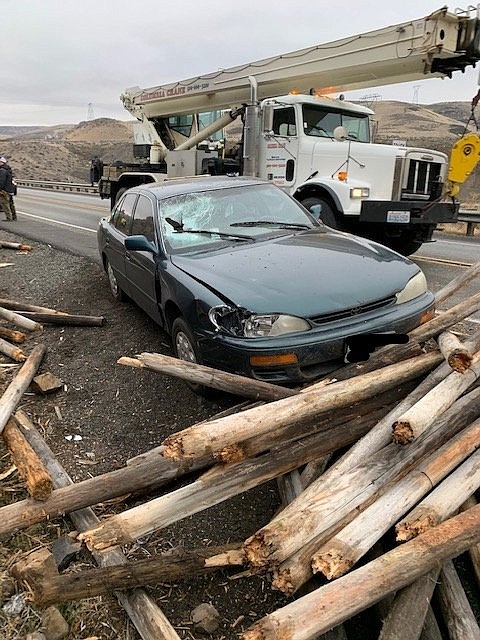 Law enforcement officers said Monday that it was "amazing" that the occupants of the '96 Toyota Camry involved in Monday's incident only sustained minor injuries, after a wooden pole careened straight through the windshield and narrowly missed the passenger.
Photo courtesy of the Washington State Patrol
by
EMRY DINMAN
Staff Writer
|
November 24, 2020 1:00 AM
QUINCY - Two people driving eastbound on state Route 28, west of Quincy, received minor injuries Monday, after a pickup truck driving westbound lost its load of wooden poles, one of which pierced through the victim vehicle's windshield.
Vincent Cannasso, of Chelan, was driving eastbound in a '96 Toyota Camry early Monday afternoon with another passenger in the car, heading up Trinidad Hill, said Trooper John Bryant, public information officer for the Washington State Patrol. Pedro Mendoza, of Ephrata, was driving a pickup truck and hauling a trailer filled with thick, fencepost-like wooden poles.
Mendoza was driving down the hill when his load came loose, bouncing into the eastbound lane and in front of Cannasso's vehicle.
At least one pole smashed through the Camry's windshield, narrowly missing the passenger. Other poles did significant damage to the rest of the vehicle, but both people inside the Camry only suffered minor, non-life-threatening injuries, Bryant added. No ages or passenger information was released from the WSP.
Though the incident remained under investigation, it initially appeared that Mendoza failed to properly secure his load, Bryant said.
---