After cancer claims his family members' lives, veteran gives to local organizations
by
EMILY THORNTON
Community Editor
|
November 24, 2020 1:00 AM
You might say cancer has impacted Darrell Wallace's life.
After he lost his wife of 30 years to breast cancer, the 77-year-old U.S. Army veteran said he needed to do something, so he decided to donate to the Columbia Basin Cancer Foundation and other organizations.
"I needed some place to give my money to," he said.
But his gift was more than officials there expected – at leas$150,000 – which will go toward helping others who are dealing with cancer, with a local radiation facility, so they don't have to travel to the Tri-Cities or other areas to receive certain treatments and thus easing that burden.
"I know about this because I went through this with my wife (Darlene Runnels Gilchrist Wallace)," Wallace said of battling cancer. "It's a traumatic experience."
The gift was much appreciated.
"Without him we would not be able to realize the dream of a radiation facility in Moses Lake," wrote Executive Director Angel Ledesma, in an email. "We are so appreciative of him and his kindness. I wish I would have met the lovely Darlene."
Not only did he lose his wife on Feb. 5, 2014, to cancer, but Wallace watched many other relatives either die or battle the illness, including his brother, sister, daughter, son-in-law and others.
"I'm fortunate to have gone this long without getting cancer," he said.
Also fortunately, many years ago he bought Microsoft shares, which since split five times and have kept climbing, he said. He added he felt grateful for having a good career and investments.
"I've really enjoyed giving to these organizations," he said.
But it's taken a while to be able to give back, he said.
After graduating from Othello High School, Wallace joined the Army, where he served from 1961 to 1964 during the Cold War.
"Vietnam was just starting up," he said. "I was very fortunate in that," he added of missing combat.
He was training to be a paratrooper at Fort Benning, Georgia, he said, but hurt his foot and couldn't continue. If he had finished training, he said he likely would have been sent to Vietnam. However, he worked as a mechanic at the demilitarized zone in Korea and Fort Lewis, Washington, before getting out of the military. He then was hired as a special projects mechanic for Boeing.
"I was really good at building stuff," he said.
In 1984, he said, he met Darlene at a church-sponsored brunch in the Seattle area. The pair each had had a previous marriage, and fell in love with each other almost immediately, he said.
After holding various jobs for 30 years at Boeing, Wallace finally retired, and the two moved to Wenatchee and later Bend, Oregon, so Darlene could be closer to her granddaughter, he said. But Darlene had a compromised immune system and "wasn't very strong," he said. She had too many red blood cells, so doctors decided to try to treat it.
It wasn't long before Darlene was diagnosed with breast cancer, he said, and underwent chemotherapy and radiation, which did the trick.
But it wasn't for long.
Darlene started complaining of back pain, he said, as the cancer had returned. But this time, it had spread throughout her body.
"I thought the doctors should have been calling her in (to check on her) after her breast cancer," he said. "I thought we would have another 30 years (together)."
Darlene tried having chemotherapy again, but her 74-year-old body was having trouble dealing with it and the treatments weren't helping as much.
"She was just so sick," he said. "She wanted to stop treatment ... It was a sad thing."
Soon after, Darlene breathed her last breath.
Living in the Bend home without her was too much for Wallace, so he decided to relocate to Moses Lake, where he paid cash for his home. His family origins were in the area, and he remembered how he enjoyed fishing and hunting.
But when his financial planner asked how he wanted to spend his money, Wallace said, of course the cancer foundation came to mind, as did his children and grandchildren. Beyond that, he said he began seeing gaps in organizations, such as a hospital in the Philippines, where he donated, as suggested by a relative.
He said the Moses Lake Christian Church, Crossroads Pregnancy Center, Serve Moses Lake, and several missionaries, among others, also have been recipients of his giving. (None of the organizations were available for comment by press time.)
In all, hundreds of thousands of dollars have been given, but Wallace said groups needed more, and he was running out of money.
"I feel the area has really been good to me," he said. "I've been really happy to give to places in Moses Lake."
The pregnancy center and Serve Moses Lake were organizations Wallace said residents should help out more. For instance, last year no warming center was available for unsheltered people because Serve Moses Lake couldn't afford it even after his donation.
"You'd think somebody else in the town would step up and help," he said.
Emily Thornton can be reached via email at ethornton@columbiabasinherald.com.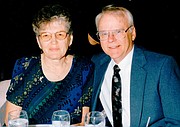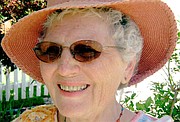 ---