Royal senior headed to Saint Martin's University to play basketball next season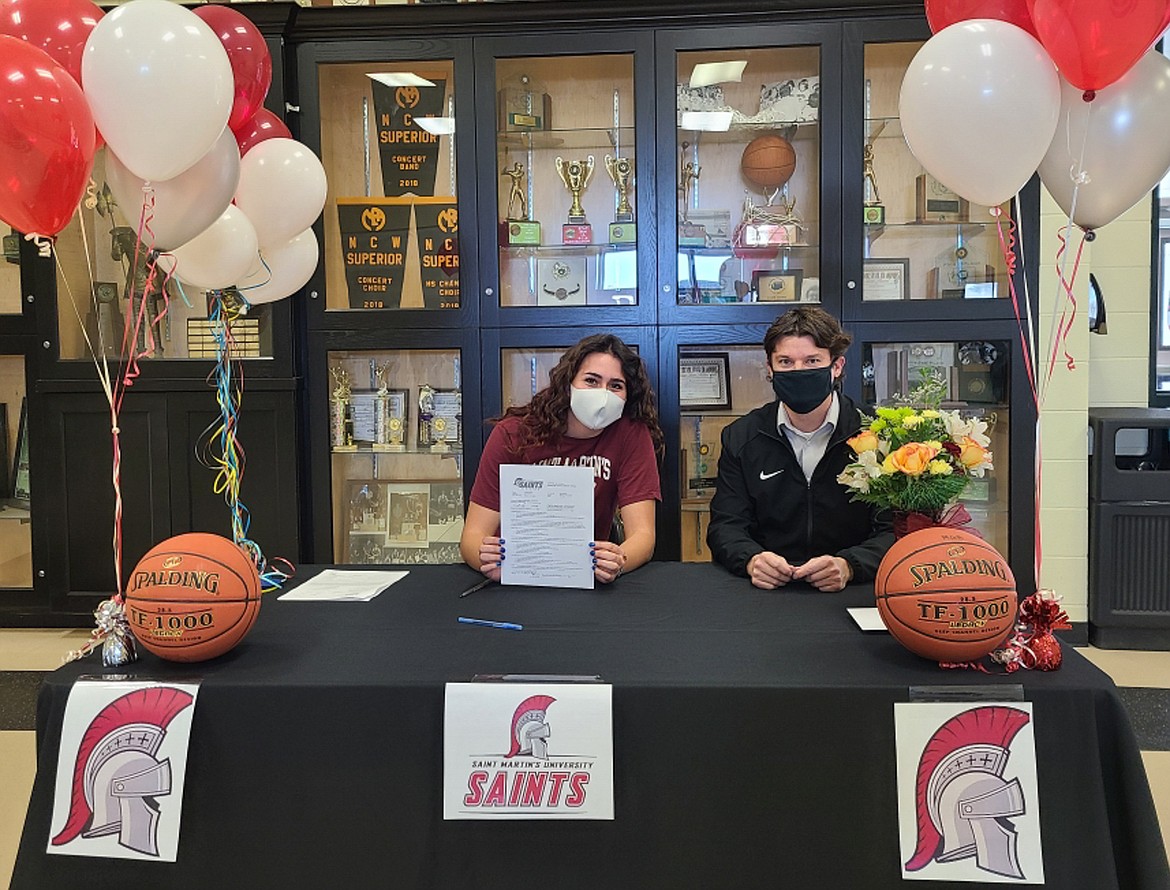 Royal High School senior Chenoa Louie and RHS head girls basketball coach Steven Harris pose together at the high school on Friday afternoon after Louie signed her letter of intent to play next season at Saint Martin's University.
Courtesy Photo/Steven Harris
by
CASEY MCCARTHY
Staff Writer
|
November 23, 2020 1:00 AM
ROYAL CITY — Royal High School senior Chenoa Louie cemented another four years for her basketball career on Friday as she signed her letter of intent to play next season at Saint Martin's University in Lacey, Washington.
Louie is a three-time South Central Athletic Conference first team all-conference selection heading into her senior year. The 5-foot-11 forward/center put up averages of 14 points and 12 rebounds a game last season as a junior with the Knights.
With her senior season still an uncertainty due to COVID-19, she said on Friday afternoon it was exciting to secure another season ahead of her as she gets set to head to the Division II level next fall.
"I'm just happy to get to play another season, and have another four years of college," Louie said. "It's just super exciting to know I signed today instead of later."
The Royal senior said Saint Martin's first contacted her after seeing her play at a tournament with her Northwest Blazers AAU team. Saint Martin's head coach Christy Martin got in touch with Louie, who said she was impressed with the family dynamic the program offered.
Louie plays soccer and softball for the Knights, making the all-conference SCAC team in soccer as a goalkeeper twice. While she said soccer might have been her first love, basketball has become her main focus as she's gotten closer with the friends she has played and traveled with.
"I met a lot of great people that helped me through everything," Louie said.
Despite the girls basketball season getting pushed back once more last week, Louie said she'd still love to have a chance for one last run with the Knights.
She said the coaching she's seen the last few years has elevated her game to the next level. She said her coaches pushed her to want to be better.
Louie said her parents were a huge help too, helping to make sure she got to all of the games and tournaments she had over the years.
"Just to know I had people around me in this environment to push me harder than I really pushed myself, that kind of helped," Louie said.
Steven Harris, head coach for the Knights, called Louie a "tremendous athlete" and credited both her basketball skills and her passion for the game. Harris said she has done everything she needs to have this opportunity.
"She's also a very supportive teammate who brings a positive energy and a positive attitude to everything we do," Harris said. "She's had a successful career here at Royal, and I know she'll do well at Saint Martin's."
Moving forward, Louie said she is focused on improving as a shooter and expanding her game as a traditional post player over the next four years in Lacey. Down the road, Louie said she'd love to build on her opportunity at the next level to playing professionally overseas.
Casey McCarthy can be reached via email at cmccarthy@columbiabasinherald.com.
---