A giving tradition: Columbia Basin Elks keep annual Thanksgiving event going amid limitations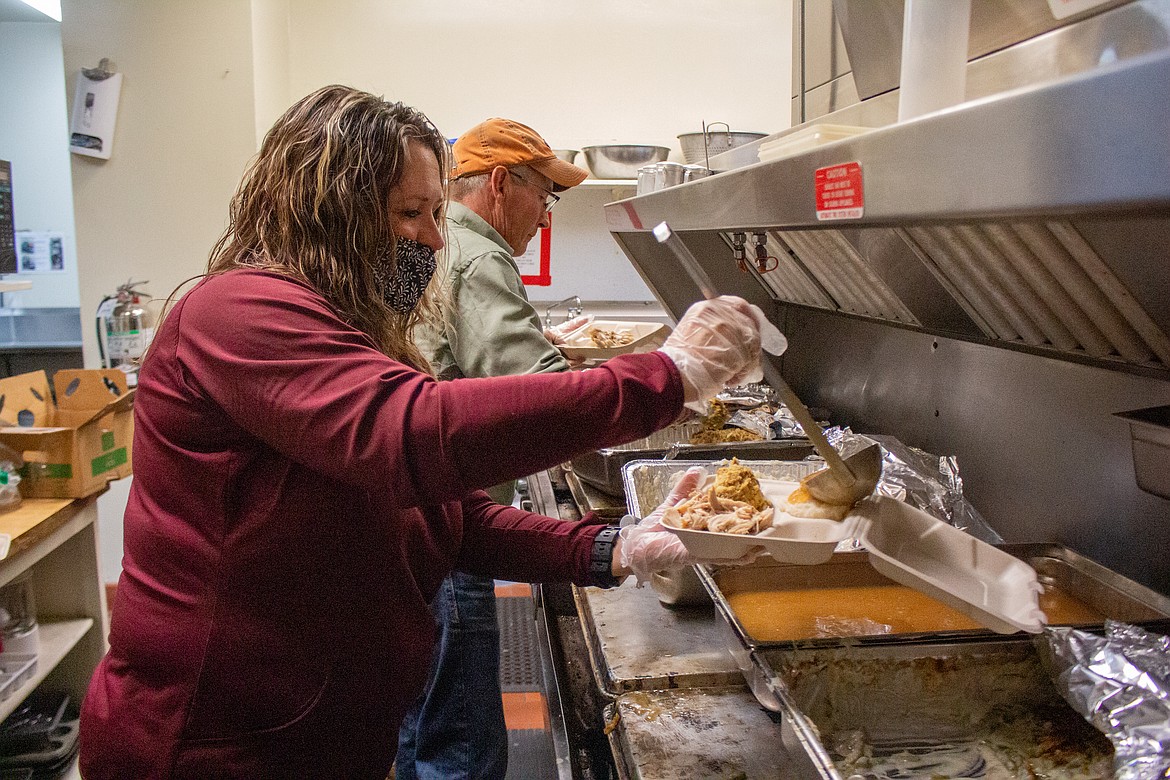 Kandi Bersanti, front, and Bryan Blann fill up trays with Thanksgiving meal staples in the kitchen of the Elks Lodge in Moses Lake on Wednesday.
Casey McCarthy/Columbia Basin Herald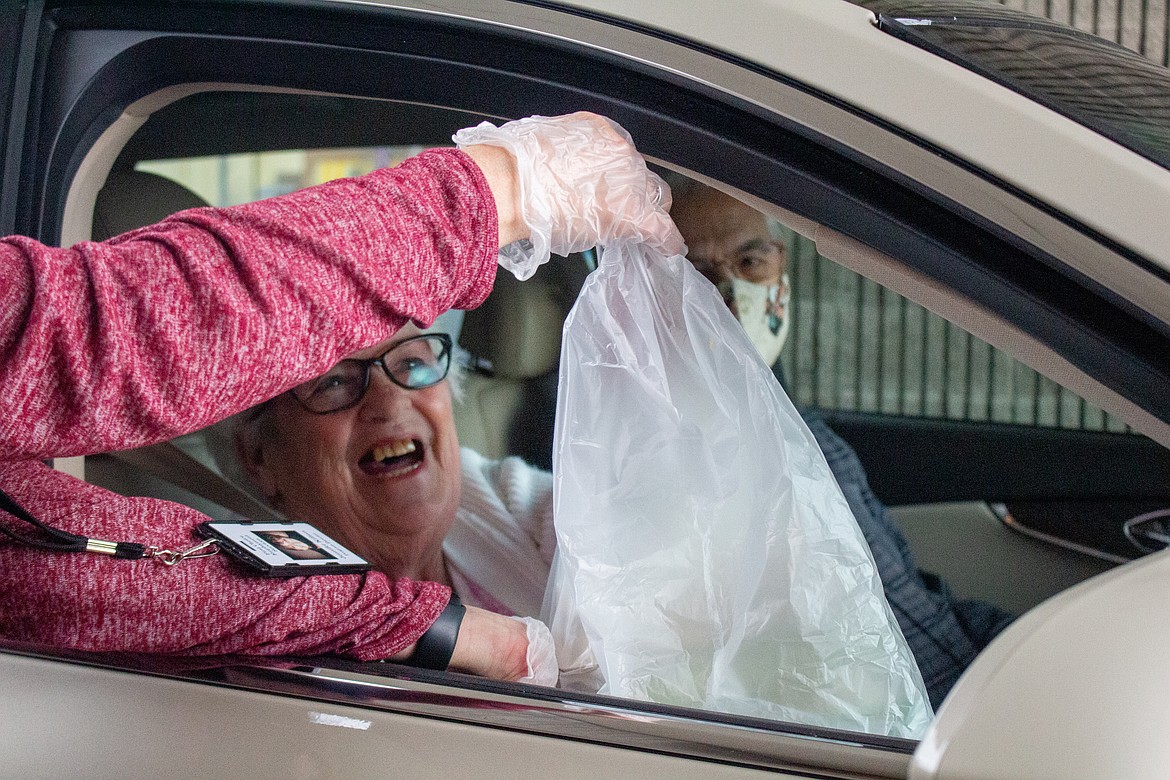 A pair of smiles light up inside the car as Jennifer Killian hands the two community members their free Thanksgiving dinners at the Community Thanksgiving Dinner-to-go event at the Elks Lodge in Moses Lake on Wednesday.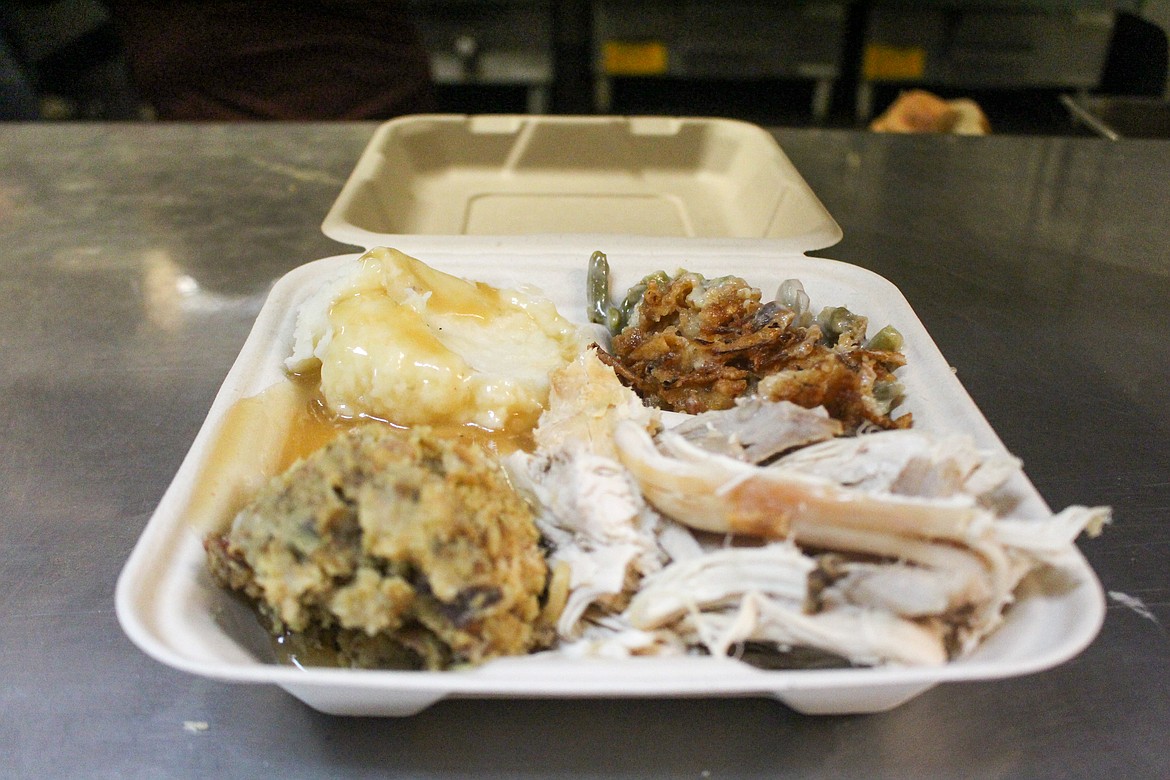 The Elks Lodge annual Thanksgiving dinner event looked a bit different this year without tables full of guests as they shifted to a drive-thru format this year due to COVID-19.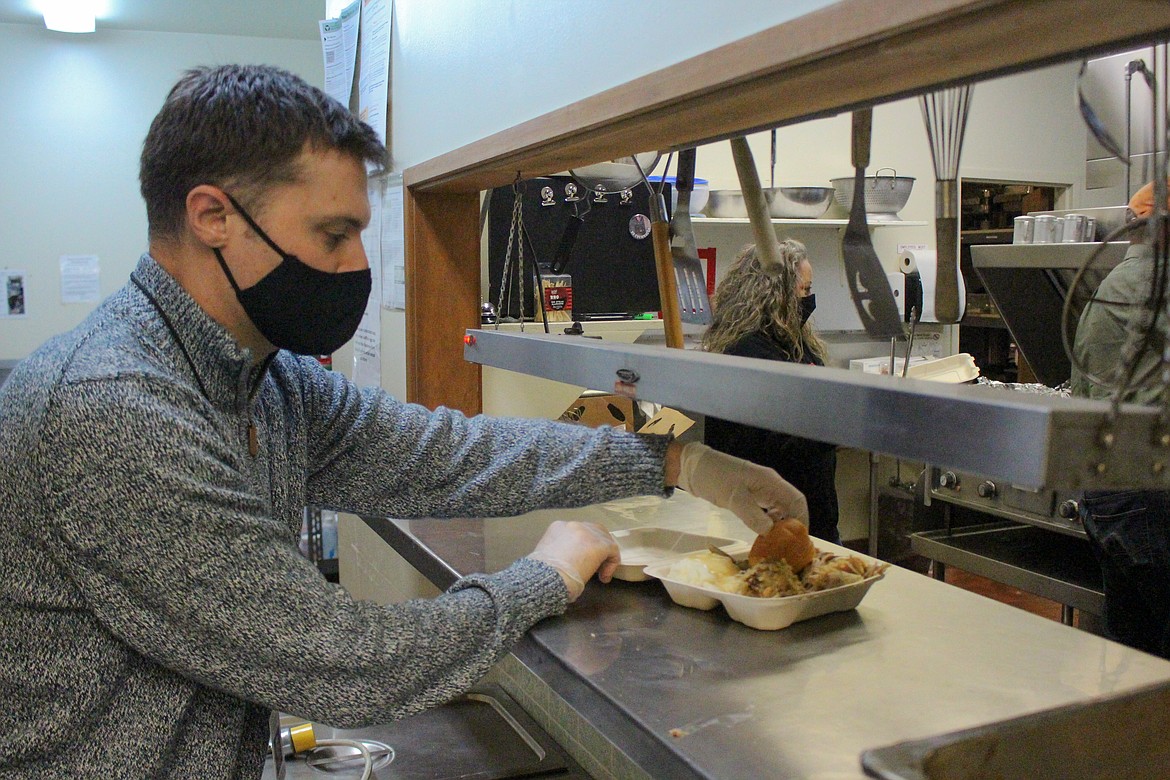 Volunteer John Killian takes trays of food ready to be handed out as they are prepared in the kitchen at the Elks Lodge in Moses Lake on Wednesday afternoon.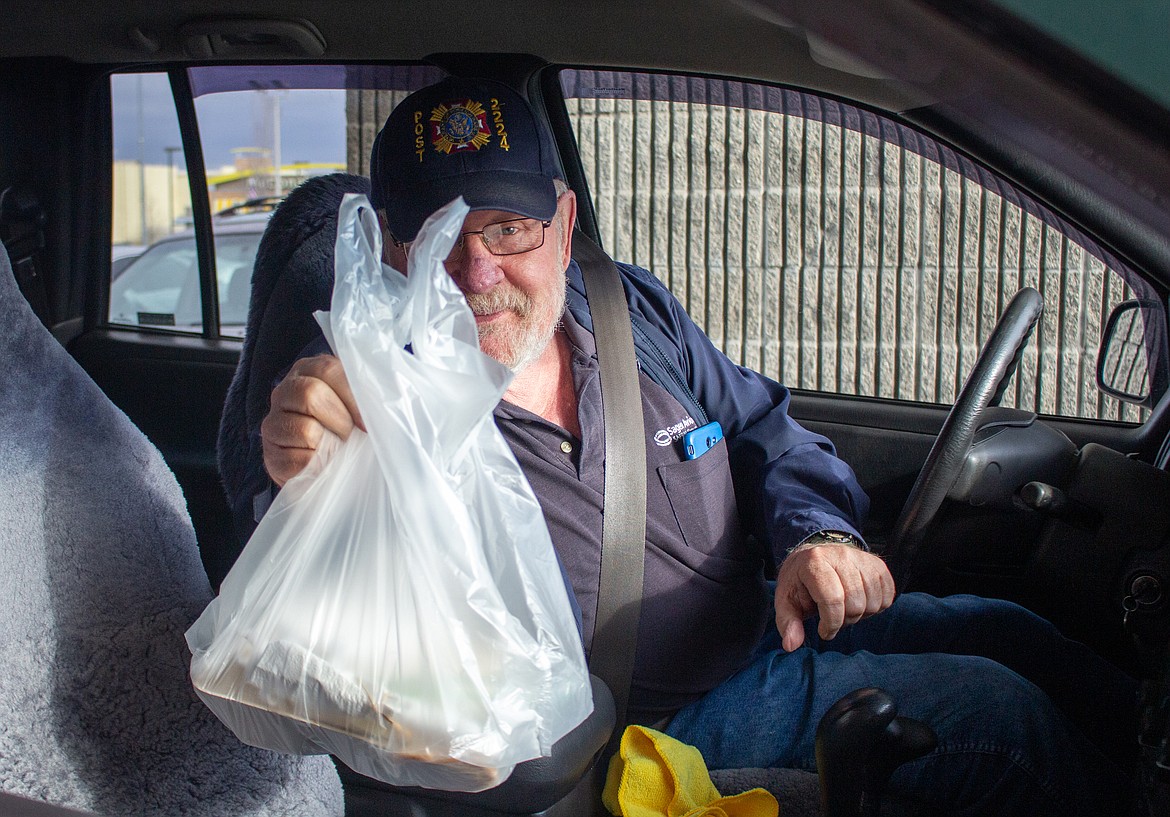 Doug Gambriel holds up his Thanksgiving dinner with a smile after coming through the drive-thru at the Community Thanksgiving Dinner-To-Go at the Elks Lodge in Moses Lake on Wednesday.
Previous
Next
by
CASEY MCCARTHY
Staff Writer
|
November 23, 2020 1:00 AM
Smiles and 'thank yous' were in abundance as people came through the line at the Elks Lodge in Moses Lake on Wednesday afternoon. While the event might have looked a little different this year with restrictions due to COVID-19, the appreciation from the community remained the same.
The Community Thanksgiving Dinner To-Go event was co-sponsored by Windermere K-2 Real Estate Moses Lake and First Choice Employment Services, with the Columbia Basin Elks organization donating their building for the annual event.
Jennifer Killian, an Elks member and executive director for First Choice Employment Services, was among the volunteers helping put on the event. She said the Thanksgiving meal typically includes an in-person dinner. They waited as long as they could to see if the event could still be held normally, she said, but ultimately elected to go with the drive-thru dinner instead.
"We don't know what each person in the community is being affected by so we're just going to do what we can do," Killian said. "The dinner goes on."
Three hundred seventy-two meals were distributed, with leftovers delivered to the local Meals on Wheels program and students in the dorms at Big Bend Community College.
Since COVID-19 came into play in March, Killian said the Elks have not been able to host any events or rent out their building.
While the lack of event-hosting has hurt revenue significantly, she said the Columbia Basin Elks always have been good about donating where they could, offering their building for the local VFW meetings.
"Any way they can help the community, they're helping the community," Killian said. "We don't have income coming in, but where they've been able to help out, they've been really good about it."
Killian said it is about more than the meal, so keeping the event going this year was a no-brainer, she said.
"When we do in-person dinners, it's the ability for them to socialize," Killian said. "Some people don't get out and it's not necessarily all about income. It's about that need to talk to a friend, make a friend, have somebody there to understand where you're coming from, or just listen."
Having the help of fellow Elks member Kandi Bersanti and Windermere K-2 Real Estate and Theresa Clements with Job Corps was a huge help, she said.
Clements said she has been involved with preparing food for these events for 19 years, typically having the aid of her students. While she wasn't able to have her students with her this year, she said she was glad to still be involved.
Bersanti, a realtor and broker with Windermere, said it has been a challenge for everybody dealing with the closures and limitations the last few months from COVID-19.
"For me personally, it's a challenge to keep the upbeat attitude when everything gets shut down and you can't do stuff," Bersanti said. "I think that will help with people's overall happiness when they get to sit and chit-chat and talk and see people again that they don't typically get to see."
Bersanti said it was nice just being able to interact and talk with her fellow volunteers. Even without the typical tables full of people, she said there was a bit of "hustle and bustle" behind the scenes as the team worked to get meals ready for community members.
While she said her feet might hurt the day after helping out with an event like this, Bersanti said it is really rewarding to be a part of giving back to the community.
She said she got a phone call from someone at the drive-thru expressing just how much that tray of turkey, stuffing, mashed potatoes and green bean casserole meant to them.
"They were just so thankful that we were able to still provide a Thanksgiving meal because they don't typically get anything other than what we provide," Bersanti said. "It was really nice for someone to give you a call and say thank you."
Casey McCarthy can be reached via email at cmccarthy@columbiabasinherald.com.
---