Small spaces just fine for this retired Quincy veteran
by
EMILY THORNTON
Community Editor
|
November 22, 2020 12:00 AM
Tiny living in Quincy wasn't the 81-year-old's goal after retiring from a 42-year-long career at Safeway's bakery division, but Rudy Herrera said the 208-square-foot space was all he needed.
"I'm a function guy," the Army medic veteran said.
He bought a huge house in Wenatchee, he said, which he enjoyed. But the 3½-car garage could hold six cars due to its depth and the square footage. And yard work was too much to keep up, he said. Every time he mowed, two large bins were filled with grass.
When Herrera moved out, apartment living was too expensive, he said.
Tiny home living introduced itself.
A deploying Marine quickly sold a tiny home built by Tumbleweed Tiny House Company, based in Colorado Springs, Colorado, to Herrera's friend, Cosme Hernandez.
Hernandez, owner of Wenatchee-based Tiny House Cribs (tinyhousecribs.com), told Herrera about the dwelling he'd acquired.
The home, measuring 26-by-8 feet, with a 13-foot-high ceiling, was fully outfitted with running water, electricity, fixtures and appliances, Herrera said, which was unusual. Many tiny homes were sold as shells, which could be customized for customers.
But in that house a bathroom sat, with a small tub, flush toilet and sink. Right outside were a stackable washer and dryer, as well as a kitchen, with a small refrigerator, stove/oven, sink and counter space.
The room flowed into a living area, with a soft couch/bed, and up above were two lofts: one above the bathroom, with enough space for a California king-size bed, and another, with room for a twin-size bed. Seven windows offered views and the chance for fresh air.
A 20-gallon electric water heater provided hot water, while an electric fireplace kept the insulated home toasty.
The metal roof and vinyl siding kept out the elements. And, Herrera later bought a portable air conditioner, he said, and swapped out the California king for a queen.
Hererra thought the home was a steal at only $70,000, when similar houses were running around $100,000 or more, and jumped on it.
A small $40,000 lot was perfect for the home amongst a community of other little houses, with a golf course and pool, off Road 5 Northwest south of Quincy. Many of the homes there weren't as small as Herrera's, as some were manufactured and driven to lots in halves, but some rivaled Herrera's home's size.
He loves his $1,000 per year homeowner association bill and $38 a month electric bill, which are among the few payments he has to make.
The nearby golf course was unnecessary, Herrera joked. He didn't golf and refused to buy what seemed to be the requisite golf cart, a popular item in the community.
That's because he's an avid snow skier.
A self-taught enthusiast, Herrera said he and several friends have convinced others to try it.
"I introduced my high school to snow skiing," he said of his alma mater in Montebello, California.
He enjoyed visiting Mammoth, the closest ski resort, so much he hung out with the ski patrol. On one occasion, he bought a gallon jug of rosé wine to share and get pointers on harder slopes.
Besides skiing, Herrera said he keeps busy with a Zaaz exercise machine he brought from Costco, going to the local Moose Lodge for dinner and drinks and driving his 2012 Mini Cooper Coupe, one of only a handful imported to the U.S.
"I never get stir-crazy," he said. "I like to blow off the kids in their Subarus ... That thing's (Mini Cooper) faster than snot."
Inside his home, Herrera kept books, some of which were in German. A signed copy of "The General and the Jaguar," by Eileen Welsome, included Herrera's grandfather, General Nicolás Fernández, who was part of Pancho Villa's army. And framed photos of Herrera's Mexican ancestors hung on the wall.
But Herrera said he must get rid of his little home, as the man who sold him his land allegedly had been in foreclosure at the time, meaning Herrera really didn't own his land.
Between that and knowing it would get harder to climb to his bed, he decided it was time to sell. To inquire about the home, contact Remax in Quincy.
Emily Thornton can be reached via email at ethornton@columbiabasinherald.com.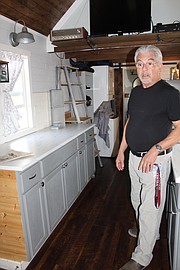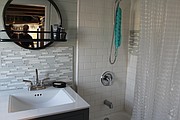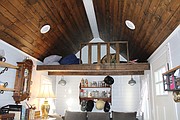 ---