Pop-up bakery chance to experiment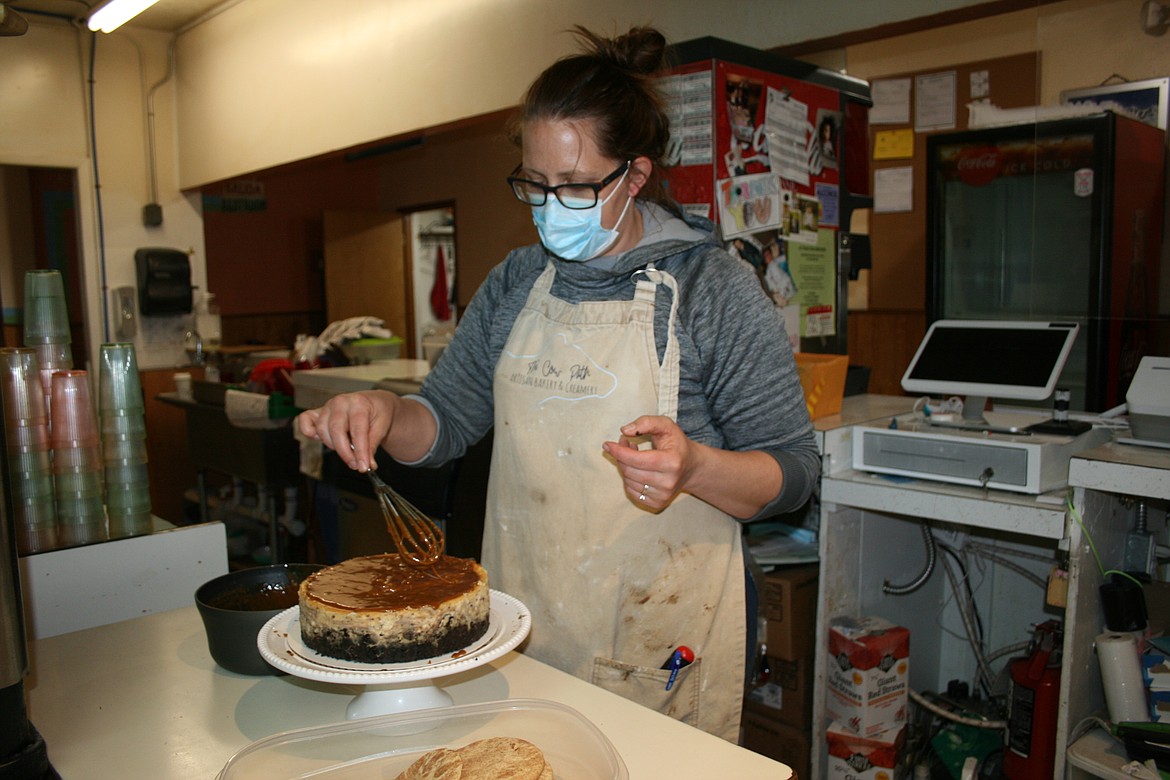 Janice Baginski, owner and baker at the Cow Path Artisan Bakery and Creamery, Othello,adds caramel glaze to a cheesecake. Bergainski is using the Pizza Factory, Othello, on Friday and Saturday mornings as a pop-up location.
Cheryl Schweizer/Columbia Basin Herald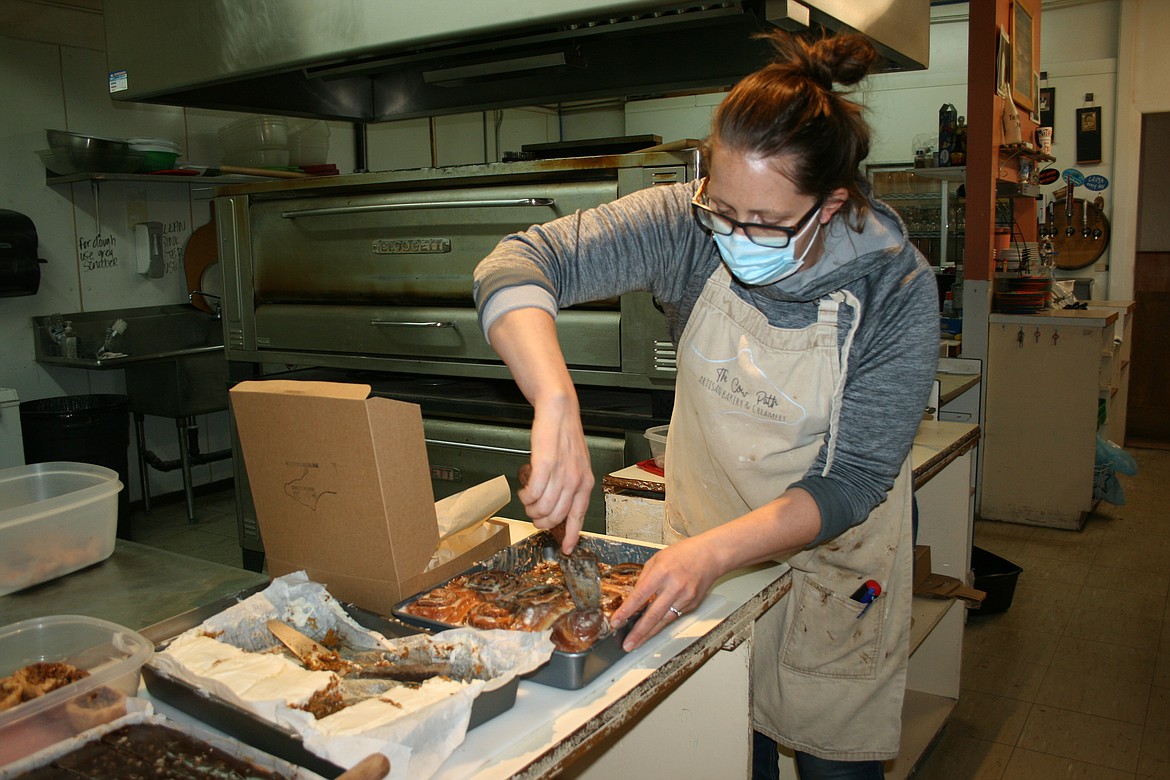 Janice Baginski fills a customer's box during the pop-up bakery sale put on by her shop, Cow Path Artisan Bakery and Creamery.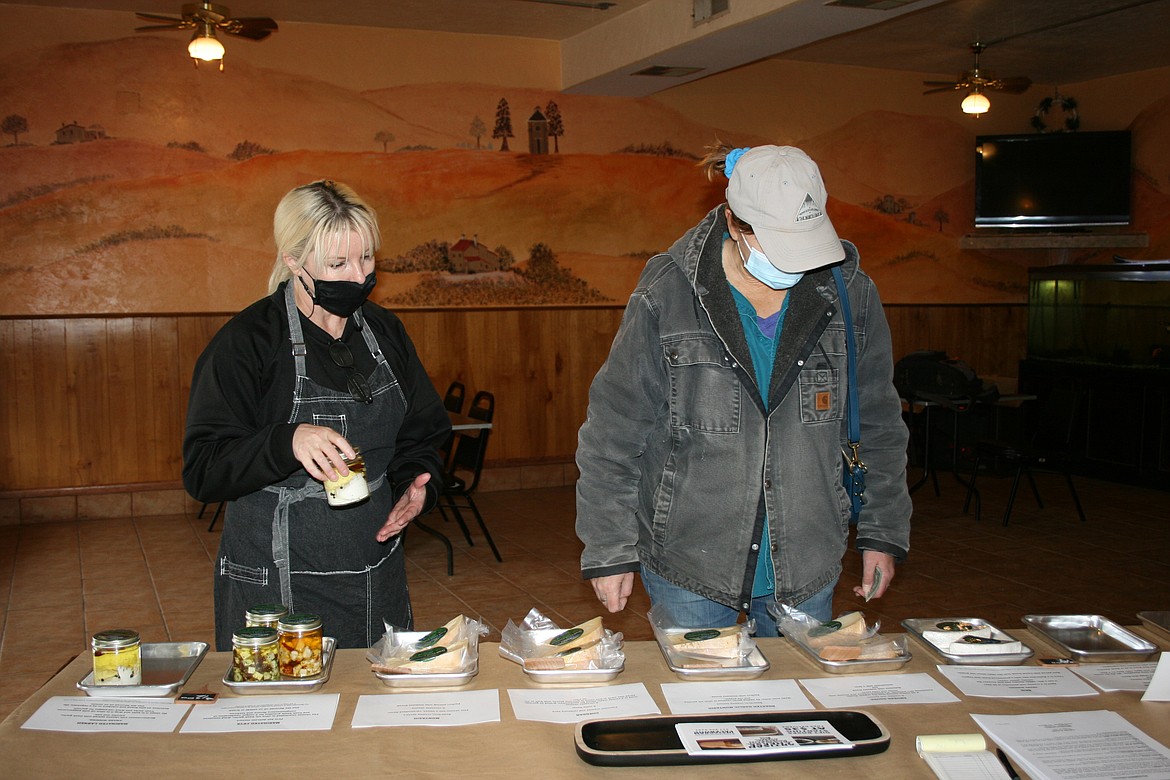 Jennifer Baginski (left) helps customer Kyya Grant (ight) make her selection among cheeses offered by the Cow Path Artisan Bakery and Creamery at their pop-up location in Othello.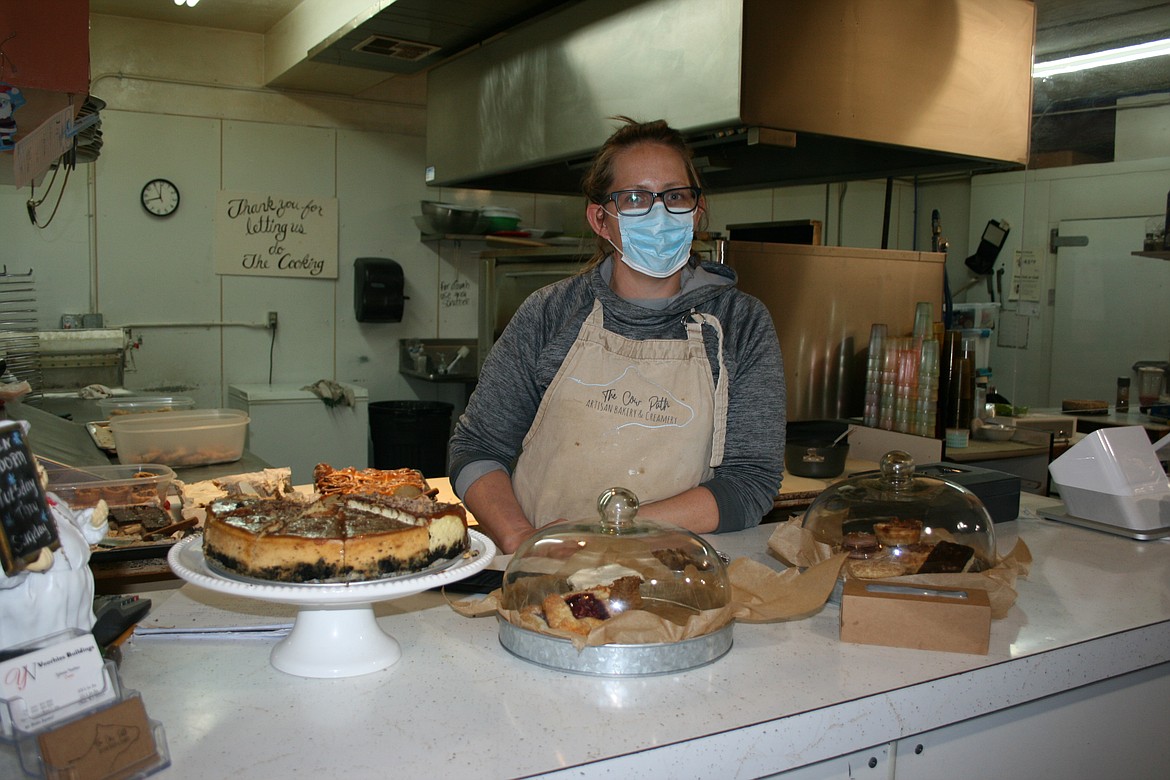 The Cow Path Artistic Bakery and Creamery owner Janice Baginski shows off some of the selections at the bakery's pop-up sale, using the kitchen at the Pizza Factory.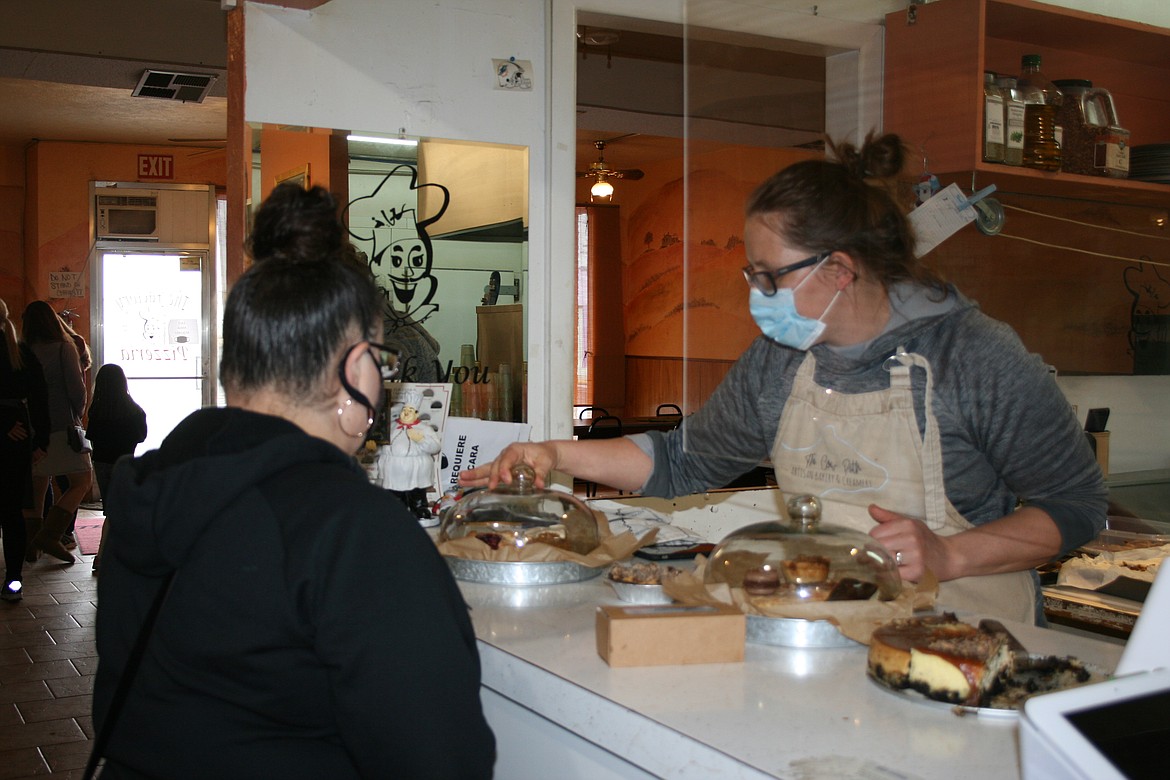 Cow Path Artisan Bakery and Creamery owner Janice Baginski (right) helps customer Sandy Lopez (left) make her selections.
Previous
Next
by
CHERYL SCHWEIZER
Staff Writer
|
November 18, 2020 1:00 AM
OTHELLO — It was a successful first summer for the Cow Path Artisan Bakery and Creamery, and its owner wanted to keep it going during the fall. The solution was to take an urban concept and retool it for Othello.
The Cow Path opened July 1 out at the Baginski family's dairy operation, Dan Maur Farms, and was open every weekend. And owner Janice Baginski said the summer was about as successful as she could've hoped.
"It was crazy. We sold out every weekend," Janice said.
But of course, summer ends. And while Cow Path had plenty of online customers, Janice didn't want to lose the momentum she had built up. And she wanted to introduce her baked goods to new audiences. The question was how.
The answer was a concept that's been around for a few years, mostly in urban areas, called the pop-up. A pop-up is a shop in a temporary location, open for a few hours a day, a few days a week. Then it's gone until the next time.
Jennifer Baginski, Janice's sister-in-law, knew all about pop-ups from her experiences while living in New York City and Seattle. And, Janice was renting the kitchen at the Pizza Factory in Othello to produce baked goods that can't be made for sale in the kitchen at the farm.
Since the Pizza Factory didn't open until afternoon – well, Janice made a deal with Pizza Factory owner Alfie Voorhies to turn the pizza shop into a pop-up bakery.
"This is the winter version of the farm stand," Jennifer said, and although it's not as picturesque as the farm, it has its advantages.
"In place of the picturesque, you get the bakery smell," she added.
It started as a Saturday venture, but the response was good enough that the Baginskis added Friday, Jennifer said. Opening Friday also allows the bakery to serve more customers: people who work in Othello during the week but don't live there.
"The community, I would say, is 110% behind her (Janice)," Jennifer said.
Already the pop-up has become part of the Saturday morning routine for some customers.
Jennifer said she's seen some people come in wearing their slippers, coffee in hand, stopping to pick up something sweet for Saturday morning breakfast. Others have made it a destination.
"We actually had some people come down from Quincy," Jennifer said.
The goal with a pop-up is to sell as much inventory as possible in the allotted time. The cinnamon rolls were almost gone by 11:30 a.m. Saturday, and so were the chocolate cake, the fruit tarts and the raspberry gillette. (A gillette "is like a pie without the pie plate," Janice said.)
The pop-up is not a bakery only. It also sells cheese, made by an Idaho creamery that uses milk from Dan Maur Farms. Jennifer said the cheese started as a kind of side gig, and it's grown too.
Janice said her goal is to open her own downtown bakery someday, and the pop-up is providing valuable lessons as she works out her business plan.
"The pop-up has been a great testing place," Janice said. It helps her determine what's popular with customers and what's not, and it's a chance to try new ideas.
The Cow Path pop-up will be open each Friday and Saturday from 8:30 a.m. to noon through the end of the year, state restrictions permitting.
Cheryl Schweizer can be reached via email at cschweizer@columbiabasinherald.com.
---