As COVID-19 cases rise, Samaritan Healthcare still has capacity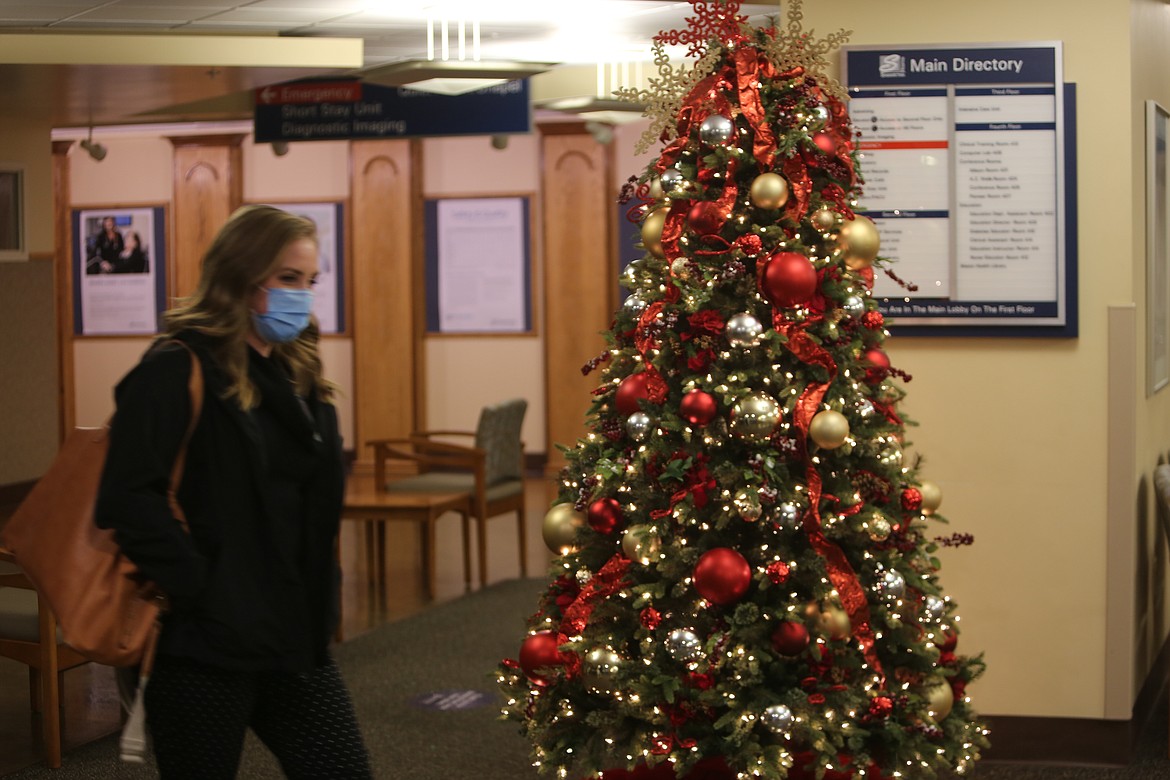 At the end of a long day, Samaritan Hospital nurse educator Emily Eidson clocks out and heads home. While Grant County's hospital system still has capacity for coronavirus patients, healthcare workers have worked tirelessly since the pandemic began, said Gretchen Youngren, executive director of development and communications for Samaritan.
by
EMRY DINMAN
Staff Writer
|
November 17, 2020 1:00 AM
GRANT COUNTY — While coronavirus cases are surging throughout the country, and some hospital systems are becoming overwhelmed, Samaritan Hospital still has sufficient capacity to handle its current caseload, according to a hospital spokesperson.
Out of eight patients in the Moses Lake hospital's Intensive Care Unit on Monday evening, only one tested positive for COVID-19, while another four patients were awaiting their test results, said Gretchen Youngren, executive director of development and communications for Samaritan. There were another four beds available in the ICU, she added.
In the hospital's Medical/Surgical Unit, for less acutely sick patients, there were two confirmed coronavirus patients and another three awaiting test results out of 15 patients admitted. That unit has a capacity of around 25 beds, Youngren said.
Both for coronavirus patients and those occupying a licensed hospital bed, Samaritan and the Grant County healthcare system were well below the state's guidelines for COVID-19 hospital capacity, according to the state Department of Health.
That doesn't mean caseloads in Grant County aren't spiking, Youngren added. Rising hospitalizations can lag rising infections by weeks, according to data from the Centers for Disease Control and Prevention.
And, if a patient is diverted from Samaritan, it's because they needed a higher level of care than Samaritan can provide, not because the hospital is reaching capacity, Youngren said, though even that is uncommon. Samaritan has also been receiving patients from smaller hospitals in the community for similar reasons, Youngren added.
"We've had to be a little creative sometimes, but for the most part we've been able to keep most of our patients local," Youngren said in an interview.
Samaritan has been affected by overburdened hospitals elsewhere in the state, however. The hospitals in larger metropolitan areas that Samaritan diverts patients to have struggled to maintain staffing levels sufficient to tend to their patients, which causes Samaritan to hunt for an open bed, Youngren said.
But that situation changes daily, Youngren added, and Samaritan has benefited from being part of the Regional Emergency and Disaster Healthcare Coalition, an organization that helps coordinate health care efforts in counties across eastern Washington.
"The one thing that is consistent is that numbers are rising," Youngren said. "The other consistent is that our staff are working very, very hard."
Recent Headlines
---