MLSD mulls temporary return to online-only education for middle schoolers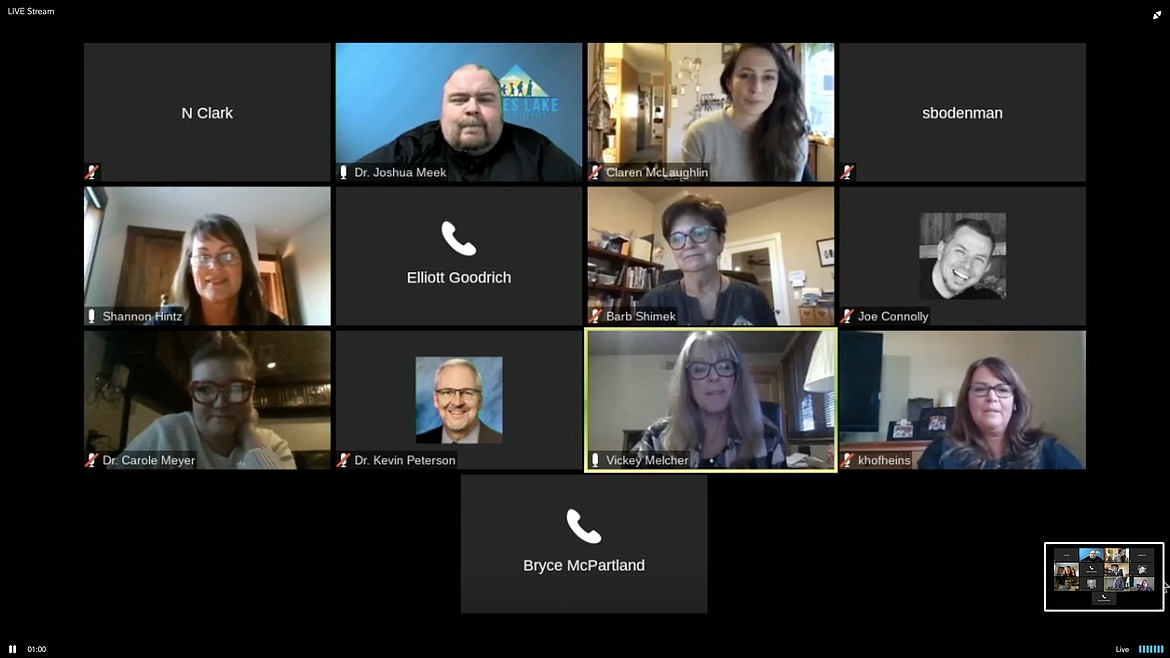 Moses Lake School District administrators and members of the Moses Lake School Board attend an emergency online meeting on Friday.
Charles H. Featherstone
by
CHARLES H. FEATHERSTONE
Staff Writer
|
November 13, 2020 5:50 PM
MOSES LAKE — The Moses Lake School District is considering sending kids at its two largest middle schools — Frontier and Chief Moses — home for remote instruction for the next two weeks following a surge of cases among teachers that's making it difficult to keep the schools fully staffed.
At an emergency online meeting of the Moses Lake School Board late Friday, Superintendent Joshua Meek recommended that all middle school classrooms go to remote learning at home starting on Monday, Nov. 16, and continue online for the next two weeks, with students scheduled to return to class on Monday, Nov. 30, following the Thanksgiving Day holiday.
Meek, who noted he and his whole family have tested positive for COVID-19, said that during the last two weeks, 14 MLSD staff and faculty have tested positive for the pandemic, 10 of them in the last week. Eight of those cases are "known exposures" that have been traced to off-school events, he added.
"I don't want people to think the (school safety) protocols aren't working. This comes from beyond school, and we're feeling the impact of it at this time," Meek told board members.
"I'm one of those cases, and it's not related to school," the superintendent added.
As a result, Meek said 67 school staffers, 15 of them middle school teachers, are currently quarantined for the next 10-14 days, a number Meek said will likely rise by Monday. With the district already having trouble finding enough qualified substitute teachers, Meek said that makes it difficult to keep all three of the district's middle schools fully staffed with teachers.
The are 47 teachers working at Chief Moses and another 38 at Frontier, according to data available from the Office of the Superintendent of Public Instruction.
"There's an inability to staff the schools fully, and we need to take immediate action," Meek added.
MLSD Director of Teaching and Learning Kristi Hofheins said the district is not looking at closing all three middle schools, but will decide over the weekend which schools will go to full remote until the end of November.
However, Meek said "the greatest at risk for closure" are Frontier Middle School and Chief Moses Middle School.
While board members approved a general policy to close targeted schools and switch to remote learning to protect students and teachers and limit the spread of COVID-19 in order to keep as many of the district's students in class as possible, there were concerns that with the holiday season coming up, a number of teachers, staff and administrators are going to attend events that will get them exposed to COVID-19.
"While we do understand people have a right to make choices, this happened two weeks after Halloween," said Assistant Superintendent Carole Meyer. "What's going to happen two weeks after Thanksgiving, and two weeks after Christmas, and two weeks after New Year's, and two weeks after the Super Bowl?"
Grant County, Washington state and the entire United States have seen a surge in COVID-19 cases over the last month, with daily reports of new cases hitting records unseen even in the early stages of the pandemic last spring.
Charles H. Featherstone can be reached at cfeatherstone@columbiabasinherald.com.
Recent Headlines
---